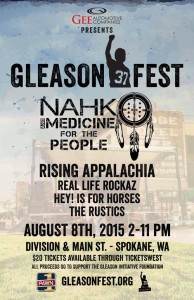 Gleason Fest always seems to take place at just the right time.  Last year it was scheduled a couple of weeks after the ALS Ice Bucket Challenge kicked off, bringing much attention to the festival and raising more money and awareness than previous years.  The year before that, it came shortly after Steve Gleason held the first Team Gleason Summit for a Cure with a historic announcement that some of the world's leading scientists agreed on an action plan to cure ALS.  This year is no different.  Gleason Fest 2015 is following in the wake of the signing of the Steve Gleason Act, which ensures that all Americans with ALS and other neurological disorders have access to the same speech generating devices, like Steve's, that help them communicate.  This bill worked its way up to the desk of President Barack Obama who signed the bill on July 30th, officially making it law.  This has been a week of celebration for the ALS community, and Steve's hometown is more than thrilled to welcome him back for the annual Gleason Fest.
The local and national acts of this year's festival all seem to be pretty heavy in the consciousness movement that is currently sweeping our nation.  It calls everyone to join together with each other, our earth, our local and global communities and to rise up against the injustices in the world.  Saturday will definitely carry this vibe.
Nahko and Medicine for the People:
This movement is evident in the first half of Nahko and MFTP's Mission:
"As a musical collective, our mission is to be the motivation and inspiration for all that have become members of our Tribe. Within our global community, we have access to the tools needed to make changes, take action and spread awareness of how to live in harmony with Mother Gaia herself.  We are honored to be a force of attraction for positive and creative minds during these often-corrupt times."
"Having been raised in the American South with Appalachian lullabies at night and soul music for breakfast, sisters Leah and Chloe have drawn great inspiration from their global and local community."
With the release of their latest album, "Wider Circles," these sisters have recently embarked on the Wider Circles Rail Tour, adding to the 14,000 tour miles they have already traveled across the United States.
EVENT DETAILS:
Saturday, August 8, 2015 at Division & Main
Tickets: $20
Kids 12 & Under are FREE
Doors 1 PM
Jus Wright! 2:00 -2:45 PM
The Rustics 3:00 – 3:50 PM
Real Life Rockaz 4:20 – 5:15 PM
Hey! is for Horses 5:45 – 6:30 PM
Rising Appalachia 7:15 – 8:15 PM
(Special Presentations) 8:45 – 9:15 PM
Nahko and Medicine for The People 9:30 – 11:00 PM
Friends, families and anyone interested in supporting 
The Gleason Initiative Foundation
 are encouraged to come enjoy local food vendors, beer garden, special guest appearances and live music.  The festival is out to rally with Steve and continue to support his mission.  If you are moved by this story, you can also give by going to 
Gleason Fest First Giving site
 where one-hundred percent of your donations go to the foundation.  For more information, see last year's
Gleason Fest preview.