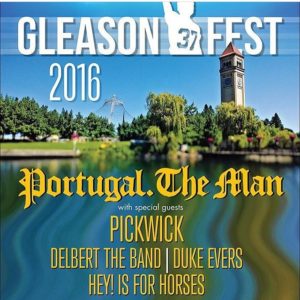 Each year as Spokane's Gleason Fest approaches there always seems to be incredible accomplishments or news-worthy changes to update you about regarding ALS and Gleason himself. From the Ice Bucket Challenge, to President Obama signing the Steve Gleason Act of 2015 stating that Medicare is to provide beneficiary access to eye tracking accessories for speech generating devices, to the premier of the award-winning documentary "Gleason" that was released to select theaters on July 29th of this year, Steve and his family are working tirelessly to move mountains while there is still time for him to voice his concerns and push for ALS awareness. They are without a doubt, doing so successfully.
I have photographed every one of the past 4 years of Gleason Fest; however, I have only covered them twice for Inside Right Wrist.  Check out the previews to get Steve's personal story, the history of Team Gleason and the Gleason Initiative Foundation through the links in the years below. Click on the first two headlining bands of festivals past to see who they are or the last two links to see the review and photo gallery of that year.
Gleason Gras! West 2012 – Emily Wells
Gleason Fest 2013 – Blue Scholars
Gleason Fest 2014 – Lukas Nelson & Promise of the Real
Gleason Fest 2015 – Nahko and Medicine for the People
From a small grass-roots block party styled event to filling up the Lilac Bowl in downtown Spokane, Gleason Fest is a vision that has unfolded and expanded with no plans to end anytime soon.  With Steve's recognition spreading throughout the country, the musical acts have also continued to grow in notoriety.  This year, as the event moves to the Lilac Bowl Amphitheater in Riverfront Park, the band Portugal. The Man will take the headlining position with one of Northwest's favorites, Pickwick, opening up for them among others.
Take a look at Saturday's lineup:
Portugal. The Man

Pickwick

Delbert the Band

Duke Evers

Watch the trailer for the film that will be screening in Spokane at the Downtown AMC Riverpark Square 20 + IMAX theatre this Friday, August 5th, the night before Gleason Fest and join the #ISawGleason community. Keep up to date with the films impact via Twitter.
So go celebrate life and love with the Gleason family and friends this Saturday, and if you can't make it, consider donating to the cause or becoming a sponsor of future Gleason Fests.
Time: Saturday, August 6th, 2016 | 3 – 11pm (Doors open at 2pm)
Location: Lilac Bowl Amphitheatre at Riverfront Park
Tickets: General Admission – Advanced $25 ($30 at the Door)
Children 10 and under are Free
WSU Campus is offering FREE parking – 412 E Spokane Falls Blvd
Stay on top of up-to-date happenings on their Facebook and Twitter pages.