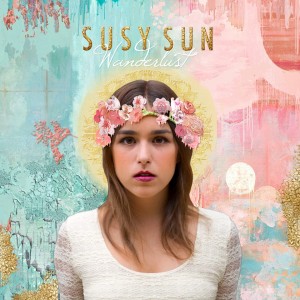 On October 17th, Susy Sun took the stage with her band, the Passenger String Quartet and Vaudeville Etiquette at Columbia City Theater, introducing us to her sophomore EP Wanderlust.  The album release show was beautifully organized with each song presented in a different fashion. She had some songs with the full band and quartet, some with only the quartet, some alone with Mark Isakson, a solo instrumental on the baby grand, one with Vaudeville Etiquette and a few songs accompanied by ballet dancers from Westlake Dance Center.
Although each song was presented in a different manner, her performance was consistent.  Her vocals were strong yet whispy, her lyrics were vulnerable and confident and her piano-playing seemed effortless.  The band and quartet were such a powerful addition to her usual solo performances adding more dimension to the already tangible music.
Susy shared with us how grateful she was to have such a full house after having a dream that only 20 people came, and they were all her family.  Curiously, I perused the audience and saw Andrew Vait from Eternal Fair, Kris Orlowski, The Local Strangers, Bucket of Honey, Tess Henley, and Shawn Simmons (her producer who also produced an album for The Head and the Heart) to name a few supporters in the local music scene.  Andrew Joslyn, her partner off the stage, the talented musician currently on tour with Macklemore & Ryan Lewis also shared the stage with her as the leader of the Passenger String Quartet.
Susy mentioned she meant to prepare some stage banter, but instead everything was going to be ad-libbed… I suppose we could even say mad-libbed based on the silly and random thought-process of the darling Susy.  Her personality was on display just as much as her music Thursday night as she confessed that she was secretly worried people could see up her skirt (not to worry, she was wearing little shorts under it…"if you think you see my underwear, you're actually not.")  Or perhaps her comment about how a lot of her songs are about previous heart breaks…"don't worry though, I'm with a good man now.  He wouldn't break my heart." (Spotlight on Andrew.) Literally… the spotlight lit up Andrew's blushed and smiling face! Ha.
Even though Susy was classically trained, she attributes some of her talent to her father raising her on good music. She dedicated her performance of The Beach Boys tune, "Don't Worry Baby," to her dad with Vaudville Etiquette joining her on stage… flying beach balls and all.  I can't forget to mention the charming encore of Elvis Presley's "I Can't Help Falling In Love With You."
"I wasn't going to do an encore, but Tayler (Lynn of Vaudeville Etiquette) said that it was a must.  So I hope you like Elvis."
It was a well thought-out performance backing up a passionate album, and it's simply hard not to fall in love with the girl.  Keep an eye out for her future projects, she has a long future of music-making ahead of her.