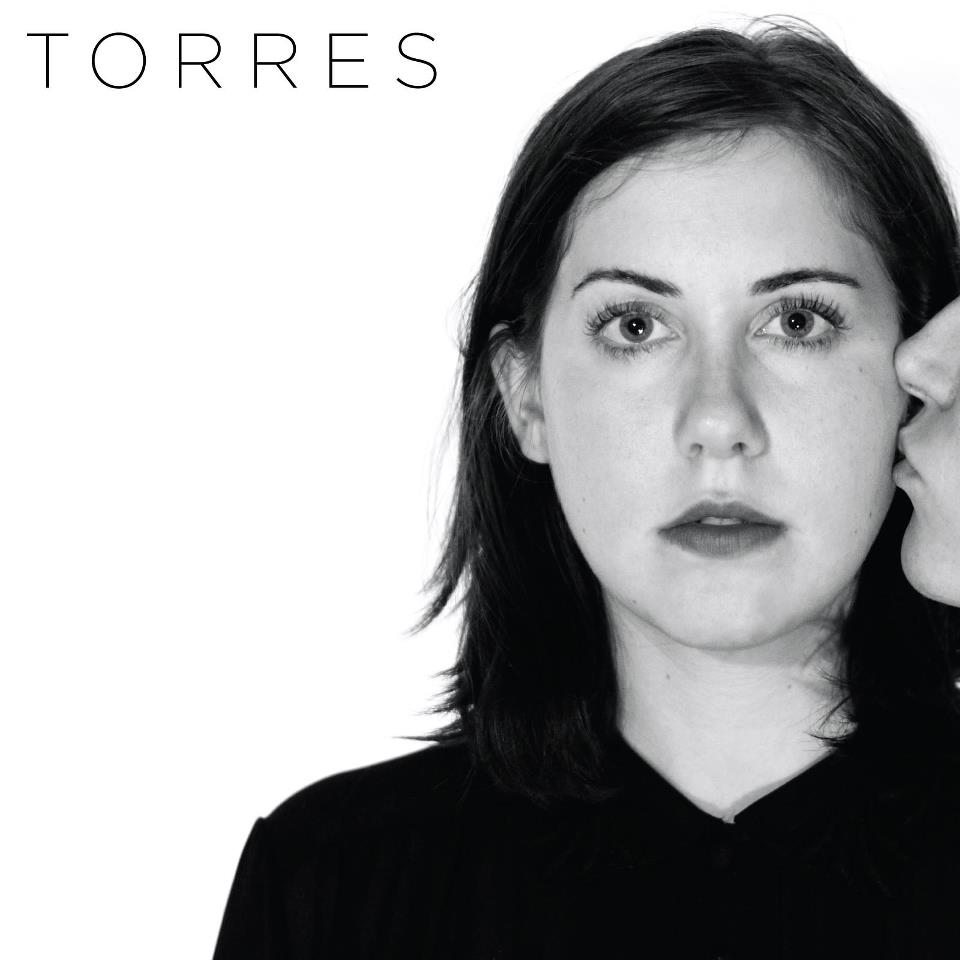 A while back, on the last day of January 2013, I found a singer called Torres and fell in love. I wrote about it for Inside Right Wrist and then, unlike most entries, never forgot about it. The music, written and sung by Nashville artist Mackenzie Scott under the moniker Torres, is the kind that doesn't let you file it away in some inaccessible fold of your music brain. It's what you wake up singing, or accidentally mumbling while checking out at Trader Joe's.
If your life was a much better Emma Stone movie,  you would play a cashier at the alterna-grocery store, hear someone mumbling it under his breath, recognize it, and end up married to him in the second hour. It's the kind of music that makes you feel like you can never really talk about it (or, uh, write about it) without sounding trite. Which is a problem, since it's some of my favorite. The other thing about it is that even though there are only 10 songs you can listen to, because she just released her debut album this year, it has yet to get old. I'm pretty sure this makes it the unicorn of good music.
Oh, and did I mention that Torres is playing in Seattle on June 18? Cuz she is, and you can go. You should. In the meantime, Mackenzie was nice enough to answer a few questions about her music, her adopted city (she's originally from  Macon, Georgia), and the pains and joys of touring on a debut album.
People always talk about the music scene/community in Seattle. But what is the music community like in Nashville?
Pretty great. It's a relatively diverse music community, I'd say. I prefer the garage punk-rock scene mostly.
When I'm not writing about music, I write about shows about music. Do you watch the show Nashville, and if so, is it accurate?
I watched the first 10 minutes of the pilot episode and had to turn it off because I was so annoyed, which probably means that the writers are doing it right, to be honest. I think that the pop-country, Music Row, corporate aspect of the industry hits so close to home that it really would probably be panic-inducing for me to enjoy a television series called "Nashville". Then again, I didn't give it a fair chance. Who knows? I might be hooked if I watch more.
How would you describe your music?
I don't. That's for other people to do, if they so wish.
Fair enough. What is your writing process?
There isn't much of a process. Most of my ideas come to me in the shower, where I contemplate life and its complexities/simplicities. I also keep a notebook with me on hand at all times; I cannot write songs on a laptop in Microsoft Word. I have to use ink and paper.
A lot of your songs are about people. Which, you know, it's too be expected. Who do you draw inspiration from? Are they all people you've had experiences with?
People I know. People I don't know. Every encounter inspires me in one way or another, even if it doesn't manifest anyplace but in my subconscious for awhile.
What has it been like to go on a tour with this debut album?
Touring has been the best time of my life, thus far. It has its setbacks, for sure, but ultimately I feel like I'm living the dream. The dirty, malnourished dream. I love it.
What's your favorite city so far?
New York City. Chicago comes in close second. We'll see if I have a new favorite after this current tour with Lady Lamb the Beekeeper. We are headed west and I have no idea what to expect.
Tell me about a weird/funny/disastrous tour experience.
I am currently in the car with Aly and the guys in my band driving from Austin to Scottsdale, and the A/C has quit working on us. This isn't necessarily a disaster, but it's a minor tragedy at the very least.
What is your favorite song to perform?
It's always changing. I think currently it's "Moon & Back."
Who are your favorite artists in Nashville? Elsewhere?
Natalie Prass and Diarrhea Planet are my favorites in Nashville. Elsewhere, a few of my favorites include The National, Sufjan Stevens, St. Vincent, Sharon Van Etten, The Magnetic Fields, Brandi Carlile, Ryan Adams. There are loads more. Recently I've been enthralled with Marnie Stern.
Great choices. When will your follow-up album come out?
Good question. Sometime in 2014.
How do you choose the bands that you play with (openers, main support)? Do you like to have similar styles share the stage, or do you prefer to mix it up?
A lot of times they're acts that are recommended to me; other times, specifically in the case of this current tour, I had my agent reach out to Aly's (Lady Lamb the Beekeeper's) agent because I'm a fan. I was just putting feelers out there to see if she might be interested in teaming up and I'm so happy she was. Here we are!
I definitely like to mix it up stylistically, as long as it's not too much of a mismatch. You know, like, a tour with a pop-country band or a heavy metal band would not make sense. That being said, I like to keep my options wide open.
Okay. Last question. What is something random and unusual about you that fans don't know?
I went skydiving a couple years ago with a Groupon.
Mackenzie Scott — aka Torres — is playing The Crocodile Tuesday, June 18 with Lady Lamb the Beekeeper. Tickets for the all ages show are $8  and it's going to be great. See you there.
PS Here's my favorite song, "Honey"