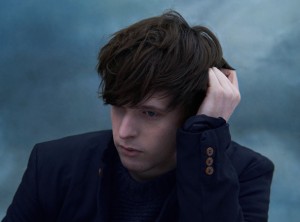 I first heard James Blake's single "Wilhelm Scream" in 2010 — it was his first single from his debut self-titled album. I was attracted to his soulful voice and haunting melodies. At just 21 years old, he had already mastered his craft at electronic music and engineering. Unfortunately, I was unable to see him when each time he came to Seattle, at the time playing at smaller venues like the Tractor Tavern.
Here we are, three years and a new album later, and I am more excited than ever to have the opportunity to see him at Seattle's newest (and quite lovely) STG venue, The Neptune.
Blake released the first single, "Retrograde" from brand new album Overgrown in February and I was immediately hooked. Then came its music video. Oooo, weird. Good weird. Then, thanks to his Twitter, I came upon the album's title track music video, chosen by Vimeo as a staff pick.
The dark beauty of his music is reflected in each video with each disjointed scene somehow leading to a sensible — or at least definite — resolution. I knew I needed to own the entire album and have listened to it nonstop, which brings me to today, as I sit writing this article secure in the knowledge that I can't wear out a digital download.
James Blake is an anomaly. To say his music is unique understates what he creates. His songs are dark and haunting, yet still alluring. The melodies and lyrics are repetitive, but he adds layer upon layer, building on a single good idea and turning it over and over again. Each song is an evolving orchestration, changing or adding or subtracting one element at a time. It never gets boring, and his experimental use of rhythms and syncopations creates complexity without alienating the listener. I can't bring myself to try to define his genre, because he is truly one of a kind. Wikipedia, however, has tried and defines his music as "electronica, post-dubstep, and soul." Trying not to laugh, I think they've nearly got it.
Needless to say, this is a show I've been looking forward to for a long time. Blake is a recording genius, and I look forward to seeing him perform, hoping that he has equally mastered his craft in a live setting.
Do yourself a favor: listen to the new album and befriend someone who has an extra ticket to his sold out Neptune show, and join me Tuesday night.
James Blake at The Neptune
with Falty DL
Tickets $30 — SOLD OUT
All Ages :: Bar w/ID
Doors 7pm :: Show 8pm