Elkfest is 11 years in the making.  This year's eclectic mix of musicians will have you chillin' on the grass, dancin' on your feet, rockin' with a beer, and possibly jumpin' into the crowd. With a good blend of local and touring acts, you are sure to make a few new favorite musical discoveries this weekend.
When you have three nights of headliners like Lyrics Born, whose musical career took off in the early 90s and is still performing an average of 150 awesome shows a year, Robert Jon & the Wreck, who won the title of "Best Live Band" at the 2013 Orange County Music Awards, along with nominations in the categories of "Best Rock," and "Best Blues," and The Grizzled Mighty, who claim to have been "formed in the fiery belly of an active volcano" (which I totally believe, by the way), I'm pretty sure your ears will be on fire for the entirety of the following week.
Top 10 reasons to attend Elkfest 2015:
It's the 11th Annual ELKFEST!
It's in one of Spokane's coolest neighborhoods – Browne's Addition.
Beer. Period.
Tambourine Man – It's not a show without the faithful and energetic Tambourine Man!
People Watching – Oh, so good.
Hey! Is for Horses is playing. Shout out to Elkfest booker and promoter, John Blakesley…but seriously…they're really good.
Rust on the Rails features the drummer from Candlebox. All of you 30-somethings will appreciate that.
It's supposed to be 93 degrees on Sunday.
Lyrics Born – Sunday, June 7!
It's FREE!!
The Browne's Addition block party runs June 5 through 7 outside of The Elk at 1931 W Pacific Ave., Spokane, Washington.  As always, the event is free and all-ages, although the beer gardens are 21+.
ELKFEST 2015 SCHEDULE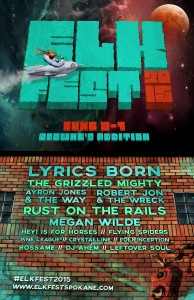 Friday June 5
4 Bossame
530 Hey! is for Horses
7 Rust on The Rails
9 Robert Jon and The Wreck
Saturday June 6
2 Folkinception
4 Pine League
6 Megan Wilde
730 Ayron Jones and The Way
9 The Grizzled Mighty
Sunday June 7
2 Crystalline
4 Left over Soul
6 Flying Spiders
730 DJ Ahem
9 Lyrics Born
A few videos of the regional acts to get you excited:
Lyrics Born:

Robert Jon & The Wreck:

The Grizzled Mighty:
Rust on the Rails:
Ayron Jones and The Way:
Megan Wilde: