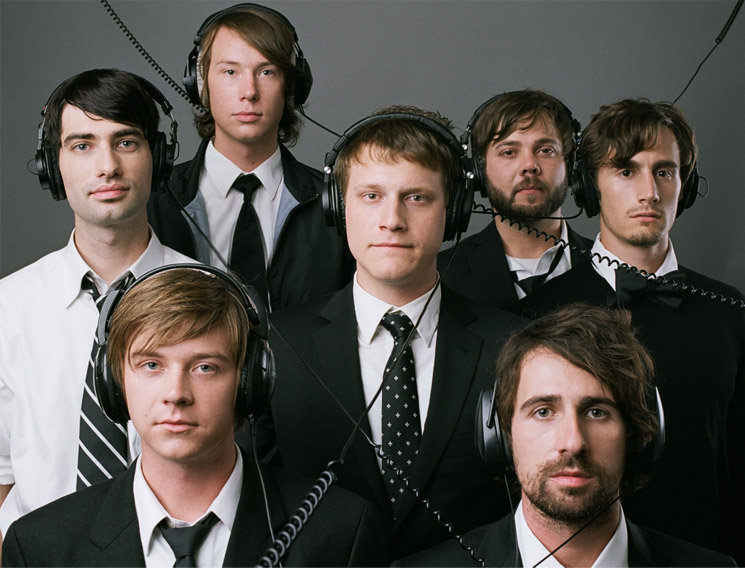 Seattle band Hey Marseilles is one of the most unique and beloved groups in the city, thanks to their graceful melodies and hypnotizing string arrangements. Although the band has been around for several years, they don't have a whole lotta material out. So, you can imagine my delight that they will be releasing their second full-length album, Lines We Trace very soon. The album won't drop officially until March 5 but Hey Marseilles is currently on tour showing off their new sound and slinging discs around the country. On March 1, they play a hometown CD release show at Seattle's Showbox at the Market with two other rad Northwest bands — Seattle's Pollens and Portland's Y La Bamba.
I first saw Matt Bishop, the preppyish, sardonic frontman for the orchestral-pop group, play years ago, but wasn't initiated into the full sound until recently. As I've mentioned before, I haven't stopped listening since. Their debut album, To Travels and Trunks, came out in 2008 and fans have been eagerly awaiting a follow-up. Finally, it's coming soon to a permanent discman (people still have those, right) residency near you.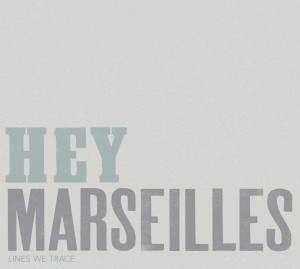 To appropriately prepare for the wonder that we're sure will find us at Friday's show, I chatted with Matt about what makes Lines We Trace different than previous releases, his band's rituals surrounding shows, and how the success of peers has affected their musical aspirations.
Inside Right Wrist: What sets your new album apart from older stuff?
Matt Bishop: I hope it reflects a maturation both musically and lyrically. Our first record was a series of songs we wrote as individuals and came together to perform and record, while this record is a product of learning how to write songs collaboratively as a group.
IRW: With such a talented group of musicians in the band, I'm especially interested in how songs are made. What's the collaboration process like on writing and arranging your songs?
Matt: One of us will have the seed for an idea, whether that be a chord progression, a melody, a drum pattern or an instrumental progression, and then we'll sit down to hash it out. Most of the time we spend working together is on fine-tuning the arrangements and layers of our songs. During that process, or after, I'll write the lyrics. Even lyric-writing is becoming more collaborative, though; Philip (Kobernik) wrote most of "Dead of Night," and I bounce a lot of my own ideas off the others.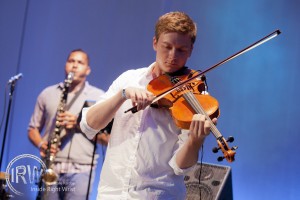 IRW: You mentioned at a house show last year that you had about 40 songs in progress for the album but that only a few would make it on — what specifically do you look for in songs that make it on the record, and what might keep a song off?
Matt: The songs that pop, that have a sometimes indescribable appeal to our own tastes, are the first ones that secure a spot. We also keep an eye toward the collection of songs as a whole and try to be conscious of how each song will relate to the others. If we feel a song could be stronger, or it just doesn't fit with the others, those would be reasons to keep it off.
IRW: Do you ever revisit previously dismissed songs to add them to future records, or does time have a significant influence on when you want it to be on a band album?
Matt: Absolutely. We have a few songs that didn't make this record that we'd love to get out there at some point in the near future. We also have a couple songs that have really strong parts, but as a whole didn't meet our expectations, so we might disassemble such a song and reconstruct it for a later release.  
IRW: How did you choose this group of musicians (Pollens, Deep Sea Diver) to play the show, and how much influence do you vs. your label have on setting that lineup?
Matt: For the bands we play with on show lineups, the decision is ultimately ours if we're headlining. We'll make suggestions to each other and receive suggestions from managers, labels, booking agents, friends and others, but in the end it comes down to a vote at band practice.

IRW: Tell me about a time when you saw someone in the audience at one of your shows and felt something.
Matt: I remember playing at the Wild Buffalo in Bellingham a year or so ago and seeing an elderly man smiling and swaying in the crowd. We ended up chatting for about 15 minutes after the show; he'd come with his granddaughter and loved accordions. He was a bit disappointed we played so late (he thought because our name was at the top of the poster we'd play first), but he said the later-than-expected evening was well worth it. Those kinds of connections and conversations make me grateful to be able to do this.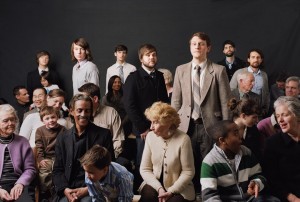 IRW: Do you get annoyed when people tell you your voice sounds like (The Decemberists frontman) Colin Meloy's, or do you take it as a compliment?
Matt: It's a compliment of the highest order. To be told you remind someone of a very successful musician who also majored in English is hopefully an indication you're doing something right.

IRW: What's the most embarrassing thing that has happened onstage during one of your shows?
Matt: I split my pants wide stepping on stage and didn't realize until after the show. It can be difficult for a thick-thighed man to find an appropriately-sized pair of skinny jeans.

IRW: What is your pre-show ritual? Your band's?
Matt: I'm usually at the merch table before and after, but before we go on stage I'll usually do vocal warm-ups and take a sip of whisky. The rest of the band is typically hanging in the green room trying to keep things low key or going over songs.

IRW: Considering you share management (Onto Entertainment) with Grammy-nominated band The Lumineers, how has their success affected your views or expectations for the future of Hey Marseilles?
Matt: It's been pretty inspiring. Honestly, before The Lumineers hit it big, The Head and The Heart's success was probably more influential. Both bands have provided a firsthand understanding of what it takes to find success in music: write good tunes, practice a ton, work hard in connecting with fans, and be a genuine, good person. If that isn't enough to make something happen, maybe consider another profession.

IRW: What's your favorite song on the new album, why, etc.?
Matt: Track two, "Heart Beats," is a lot of fun to play live and one I think we all ended up being happy with.

Hey Marseilles performs on March 1 at Seattle's Showbox at the Market. The show is sold out, but other tour dates can be found on their website. Pre-order Lines We Trace or pick it up when it drops on March 5.