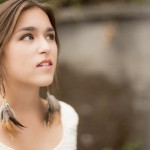 I first heard of Susy Sun about 9 years ago when my younger cousin told me about this really talented girl that had been playing music with his band.  He used to send me clips of their recordings, and I often made requests to get me the sheet music for her creations (which he never did).  She was the tender age of 17 when he started sharing their music, and even then, having grown up playing the piano, I was floored and perhaps a bit jealous of her talent.
The first time I heard Susy sing was at my cousin's funeral in 2006.  Her voice, even back then, had such a beautiful vulnerability.  We met that day, among tears and beers, and have since become Gemini soul sisters… extroverted introverts, decidedly indecisive, scattered in our focus, wandering but never lost, and all together, perhaps, slightly neurotic… in a sweet way.
I've witnessed this girl drift through the typically tumultuous teens and twenties with such grace that I look forward to our visits and conversations, because I always leave them feeling comforted and inspired. Susy has studied in Spain, worked at a farm in Greece and taught music in London, all inspiring her to put more into her music.  She's had her heart broken, and I'm sure broken many hearts, unknowingly, every day.  After working a "real job" for a couple of years, she took a leap of faith, quit her office job, and put all of her focus into a musical career.
It only makes sense then that when Susy and I got together for a "Feed Me A Line" interview at Jai Thai in Fremont, our poem would reflect the internal conflicting and wandering spirit that we both possess.  My contributions are italicized.
——————————————
There once was a woman.
She traveled the world
in search of some ruby slippers
or even a pearl.
She traveled through dust,
and she traveled through mud.
She begged for an answer
from up above.
With no roaring response
and no booming advice,
she realized the pursuit
was her demise.
—————————————
After almost a year of hard work and creative soul-searching, Susy is gearing up for the official online release of the Wanderlust EP on October 22nd.  Wanderlust EP was recorded at Studio Litho, produced by Shawn Simmons (The Head and The Heart, The Maldives) and features The Passenger String Quartet, led by violinist Andrew Joslyn (Macklemore & Ryan Lewis, David Bazan, Kris Orlowski, Allen Stone).
This Thursday, October 17th, you should grab a ticket and make your way down to the Columbia City Theater where she is having her album release show.  I'm positive it will be nothing less than breath-taking as The Passenger String Quartet accompany her band and some pretty ballerinas from Westlake Dance Center join her on stage.  Get your tickets here and check out the first single & music video from the new album, "Forward Backward."