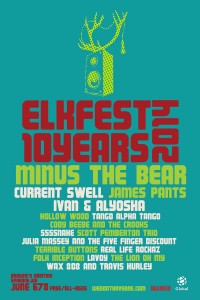 As you may remember from last year, Elkfest and Gleason Fest are two hometown music festivals that I can't help but feel "school spirit" for.  With an old high school buddy, John Blakesley of Northwest Music Group, booking the bands and taking on the festivals with such enthusiasm. It's hard not to feel like they are partly my babies too as we talk over the phone about which bands we know, which ones we want to know, and which ones we passionately want to share with Spokane.
This summer, Elkfest's lineup is nothing short of amazing.  With bands like Current Swell, Ivan & Alyosha, Tango Alpha Tango, Cody Beebe & the Crooks, and headliner Minus the Bear (and a few others I have covered in previous festivals), you would be an idiot for not attending this FREE 3-day music festival in the streets of Spokane. Read our preview of last year's Elkfest to catch up on a brief history of the festival.
Now, in the words of Spokane's Arts and Culture Editor at The Inlander, Mike Bookey:
"Elkfest, the venerable music gathering that takes over a significant amount of Browne's Addition June 6–8, announced its lineup a few weeks ago, and it was a strong one. It even included local hero James Pants.
But they were saving the headliner announcement for last, and if you've already procured a copy of this week's Inlander, you might have seen the ad. Now headlining the festival is Seattle's technical rockers Minus the Bear.
The band, known for its mathematical take on indie rock, complete with wacky changes and the sort of time signatures music geeks will drool over, is touring sparingly this summer, including a couple shows celebrating the 10th anniversary of their quintessential EP They Make Beer Commercials Like This.
It's a nice booking for Elkfest, which, believe it or not, is celebrating its own 10th anniversary this year. The festival is still free and still all ages."
Elkfest 2013 from Sam Kelly on Vimeo.
ELKFEST 2014
June 6 7 8
Browne's Addition
Spokane, WA.
ELKFEST Full 2014 Lineup
* MINUS THE BEAR

* Current Swell

* Julia Massey and the Five Finger Discount

* Lavoy

The Road (Official Music Video) by The Lion Oh My from The Lion Oh My on Vimeo.