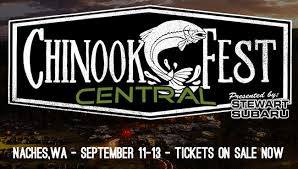 "Great music meets the great outdoors."
WHEN:
September 11 – 13, 2015
WHERE:
Jim Sprick Community Park, 13680 State Route 410, Naches, WA
TICKETS:
Tickets and Weekend Passes still available
Chinook Fest Central 2015 is coming up and it's getting a lot of talk after its sister festival, Chinook Fest Summit, made its home at The Summit at Snoqualmie in the Snoqualmie pass this passed July (that was a fun sentence…).  Every year, the lineup gets bolder, the activities become more abundant, the food gets tastier, the river gets more refreshing, and the people become more familiar.  One of the things I love about this festival is that each year there are a handful of bands performing that had already played the year before.  This is great not only because there is appreciation in the familiarity of the music, but also because you get to see how they've grown since the previous year.  Often you'll see an opening band book a later slot in the day the following year as they've gained more recognition as a band.
Some of the bands from last year that I'm looking forward to this year are:
The Wicks: For the past two years, I have loved waking up to their sweet sound on Sunday morning.  Pauline has such an angelic voice and quite the range in this independent folk band.  They hold the Sunday morning slot again this year, which I am really looking forward to.


Rust on the Rails: This band is incredible.  Pulling lead musicians from Cody Beebe & the Crooks, Blake Noble, Tim Snider and House of Waters, and Candlebox, their set is always a good time with an eclectically-enhanced nostalgic vibe of some awesome late 90s/early 2000s rock.

Austin Jenckes:  I was able to listen to him warm up with Cody Beebe & the Crooks backstage, but before he got on stage, my one year-old daughter had an epic meltdown and I had to take her to the car.  She was so hysterical that I couldn't even roll my car window down to appreciate the music for fear that her wail would be heard over the performance…seriously…I don't doubt that Austin would have been able to hear it from the stage.  So, you will see no photos of Austin's set in the gallery below, but you will see the great little circle session backstage; which, let's face it, I enjoyed probably much more than I would have had I been shooting the whole country-folk singer's performance.
Vaudeville Etiquette: I've had the pleasure of seeing these cats a few times, and it's always extremely enjoyable. Front lady, Taylor Lynn, has such an infectious energy and their music has swinging melodies that make you want to stomp-your feet and sing along. So bring your kazoo from last year and get ready to join in on the fun.

Robert Jon & the Wreck: Their tagline is "Get Wrecked"…I don't think I need to say much more than that.  Back by popular demand for the third year in a row, Robert Jon & the Wreck are a festival favorite.

Those are some of the returning champions, but let us not overlook the headlining newcomers that are sure to kick this festival into overdrive.
The Lil' Smokies: You want to experience a performance by one of the best bluegrass bands in the nation? Well, don't miss out on these 2015 Telluride Bluegrass Band competition winners. Their bio says it best – "With a unique blend of traditional bluegrass, newgrass, innumerable unique originals, sheer raw energy, and exquisite musicianship, The Lil' Smokies weave seamlessly through genres, leaving behind melodies you'll be singing to yourself for days and a jaw you'll have to pick up off the floor." Umm…yes, please.

Lukas Nelson & Promise of the Real: After the recent release of The Monsanto Years CD/DVD, a collaboration with Neil Young meant to "raise awareness against the unhealthy control of our agricultural system by amoral corporations and about the need for mandatory GMO labeling," Lukas and his band are coming to Chinook Fest while on break from the Rebel Content Tour. Don't you dare duck out early Saturday night.  Come see why Uncle Neil wanted to work with these guys and hear what a "cowboy hippie surf rock" band sounds like.  If you're lucky, he may even play a Willie Nelson song or two.  The apple doesn't fall too far from the tree with this son.

Sleepy Man Banjo Boys: This YouTube sensation trio of brothers will be closing out the festival Sunday afternoon.  Their story is as entertaining as their live shows appear to be, and I know many people who are anxiously anticipating this set, including myself.  When you have a band that hits David Letterman with the youngest, Jonny, being 9 years old, Jimmy Kimmel just two years later, and YouTube videos with over 30 million (yes, I said MILLION) views, you know you are in store for some jaw-dropping entertainment.

Larry Markwort:

Look at the photo gallery from last year's festivities then pack your bags and let's go play.