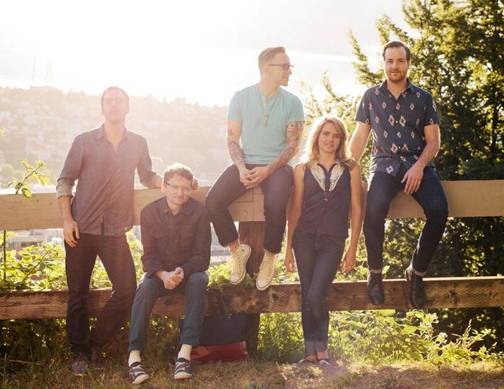 This Friday, Seattle band Campfire OK is coming home from being away awhile to play a CD release show for new album When You Have Arrived. While their sophomore album doesn't officially drop until September 17, they'll be slinging discs at the show and I couldn't be more excited. In preparation, I've been practicing my off-beat claps and learning all the songs. Oh, and I also caught up with frontman Mychal Cohen to chat about the new record. Check it:
IRW: How would you describe this album, When You Have Arrived, in comparison to Strange Like We Are? What major changes can people expect, and what do you think stayed the same?
Mychal: The songs are better. [Laughs]
Fair. I liked the other one a lot though, for the record. You've been playing the new track "Wishing You the Best" for a long time now — did it feel strange to include it on a record of songs that haven't been as widespread or aren't as familiar to fans?
We have been playing it for a long long time now. I actually wrote the song about five years ago, so it honestly feels like more of a weight off my shoulders. The fact that it is on an album with lesser known songs seems beneficial in my opinion. Hopefully people will think of that song as a bridge between two albums.
Fans are used to singing and clapping along to things by now, especially with strange beats and such — does that influence the songs you write now? Do you look to include those things for that reason?
We do love when people clap and dance and all that jazz, and feel very lucky that people get into the music. But that has never been an influence on songs that I write. I personally just like songs that I can move to. Just so happens that other people do too!
What have been the biggest changes or adjustments in changing from (former singer) Melodie to Zarni?
Zarni is an amazing piano player, and plays all of the parts I wrote and use to play. She has freed me up to be a singer, and a guitar player. Something we desperately needed. Her addition to the band has been such a great step for us. We have really not had to have any "adjustment periods" with her joining. It has been very, very organic and fun.
She's great. It's interesting that despite your lineup changes (since the last record), just like on Strange Like We Are, your voice is the one nearly exclusively featured — even though in live shows, there's more harmonizing happening. Why is that?
That is simply just a mixing decision. There are harmonies on pretty much every song on the new album. We are just cautious of having the harmony part too high in a mix. As a listener it can be a little confusing to hear so many voices all at once, all the time. I think that we simply have less control over how that goes in a live setting. There are so many factors that can change how the vocals sound in a specific room. We do love harmonizing, because it is awesome!
Is there a song on the record that you like performing more than others in front of an audience?
Yes. I like performing "Orange Grove" and "Fireworks at Night" the most. I just get in to them way more. There are cool textures that I get to hear that we don't use on other songs.
Your music all seems really performance ready, shaped to fill a room, but are there any tracks from the new record that are more of a "quiet room" or "recording only" sorta song, or one that doesn't translate?
I think that all songs can be performed, but some might need some reorganizing if you will. If I had to chose a song from the new album that was most difficult to perform live, it would be "Whereabouts" simply because of the string arrangement. We could do it with an orchestra though!
Where did you record this album, and how did you choose the producer and studio? What kind of rooms/recording situations are complementary to your music, and which do you avoid — recording or performance-wise?
[Laughs] That is funny because we tracked most of this album almost 2 years ago at London Bridge. We also tracked a bunch of the fun instrumentation at my, and Brandon's separate home studios. Choosing both the producer and studio was easy for us. Our friend Mike Squires wanted to produce it, and we love him. That was a no brainer. And London Bridge has an amazing sounding large room. Pretty easy choices for us! Have something sound good, and get to do it with someone you like. 🙂
What is special about the show on Friday? Besides the fact that the album will be released, I mean
We haven't played in Seattle in a while, we have a slew of new songs people have not heard, and it's the album release show!
What's next? Tour? You, Brandon, and Andrew have all gone off on tours with other artists, and Zarni plays her own solo shows sometimes. But is there a Campfire OK full-band tour in the works?
Yup. Sure is. That is the main goal right now.
Are you working on your next album already? If not, get to it. There's never enough.
Weeeeeeeell, yeah. Our next album has already been written and rough tracked. Now we just need to chose a studio and raise 15 thousand dollars. Ugh.
Favorite lyrics from the new record?
My personal favorite lyrics on the new album are In this darkness there is light / through an old orange grove / I'll be right by your side. I just think it is a pretty description of one person telling another, I love you.
———————————————
Campfire OK CD Release for When You Have Arrived
Friday, September 13 at The Crocodile
Support by: Sean Nelson, Rafe Pearlman with Dust & Gold
Doors: 8pm
$15 / All Ages, Bar w/ ID
Buy Tickets — First 200 people get a free copy of the album