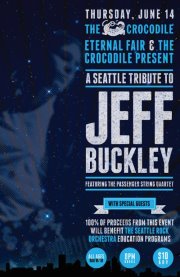 File this under: A one-time event you won't want to miss. Tonight, the Crocodile will be taken over by some serious talent in a tribute to the late, great Jeff Buckley (this show is also featured on the official website. Check it out!). The evening will be a benefit to support Seattle Rock Orchestra's education programs which will be launched in the Fall.
Whether you're a long- time Jeff Buckley fanatic or if you've just heard his version of "Hallelujah" once or twice, I can't recommend this show enough. Seattle rock band Eternal Fair has joined forces with The Passenger String Quartet, as well as several guest vocalists, to recreate some of Buckley's most memorable compositions.
Presented by The Crocodile and Eternal Fair, the tribute is a point of pride for Eternal Fair's Andrew Vait. The singer/guitarist/educator has been a Buckley fan for years, citing him as inspiration for his current career path. "I was in my junior year studying saxophone at University of Miami when I started to get spread too thin with [musical projects]," Vait Recalls. "I remember my [saxophone] improv teacher  said 'If you don't work your ass off the rest of this semester, you're going to fail this class. You have to go home and listen to your John Coltrane records a hundred times.' I would go home… and I would listen to Jeff Buckley." Later that semester, Vait switched his major to Jazz Voice. "I have a hard time not attributing that to Jeff Buckley," he states.
The sheer devotion of these masterful musicians is just one reason why this is a show not to miss, but Eternal Fair's high-energy performances accentuated with the compositions of Andrew Joslyn and The Passenger String Quartet seals the deal. If you don't believe me, you can see the teaser video below of Eternal Fair and the Passenger String Quartet performing "The Last Goodbye".
Throughout the evening, Eternal Fair will be joined by guest vocalists including Kirsten Wenlock of Elk and Boar, Tiffany Wilson, okanomodé (aka Soulchilde), Xolie Morra (Strange Kind), and Abby Wilson. Bands Sightseer and The True Spokes start off the night with original tunes.
So to recap: awesome musicians; awesome songs you already love; all proceeds benefit Seattle Rock Orchestra and their education program; oh, and it's an all-ages show. There's no reason you and everyone you love (or even like just a little) shouldn't be rocking out with me at the Crocodile this evening. See you there!
A Seattle Tribute to Jeff Buckley
Eternal Fair, Sightseer, The True Spokes & Guests
The Crocodile
Thursday, June 14th
Doors at 8pm :: Show at 9pm
Tix $10 Advance, All Ages