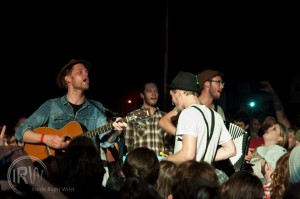 Today The Lumineers officially release their first full-length album. The only recorded songs previously available were a Daytrotter session and some homemade recordings they sold at shows that hardly showed off what the band is really capable of. We were lucky enough to grab an early copy and happily sang our way through the entire thing after several repeats.
The album itself isn't much of a departure from what most people have already heard, nor should it be. What Seattle fans have come to know and love is the relatable lyrics, heavy toms driving the beat forward and catchy melodies that refuse to leave the back of your mind even after a week or more, which is exactly how I like it. At this very moment "I belong with you/you belong with me/you're my sweetheart" is stumbling around my subconscious acting as a soundtrack while I write.
If you haven't sought out the sounds of this smile-inducing group yet, you may have come across their video for "Ho, Hey". It perfectly sums up how it feels to be in the middle of a Lumineers show and will take those of us who have seen them back to the performance and make us fall for them all over again. I was lucky enough to be at KEXP this morning during their in-studio session and they mentioned that the first time the song was captured it took place in a bathroom with only Wes (the lead singer) and Jeremiah (drums and "yells" according to their Facebook page) present. Supposedly there's even a video… hopefully that'll make its way online somewhere for us to giggle at and enjoy soon.
Having seen them grow into the group that performed on Saturday at Neumos (the first performance I saw was at Capitol Hill Block Party last year), I can tell there's much more to look forward to from The Lumineers. Whether they impress us with the ability to roll with the punches, change things up to keep the music new and interesting and deal with the instant success they seemed to have captured, only time will tell. All I can say is what they've given us so far will keep me happy for quite a while.
As for the rest of the Neumos show on Saturday, I couldn't be happier with how the evening turned out. Portland's The Quiet Life is on my list of sleeper bands that I really love but have yet to capture any real attention. Touring with the Moondoggies last year they got a taste of the road and hopefully at some point soon they'll actually get a foothold in the Pacific Northwest Music Scene. Don't think I didn't notice that Chris Zasche T-shirt younger brother (and drummer) Ryan Spellman was donning, a nice little tip of the hat to Seattle and another great musician.
Speaking of great Portland bands, Y La Bamba knocked me out. I saw them a couple years ago as I sat at the merch booth helping out Hey Marseilles at their sold out Crocodile show. I don't remember much of that night and I'll chalk that up to being busy and/or oblivious. They've have obviously tightened up and kicked up the enthusiasm. Lead singer Luz Elena Mendoza didn't stop moving for a minute whether she held a big hollow-body or simply belted out Latin-infused lyrics. It's not music that lets  you stand still; I certainly didn't.
As readers of this post, you're lucky… I've captured the night in photographs so you can at the very least feel like you were there and more than likely start looking forward to seeing any one of these bands the next time they slide into town.