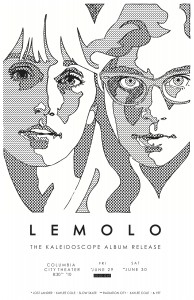 I think everybody was proud of them. Even the people who didn't know them at all. Even the people who had never come to shows along with the fans who didn't come to the difficult shows—the ones that were played to empty rooms. I think it took a few songs for proud strangers to adopt the beaming faces and warmed hearts of proud parents. Parents watching their children do something on their own, surpassing their expectations. It took another couple songs before they got over the fact that it was two beautiful girls thrashing on drums, verbally ephemering purity.
Strangest of all, it took me till the second to last song of the set to remember that I didn't fund a single guitar lesson or help buy a keyboard to replace the one whose keys had long ago flown off to the unreachable places under the couch in the practice space. To remember that I was not there in the beginning, that I have not been there since the first recognition of their potential, the first utterance of their name. Lemolo was not my first word but there is nowhere I would rather be in this moment and nothing I feel standing here among the baptized masses, except pride and joy, encouragement and, honestly, a little bit of self-jealousy for standing there, in that moment, in that group of people, glitter falling down atop our raised faces, whiskey-soaked tongues very nearly outstretched to capture this snowflake moment of two girls becoming rock stars.
We met in January of last year; but we almost didn't. We also didn't become friends, or even acquaintances, then. I went to a show at Neumos early on the recommendation of a friend playing in the headlining band. He said that I should check out Lemolo, and he said it in a way that felt like he was leaking a secret. So I got there early, watched them play and I thought they were good enough to buy their five dollar two-song EP. I told them I thought they were great, even though I didn't know yet how good they were (and they probably didn't either).
Fast forward to Doe Bay and the dock on the way home. I had watched them play the festival from just outside the window of the yoga studio (well, the hole where the window had been; the outside folks' collective need to be closer than not inside had led to the window's removal and the hole's formation). Lemolo was beautiful, of course, just ask anyone; but then again, things at Doe Bay feel much more beautiful than they might if things were to happen in a place where life has anything to do with reality. Though, that's hardly the point of this part of the story. When it was pretty much the last moment we could still be on the property and still have it be considered part of Doe Bay Fest proper, we left, my friends and I. We showed up to the ferry dock and knew we would be waiting awhile. So we ate some forgettable food and drank some sad coffee, then headed to the end of a dock still in the glow of the weekend which made the food we had just eaten and the coffee we drank feel more acceptable than moderately palatable. There, on the dock, Kendra and Meagan and some other music-making folk laid and sat and swam and waited, too, for the ferry that would break the strand that connected us to this magical few days. And, because no one knew what to do to make it not stop being Doe Bay Fest, we played dice, as they had been doing all weekend. I lost money, people won money, I won money, I bet a lollipop. No one was Lemolo or a fan or anything but dice-playing ferry-waiters who refused to be regular stuff-doers in a normal setting. Our collective unspoken acceptance of this was the first joint feeling that made me feel that these people were special people and that I wanted to do more normal things with them in non-normal settings.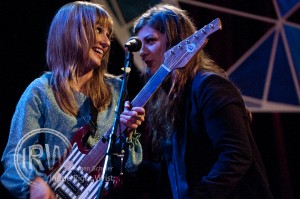 There was a moment last night when Meagan and Kendra were playing, right before my right and then left arm and then chest began tingling, when they looked at one another and you could tell that things were about to change. That they were changing in time to the song and that we were there for it, that it didn't matter how we had arrived there, that our very presence was nearly the point of the evening. It wasn't, of course. The point was that these two people have been playing music together for a few years now and that, although there has been a certain number of very specific opportunities and unique help involved, that this moment of breakthrough was inevitable. There was some sort of strange algebra factoring in talent, chemistry, and the abilities of two special women in their early twenties who don't care to be a new or fleeting sensation. Rather, they want to have moments like this one when, on the second night of their two-night album release party, a crowd of people who were strangers to one another, lifted their heads and voices and hands into the air and yelled things over it, over the open air. These people sang whale songs and pointed out Kendra's excellent faces and explosive drumming, remarking over the incredible purity of Meagan's voice, jealous of themselves for being there but who were, despite all of these conflicting and competing feelings, there at that moment; in support of this moment and all of the moments that led up to its fruition.
Meagan touched upon the feelings that are only sounded out once all the other ones have been expressed when she spoke about the future. Lemolo is at a crossroads in their musical life wherein they have successfully sold out a medium-sized venue in their home state (within a [different] ferry ride of their hometown) on multiple nights and they are about to embark on a small tour in support of their not-yet-technically released CD, wherein the only things they know of their future are embedded in resulting moments they hope will happen, but whose form they cannot be sure of. We'll never know where these songs will go, where these songs will go, they sing, and we can't wait to find out where they go and hope that we can come with them.
Buy The Kaleidoscope in stores and online June 3rd (technically)
Go see them today (7/1) at Sonic Boom in Ballard at 3pm
Tour Dates here
Gallery from the first night at Columbia City Theater by Morgen Schuler: