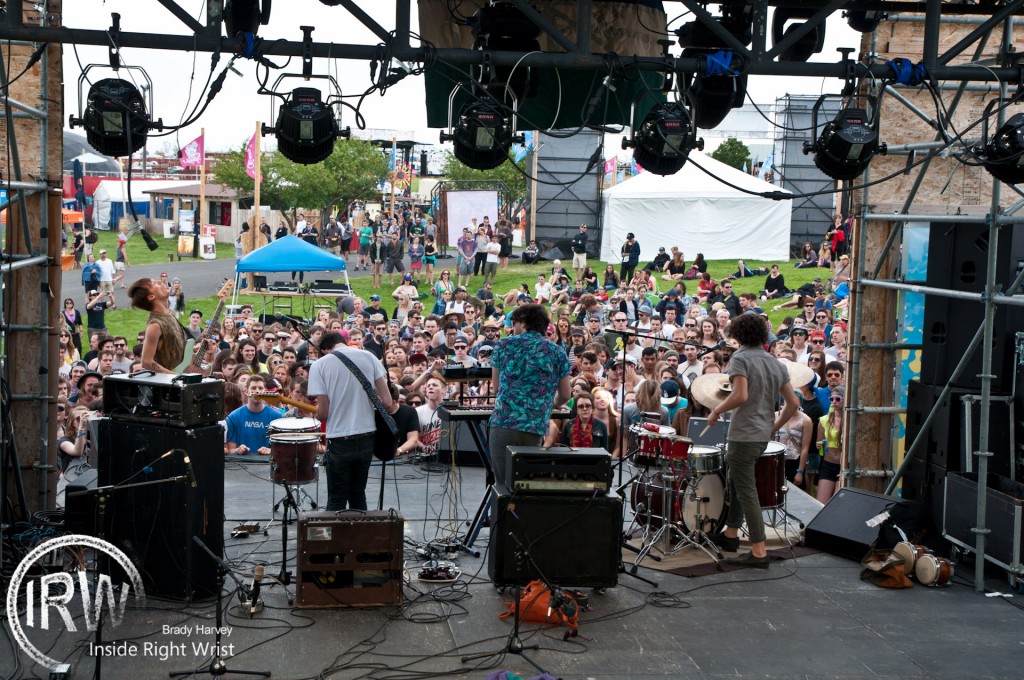 Despite my years of music photography, it was my maiden voyage to Sasquatch (and the Gorge!); I had absolutely no idea what I was in for. The moment I stepped through the gates I nearly had a run-in with a swerving snake, and minutes later was taunted by several human-sized neon green catfish. There were people everywhere in giraffe costumes, wearing inflatable hats, juggling strange devices and already drunk… by lunchtime. Slightly fearing for my life, I walked with determination over to the Narwhal stage for Iska Dhaaf and finally exhaled when I practically ran into everyone I know.
Iska Dhaaf's haunting video for "Happiness" had completely floored me at the Sync Music Video Festival earlier this year, and I was definitely excited to hear more from them. When they took the stage, the sky looked a tad ominous and the trees were blowing around violently in the background. Their ghostly harmonies floated off the wind and the crowd kicked into a surprising frenzy for 1pm in the afternoon. Maybe Iska Dhaaf is the kind of music that would fit perfectly in a tornado? Drum beats ricocheting off the audience, guitar chords flying in every direction, and in the eye of the storm, harmonies that hold your heart in a vice.
Next up at the same stage was Kithkin! I've seen these fellas more than a few times and watched their stage show develop from a young band into a Cascadia-loving cult-like experience. Every set I see from them is better than the last. With half of the Kithlords flying down from the scaffolding like young tree wizards on the first drum beat, this show was no exception. There were goat hoof shakers and tribal drums all over the place. The crowd lost it, and 3/4 of the band ended up in their midst at some point. At a Kithkin show you can get kicked in the head and still walk away smiling because there's no way you didn't have fun. They've just put out their first full length and you're a fool if you don't at least give it a listen. A durn fool.
I finally walked over to have my first look at the gorge and it was beautiful you guys, just like you all said it would be. It was so GORGEous I almost fainted. So then I restarted my heart with Maya Rudolph's Prince cover band Princess. I'm not gonna lie, they were pretty killer. She walked out dead panned and hand in hand with co-vocalist Gretchen Lieberum, but broke into a smirk the second the crowd started screaming. They played a bunch of Prince jams you don't usually hear like "Dance Music Sex Romance" and "When You Were Mine." Which is one of maybe 4 songs in the world I can play on the drums, so needless to say I was pretty stoked. They were both great front women too, trying their best to whip the crowd into a dance frenzy. I think maybe James Van Der Beek was on the keys? If you love Prince, maybe you should try giving them a whirl.
A bunch of other stuff happened during the day like De La Soul, Shakey Graves, and me getting dehydrated for a while. I saw 10 racist hats and wayyy too much skin on way too many people. Apparently this is typical Sasquatchian behavior. It was incredible. As the sun was finally setting on my first day in the Phantogram photo pit, they were so loud I could feel the bass vibrating all the way through my bones. Their records just don't do them justice. I've really had to physically feel them down to my bloodcells to get what they're about.  It was difficult to stop myself from dancing into all the photographers around me. Some Fridays you end up watching the sun set behind a crowd of strangers with a giant inflatable banana, and you just couldn't be more content.
Outkast was last up on my list. I had no idea what they would play – and literally almost fell over with happiness when they kicked it off with my favorite dance song of all time, Bombs Over Baghdad. It's the kind of song that automatically makes your hips move, no matter who you are, unless you are dead inside. Or a zombie. Nope, even zombies would dance to Bombs Over Baghdad. The whole gorge LOST ITS MIND. People were hurtling in from all sides to get in on the dance party. Probably even pushing babies out of the way and rolling down the hill to get at the action. Andre 3000 was wearing a phenomenal white wig, like some kind of Sakuracon attendee, and a jumpsuit that said "Everything is Temporary." That's definitely the truth and I sure am pleased I finally got to spend a few minutes of my life with those two. They played more tracks off Stankonia, Speakerboxxx, and The Love Below, and everyone ate it up. I've never seen so many northwesterners dancing in one place. Apparently it takes a remarkable act like Outkast to help them remember how. I found some weirdos partying in light up LED jackets and did a little dancing myself. It was the perfect way to end my first day.