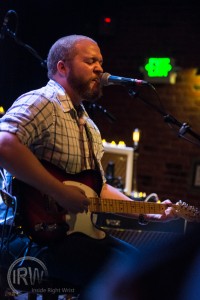 Radical Face (A project of Ben Cooper backed by his friends on tour) started Sunday night at the Tractor by warning the sold out crowd that since it was his first time playing seattle, we should all keep our expectations low. Apparently the guy has a pretty bad track record of not doing so well the first time around, and after having just had mouth surgery and suffering a back injury, I guess he wanted to keep our expectations low. His warning proved completely unnecessary, as Radical Face's first performance in our Emerald City was nearly flawless.
After first experiencing Radical Face this summer at Sasquatch, one aspect of the performance that I was hoping would be repeated was Cooper's banter between songs. The front man/songwriter/guitar player exudes this natural charm as he's delivering self-deprecating antidotes about himself, the band, and of course the melodies he's responsible for. Between songs, Cooper would make sure we knew what each song was really about. "A Pound of Flesh" is centered around a nice long walk home after killing someone; "Wrapped in Piano Strings" tells the tale of a man who killed himself and his ghost watches as his wife moves on; "Black Eyes" revolves around spousal abuse.
The stories Cooper weaves in his songs aren't his own, but are scenarios he imagines or are pulled from the histories of other people. What draws people into the music he's written is that the darkness his lyrics is a familiar one to all of us. Sure, I hope the audience around me isn't familiar with the feeling of murdering someone and then walking it off afterward, but we all know what it feels like to be a monster. We all know what it's like to feel like the ones we love are moving on without us. We all know what it's like to be hurt by someone you love. Radical Face captures that bit of sad shadow we all have, and in a live setting, it's even more intense than on record.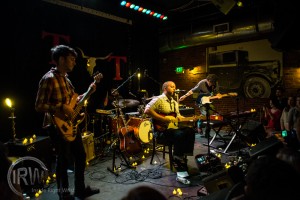 Cooper and his band played an assortment of songs from the previous work he's put out under his Radical Face moniker. Drawing primarily from the first two albums in his current trilogy, The Family Tree: The Roots and a release that came out this past Tuesday, The Family Tree: The Branches, the band gave that heightened intensity that an audience comes to expect from a live show. On record, the instrumentation of these records is beautiful, but there's a relaxed simplicity to it. On the Tractor's stage, Ben Cooper's friends gave more life to already powerful songs like "Always Gold" and "Reminders." Even more so, they provided added entertainment to the night- for instance, during a technical difficulties lull, the drummer came out from behind his kit and revealed his stature as one of the top yoyo-ers in the country and performed for a few moments.
All in all, I can't imagine the night's performance to have gone any better. It was the kind of performance that leaves a listener wanting more, and as soon as possible. One hope I have is that the final chapter of The Family Tree will have a bit more of Cooper's personal stories in it. Sure, the histories of other people he's sharing with us are powerful and his spin is beautiful. However, I can't help but want to know more of his own comfortable darkness. That being said, as I watched the young woman next to me cry as Radical Face performed " The Moon is Down," I have to admit, what he's doing already is completely enough. I don't need any more dark intimacy. That comfortable darkness I share with strangers during his music is enough.