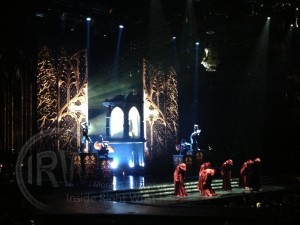 I've taken a few days to think over the night I spent with Madonna (and about a thousand other Material Girl fans). There was an insane amount of fanfare throughout the night. The imagery, costume changes and dance numbers were all a sight to behold… there's no disputing that. However I had some mixed feelings about the two hours we shared at Key Arena last week, and it unfortunately leaned more toward the negative. I'll mention that the DJ set by Martin Solveig that opened up the evening was great, mostly redux of female vocalist work (heavily leaning on Madonna of course). It was a fun way to get the audience pumped up for the main act.
Madonna is older — that's a simple fact. She's not the same spunky smart-ass that we knew from the '80s prominently on display in Desperately Seeking Susan and in her book Sex (granted that was from the early '90s, but you get me). At the same time, she has a bod that any 20-something would eye with envy and was not ashamed to show off her ass… The latter was painfully obvious throughout the show as she flipped up her skirt halfway through and then continued to flaunt it until she finally held it up in full view for a good 30-40 seconds while the camera was glued to it so we could all get a good look (showing on both jumbo screens at the front of the arena). Moving on…
There are two different elements of the evening — one a particular moment during the show and the other a general feeling — that caused me to feel disappointed by this show. I'll begin at the moment that started my confusion which then led to a mixture of other feelings. Her second song that night is called "Gang Bang". I recall Madonna being the same woman who spoke of peace, love, yoga and who endlessly touted the teachings of Kabbalah. What occurred as this song began quite simply jarred me, and that feeling lasted until the final note came to an end. She continually "shot" man after man in her on-stage bed while blood splattered across the 80-foot-tall screen behind her. In normal circumstances this probably would not have bothered me, but during a performance by this supposedly zen woman, it was like a hard smack in the face. I'll leave it at that, I simply felt shocked and (I can't believe I'm saying this because it never happens) a little offended.
The other part of the show that pushed me over the edge into what I can only describe as pity and sadness, was a more gradual sense of discomfort. I am in love with the self-serving, constantly evolving image of Madonna. I think what I was expecting from the show was glitz, glamour, sex and a lot of diva-to-crowd interaction while we all sang at the top of our lungs to our favorites. What it turned out to be was a queen speaking to her servants on occasion (sometimes to yell about smoking pot in the audience and how it hurts "your queen's" throat… no fooling, she said that) and otherwise attempting dance moves that she was only partially capable of while all other times being carried around by young, very buff men. Other notable moments at which we winced:  Attempting to "play" the guitar (ie one chord without looking at her fingers), a few awkward minutes attempting to walk a slackline, a weirdly French costumed number whose song had nothing to do with France and a Bowie-esque clothing change for an oddly Bowie-sounding spacey song that nearly made me facepalm.
Perhaps I am being too harsh — I can totally understand why someone would love the performance that night. It was grandiose, full of surprises and she did some killer kicks with a seemingly bangin' body (she's 54, kids — that's damn impressive).   She also took her older tunes and revamped them to give an extra little oomph. For me, though, this was another down-side to the performance. I couldn't sing along when she turned "Like a Virgin" into a piano bar jazzy tune. I also couldn't sing "Express Yourself" when she was swerving in and out of "Born This Way" by Gaga (yep, she was totally calling Lady G out). There wasn't one classic tune that was, from beginning to end, the way it had originally been recorded. Maybe this was the most disappointing part of all. I just wanted to sing and dance along with hundreds upon hundreds of other fans to rock anthems that defined my teen years. The ones that stick with you forever.
All in all, the Material Girl was quite a show-woman and had spunk flowing out every which way. It just wasn't the performance I was hoping for in the long run… so take that as you will. You can also blurrily re-live the evening through my crappy iPhone photos. (I'm a photographer after all — I can't keep myself from snapping a few shots here and there, no matter what equipment I have at hand.)