Where was I Sunday morning?  Too hot to realize what was going on, apparently.  It was a shorter day for me as I had to head out early and spent more time backstage with a stiff neck and wet sandals than covering sets with great enthusiasm. Although, I was very excited to finally see Elephant Revival live… that was until I was called down to the river for a photo and video shoot of 'The Meltdown Girls". That unexpected event pulled me away just after they finished sound check.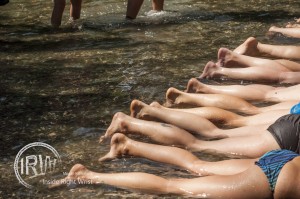 Now, the river was an interesting experience, however I would have much rather been experiencing Elephant Revival.  Maybe it's because I'm a girl and seeing topless women isn't as fascinating to me as it was for the mob of bearded beer-drinkers and pre-pubescent boys that circled around us hootin' and hollarin' inappropriate requests.  Regardless, the girls were troupers and played along just well…namely the girl who bravely jumped up and tackled a man in a shark costume who was cleverly and obnoxiously role-playing a shark attack.
I digress…
Yes, I missed their show; however, I was soothed to a sublime sense of relaxation during their sound check; they were so pleasant on and off stage that I had to at least acknowledge that.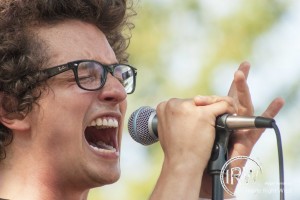 This Seattle-based band made my day.  Definitely designed for the main stage, they emphasize their individual strengths and did such a great job at supporting Galen Disston's powerful vocals.  There are some musicians that emit authenticity and put on a performance that lacks ego making shows very alluring… and that's Galen.  Having only ever seen Pickwick online at their KEXP in-studio session playing 'Hacienda Motel' (which I loved), I had no idea the sheer madness and soul that Galen had inside of him.  I'm pleased to know that they are based in Seattle, and I absolutely plan to see as many of their shows as I can.
Lukas Nelson & Promise of the Real:
I hate that I have to say he is Willie Nelson's son, because then your mind goes into, 'that's the only reason he's booking shows,' or 'that sucks to have to live under the shadow of Willie.  He can't possibly live up to that.'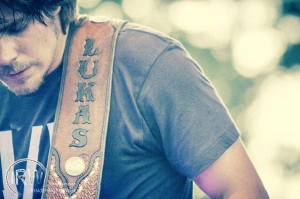 Your mind may want to unintentionally compare the two.  Stay with me on this… Lukas Nelson is Lukas Nelson. He is a phenomenal musician that seems to have been playing the guitar longer than he's been alive and his band, 'Promise of the Real,' definitely keep up with him.  Not once during his performance did the great Willie Nelson enter my mind.  He is supported by a very diverse group of guys, causing Lukas' songs to take on various subtle flavors.  With a drummer who used to play for No Doubt during the early years, a percussionist from South America who is influenced by Santana, a bass player formally playing for Chris Cornell, and Lukas himself influenced by his father and the likes of Neil Young, you can't go wrong. Lukas Nelson & Promise of the Real, a band promising a high level of integrity in their music, had executed that quite nicely.  Aside from the pleasing audio of their set, if you had put on noise-cancelling headphones and just watched, you would have been thoroughly entertained.  Incredibly impressive barefoot high-kicks, constantly flailing hair and a glazed look in Nelson's eyes making you think that he was channeling the Greek gods of guitar playing; it was enough to make anyone raise their eyebrows and say with a grin, 'Daaaang, man.  Crazy good.'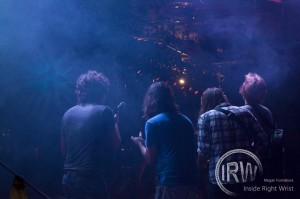 Sometimes I forget that I am actually supposed to be writing a review and I become so entranced behind the camera that the logistics and details of the music never phase me.  Instead I'm taken to an emotional place that may not be very helpful in a music review where people want to know what the melody and baseline were like, what the vocal dynamics sounded like, how the precision of the artists were, and I'm just simply not able to.  This was the case with Ha Ha Tonka.  In such a visually ideal setting, and with wonderfully photogenic men, the set was background music carrying me to a smoky bar on the side of a two lane highway in the middle of a dusty nowhere.  It was amazing.  And then seemingly out of no where, ironically enough, there came a woman parading around a giant bird head on a stick that brought back memories of the vulture looking Skeksis from 'The Dark Crystal.'  Aaaaaand that was my cue to go home.