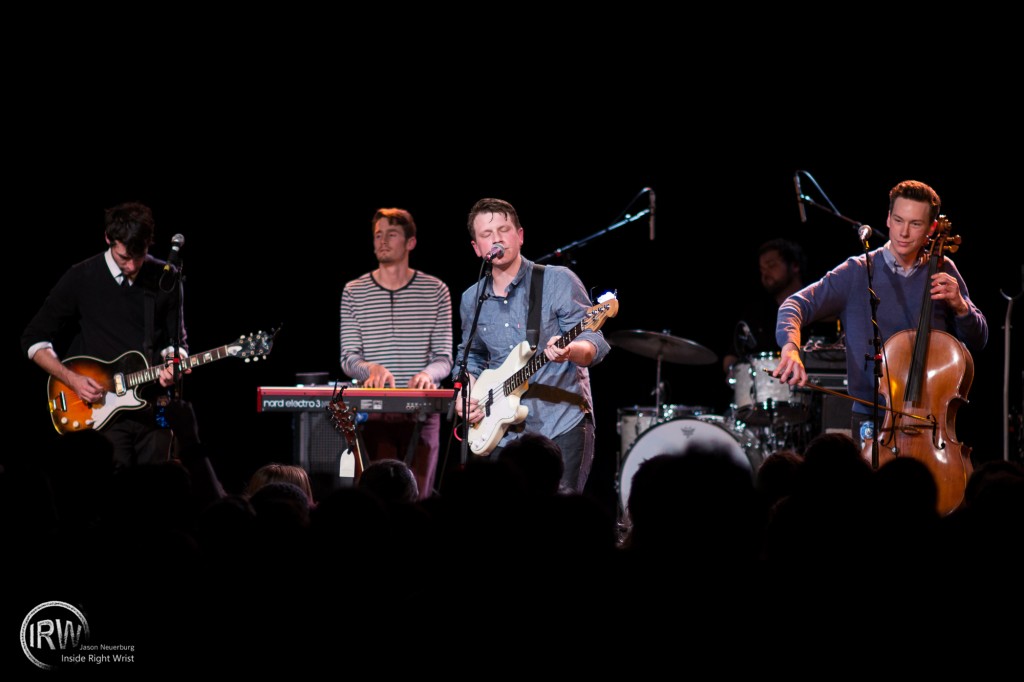 The great thing about the crowd at a Hey Marseilles show — and in particular, at Friday's album release show for Lines We Trace — is that everyone seems to know the words and feel a sense of total comfort in singing and clapping along at the tops of their projecting abilities. The funny clapping patterns and unintuitively timed "Hey Hey Hey!"s are no match for a room of confident, if somewhat buttoned up folks. The sound is incredible. Half-steps and mis-timings disappear into a sea of white people clapping exuberantly. Even songs that sound like personal diary entries set to piano have an anthemic quality.  Personally, I love the sense of community this brings, but hate the sound of untrained voices coming in and out of my perception as they sing off-key behind my right ear; so a Hey Marseilles show is tough for me. Luckily, if you can tune out all the other people, it's the best show in town.
If you're not familiar with the band, they are all brilliant musicians with enough talent to make up for every other band that has ever tried to do what they do and failed. Between rotating accordions, tambourines, guitars of all kinds, keys, drums, trumpets and innumerable other noise makers, they also sing beautiful melodies over rising and falling waves. It's the kind of music you can get into completely when you're present to experience the various sounds intertwine, or allow to float into your subconscious pleasure centers when you listen at home while doing other things. They are also one of the most attractive groups of dudes ever to take the stage together, and tend to wear coordinated outfits with toggles and chambray. The highlight of their set for me was watching lead singer Matt Bishop headbang and rock out with his tambourine. Truly a sight to behold.
Opening bands Pollens and Y La Bamba were the perfect choices for supporting artists. Pollens' music has a chanting quality that should lure fans in who love to be "active listeners" (as we'll gently call people who can't "STFU" at a show and instead talk about how much they love music while everyone else is actually trying to listen). You can practically hear the people around you texting their hip friends to be the first to know how good Pollens is. They're that good, but you probably already know that. I saw you texting.
As for Y La Bamba, I have seen them once before opening for The Lumineers last year at Neumos. At the time I may have overlooked the Tender Loving Empire band, such was my excitement for the "Ho Hey" band (start drawing your parallels now, friends). Y La Bamba mixes poppy sounds with totally un-cheesy (it's a word now) clapping patterns and layered she-he harmonies. They're great, and if the swarms of fans waiting for HM to start their set had stopped talking over each other for twenty minutes, they may have realized that too. I apologize to myself for not knowing about them earlier.
Overall, I'm glad I was there to see the swarms of people who fell in love with Hey Marseilles for the first time, or again for the who knows how many-eth time. After HM's triumphant finish, the band was greeted by lines of people waiting to buy their new album Lines We Trace, take pictures with the handsome musicians, and gush. It looked like a preview of more big things to come.
Photos by Jason Neuerburg