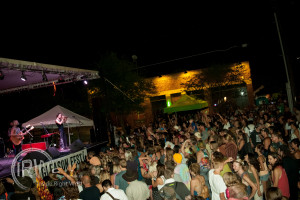 This summer, Gleason Fest had a smaller lineup than normal, but not because they couldn't find talent to fill the slots.  With Nahko & Medicine for the People and Appalachia Rising on the bill, it would be upsetting to give them anything less than two large time slots, therefore their sets took up most of the evening.  I am sure no one would've rather had more bands and shorter sets.  These two national touring acts brought quite the following and were incredibly enjoyable not only on stage, but backstage as well.  The backstage area had a constant flow of performers and everyone got along so well.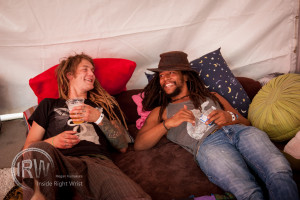 This year was, from my experience, the most light-hearted Gleason Fest yet.  Steve Gleason was there, just as he had promised last year after receiving the Key to the City, along with much of his family and closest friends.  There was twice as much luscious lawn in the street than last year, less bands but more friendships, and so many hugs, dance moves and hoola-hoops.
Aside from getting to spend time with Steve and his family, my favorite moments of the day were the ones where I was able to sit with and watch the way Nahko and his band interacted with everyone they met.  It was truly fascinating.  I've never seen such genuinely gentle and silly spirits.  I couldn't tell the difference between people they had been friends with for a while and people they had just met for the first time.  I was actually uncomfortable with how comfortable I was around Nahko.  We hugged like long-lost friends, which is how he hugged everyone, probably because he actually views everyone as such.  We talked about daily life and family and travel and when I asked him if he had any kids (which I already knew the answer to); he responded with, "well…no…I have a lot of adult kids though."
"Right." I replied. "Your tribe.  You have a lot of spiritual kids."
"Yeah." he said with a smile.
The music was different from the usual eclectic folk/rock/hip-hop in the past.  Each band carried a bit of the "One Love" attitude with a lot of reggae, funk and roots-y vibes;  Jus Wright opened up the day with wonderful feel-good reggae.  The festival preparations had left the crew feeling a bit stressed, and this set helped everyone mellow out and get in good spirits.
The Rustics, in typical fashion, came to the grounds early to hang out and support the other bands.  You can always count on them to stick around for the duration of the festival and help welcome the national acts.  Formerly a local duo, Mackie Hockett and Ryan Miller added Colton Clark on banjo and Paul Patton on the drums.  They are a Spokane favorite and this weekend amped it up by adding Griffin White on violin and Vinny Hutton on guitar halfway through their chill set.  I can't even begin to express how much I love this band.  Mackie's adorable demeanor and infectious smile and Ryan's vocals and generous personality; it's their lyrics, melodies, harmonies and riffs that get me. They are a happy fall overcast day with fiery orange and red leaves scattered across the horizon with moments of sprinkling rain while driving across a quiet and cozy America.  I.  Love.  Them.  Their CD hasn't left my stereo since that very day.
After The Rustics, the Real Life Rockaz took the stage and the hoola-hoops came out for the reggae/funk/spoken word, politically rich set.  After that, Hey! is for Horses drew the Gleason family out of their tent to sit front and center enjoying the long-time friend, frontman, and festival organizer John Blakesley's set.  The majority of the band also happens to be Gonzaga Preparatory School alumni, along with Steve Gleason and his brother, Kyle; it was obvious by the cheering support between songs.  Blakesley also wrote a song for Steve titled, "Still Got It," and while dedicating it to Steve said, "whatever we face, whatever we have to go through, we still got it.  You still got it, Steve."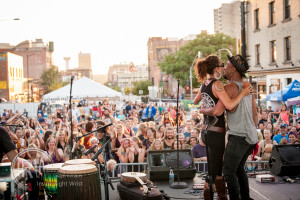 Rising Appalachia and Nahko & the Medicine People brought their own overlapping group of fans.  It was no wonder that when the Rising Appalachia crowd (who had pushed their way up to the front of the stage) spazzed out when Leah and Chloe invited Nahko to the stage to sing a song with them.  I felt like I was at a New Kids on the Block concert back in the 90s on a much smaller scale, but with the same reaction from the girls up front.  It was a beautiful set overall with the sisters' smooth harmonies and old world combined with new world mixed with back alleys, skyscrapers, strings, drums and prolific words.  Everything about this group peacefully yells "wide cultural communities can create formidable sounds through magnificent adventures."  I look forward to seeing where Rising Appalachia journeys next.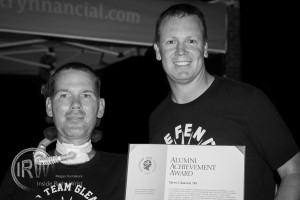 Nahko & Medicine for the People jumped on stage at the tail end just around dusk after a presenter from WSU got up to give the WSU Alumni Achievement Award to Steve Gleason for all of the work he's accomplished after his ALS diagnosis in 2011. You can see what he's been up to here.
Nahko's set was absolutely incredible.  With a great blend of upbeat crowd-pleasers and quiet, heart-pounding serenades, Spokane fans lingered in hopes to meet the band, touch a hand or discover who the little energizer bunny was on stage dancing next to Sean and Finn Gleason, Steve's nephews.  Nahko's lyrics, uniquely captivating vocals and incredible way of intertwining spoken word with anthem runs, sing-a-long tunes and a collective worldly vibe is so different than other music out.  Most fans would say that watching Nahko & Medicine for the People perform is a crazy, amazingly moving spiritual experience.  It truly is medicine for the soul; I can attest to that statement.
FEED ME A LINE with APPALACHIA RISING: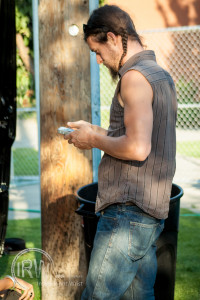 In the midst of the Hey! is for Horses set, I found myself backstage writing a Feed Me A Line poem with the band members of Appalachia Rising.  The session was periodically broken up by the occasional fan meet-and-greet, pre-gig stretches, and picture taking.  Regardless of the interruptions, it was one of the most poetically powerful pieces I've been a part of thus far.
Me
Chloe
Leah
David
Biko
There once was a woman with eyes black as coal.
She roared like deep rivers and sang like a lamb.
The aspens quivered in her presence for she walked like the north wind promising
winter to the land.
But they saw within her the spark of dawn,
that warm glowing coal that sparks the life of fire
and staunchly uncovers the billows of her concrete stare –
unmasked and contagious.