Elkfest continues to be a highlight of Spokane summers for many locals.  This three-day music festival is not only free, but all-ages, super laid back, and brings in some great local talent and a few hidden gems.
This year's festival seemed a lot more mellow to me. With the forecast threatening rain all weekend, the numbers dropped a bit; while no rain showed itself, music was bountiful, so we got a cool overcast day that smelled of Jamaican Jerk, morning rain, wet pavement and … well, beer.
It's been 12 years now and the organizers are still open to fresh ideas and ways to keep it fun and interesting. Last year, they introduced an Art Draw-Off that proved to be successfully entertaining, so they brought it back for the second year.
Traveling T's set up shop to print off your custom Elkfest shirts. This company had a menu like a Make-Your-Own Pizza shop. Choose Your: Size, Style, Color, Graphic.
The most exciting and effective difference being that they had a house band arranged on a side stage that played between every set over the three days instead of having house music played over the loud speaker.  I believe The Rub had eighteen 30-60 minute sets and only repeated one song that whole time.  Not only were they incredibly diverse playing cover songs ranging from Pink Floyd to Cyndi Lauper and legitimately sounding like the bands they were covering, but they also threw in original pieces including a few they created on the fly. They're currently in the works of recording, and I am excited to see what these cats come up with. They have played together for many years, and it is obvious.  With a high and infectious energy, many fest-goers couldn't help but smile, if not dance with nostalgia, as they pulled out some classics and old-school chart-toppers.
The lineup this year was mostly filled with bands that I honestly had never heard of before. I love when this happens, because I trust Elkfest booker John Blakesley enough to cultivate a lineup that will no doubt grace my playlists for many years.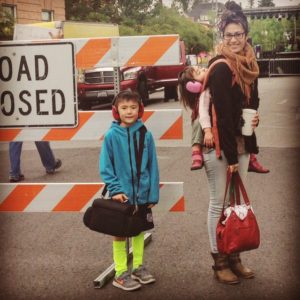 As always, my kids came along to enjoy the music, meet the bands, hang out with the crew and dance around for a few hours, but this year was different for me as well. With my daughter on my back and my son beside me, he held his very own camera and shot his very first music festival. Thank you, Elkfest peeps for allowing my 6 year old in the photo pit for a "come to work with mommy day." It was awesome.
His first band to shoot was Duke Evers and how perfect was that? With the throw-back style of the classic definition of Rock and Roll and a little Elvis pizzazz, these guys had a blast on stage making it that much more enjoyable for the audience and a whole slew of photo-ops for my new photography partner.
Friday night's headliner, Lee Bains III & the Glory Fires…
"Hey, I have an interview series called Feed Me A Line where we write a poem together alternating lines. You wanna play?"
"Yeah, sure. Although it's probably going to make you want to call the FBI."
Aaaaandd…it totally did. However, upon spending more time with them backstage, seeing their badass performance filled with a passionate commentary for each song and Alabama rock and roll antics, I know I wasn't the only one to fall in love with these guys. Their set and sound seems gritty and haphazard, yet you know they are very intentional about making it organic. Kind of like a girl that spends a lot of time on her makeup to strategically make it look like she's not wearing any. Just a natural beauty.
Saturday, Folkinception graced the stage with a later slot than normal.  I have seen them play the 2pm slot for a couple of years now, and although I think they served us well as the kick off band, I have always wanted to see what their energy would be like with a larger, more engaged crowd. It was great to see everyone more involved and singing their folk-rock songs right alongside them.
Folkinception was placed after The Holy Broke, the solo project of Kent Ueland, formerly of Terrible Buttons, and currently picked up by, well what do you know, Folkinception.   This was a very tamed down Americana/Country set.  Ueland commented on trying not to depress everyone with his mopey songs.  I originally wasn't sure how a singer-songwriter would do with the Elkfest crowd after the high-energy set of The Rub, but The Holy Broke held his own.  Yes, his lyrics were dismal, and his tone a bit more melancholy, but with a kick drum at his heels and a harmonica around his neck, he had a nice round sound and beautifully desperate vocals that were very alluring.  He was probably my favorite out of all of the sunlit bands.
Following the somber storytelling set, The Rub picked things back up and brought people to their feet.  They transitioned nicely into the Folk/Americana set of Folkinception who set the mood for soulful headliners, Down North.
When you see a band spend a good amount of time stretching before their performance, you know it's going to be a good show and Down North did not disappoint. I never would've expected lead singer Anthony Briscoe to bust out the triple pirouettes in his hot pink pants and dashing blazer; as if his magnetizing dance moves and killer vocals weren't enough, drummer Conrad Real's googly-eyed dramatics, charming personality, and straight up insane talent sets them up for a very successful future. Real's drum solo, containing rapid-fire beats that honestly sounded like there was a super-hero octopus on stage had the whole crowd shouting and howling. Actually, he was, and I believe always does, dress in some Superman garb for their shows, so maybe there is something to that. I'm sure I wasn't the only one to go home and look up Conrad Real drum solos on YouTube, which there are a plethora of, and you should go do as soon as you finish reading this.
Being in the wake of the Orlando shootings, Sunday's lineup was a beautifully love-filled way to end the festival. With Breadbox, Anthony Hall, Jus Wright, and The Expanders all having soulfully stirring lyrics and vibes, this lineup spread the love and encouraged the masses to respond to the hateful acts with a compassionate heart and thoughtful actions.
Anthony Hall played a bit of a welcome-home set after returning to Spokane after so many years in Los Angeles, telling the Spokanites why they were so blessed to live in the big little city. His agreeable personality, charismatic demeanor and charming lyrics had everyone engaged and many young ladies swooning. He also wins the award for "Best Hair."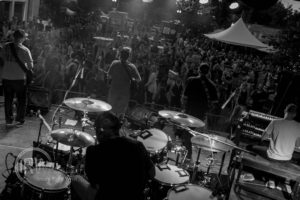 Wrapping up the evening and entire festival late Sunday night was reggae band, The Expanders. Now, these guys aren't a reggae-inspired or newer rock-reggae band; they are a legitimate classic roots reggae band influenced by the 70s and early 80s style; a gentle group of men that are gaining more recognition in the reggae scene. They have been traveling more and adjusting to a rising fan base, but have been staying humble, and focused on the purpose of their band. To borrow from their bio, "The Expanders' music is a reminder that reggae music wasn't born in a tropical beach paradise, but in the impoverished and underprivileged areas of Jamaica, resulting in a passionate expression for human rights, social justice and freedom from oppression."
Below is a Feed Me A Line interview poem written with John Asher (drummer) of The Expanders.  My contributions are italicized.
There once was a woman
who gave me life.
When she walked,
when she talked,
everything sprouted up in her light.
Love is her language.
She taught me unconditionally.
She defended me.
She mended me.
She nurtured me to know
I am truly loved.
In her arms are truth.
In her spirit are my roots.
When we finished writing the poem, I asked what his mother's name was. "Joyce."
"Nice to meet you Joyce. My mother's name is Linda"
"Nice to meet you Linda."
We hugged like reconnected long-lost siblings. It was strangely beautiful.