Elkfest 2014 kicked off with such a bang that the generator literally blew.  Seriously… the generator blew, and FOLKINCEPTION did the first part of their set on the patio of The Elk while they replaced it.  It turned out to be a really great, intimate set that captured the playful nature of the band.  After about an hour, they were able to jump back up on stage and finish out their set.
Current Swell headlined Friday night, and made the Elkfest organizers proud. This was their introduction to Spokane, and for most of Spokane, this was their introduction to Current Swell. Based on a comment from the band about going out of their way on tour to play here, and the reaction from the crowd to their performance, there was a mutual respect and appreciation between the two. These guys have such a laid-back vibe, which was perfect for Friday night. A lot of people were coming out after a hard day's work and wanting to just sit back and experience a fun but chill show. It wasn't too loud or crazy, and they ended their encore with a little boy and girl jumping up and down on stage next to them. Quite a different scene from Sunday's headliner, Minus the Bear, who ended their encore with a handful of boisterous stage-divers. Both entertaining and fun, but definitely a different vibe, and aptly booked.
Every once in a while you find a musician or band that you really connect with… I found that in Noah Tabakin, aka Ssssnake, as he performed last year during Gleason Fest, and I was so happy to see that I wasn't the only one. Spokane welcomed him back on Saturday evening with such enthusiasm as his performance painted a permanent smile on everyone's face. Between pulling people up on stage and jumping out into the crowd with minimal clothing creating a human train, his animated and over-the-top performance was also easy on the ears. He's incredibly talented, not only in keeping his audience's rapt attention, but his voice is alluring, his beats are catchy, and most of the lyrics are actually pretty profound. Although, honestly, lyrics are cast a bit in the shadows of his physical performance. Keep an eye out for him in Spokane.  I've heard that he really took a shine to the Lilac City. Check out the Feed Me A Line poem down below that Noah and I wrote together last year.
DJ James Pants closed out Saturday night with his homecoming performance… this was the Spokane native's first time on stage in his hometown after moving to Germany three years ago. Pants has always had a steady following here in Spokane, so it was pretty awesome to see the excitement among the crowd for his return.  I wasn't sure if having a DJ play the last set of the night would suit this town, but my doubt was cast out as I peered into the crowd and saw everyone really enjoying themselves; either by flailing their arms and stomping their feet or just boozin' it up with some buddies in the patios.
Another note-worthy performance was Tango Alpha Tango. These cats never disappoint. I've seen them perform three times now, photographing them each time, and I can't get enough of the way frontman Nathan Trueb loses himself in the music. I've seen a lot of great guitarists, and the best ones seem to have no control over their facial expressions while they thrash their fingers with such precision up and down the neck of the guitar. They have a transparent way of dominating the instrument while surrendering to the music. It's a beautiful and fascinating thing and Nathan has that. Back that up with his unique vocals, the talents of his gorgeous wife, Mirabai on the bass, and their friends Joey Harmon and Danny Jones on drums and keys respectively; it's a no-fail recipe for some great bluesy-rock music and an incredible live performance. Don't miss them if you get the chance to see them live!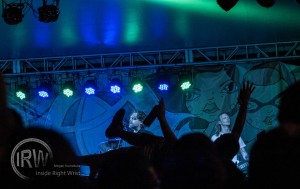 Crowd-Surfing during Minus the Bear
Elkfest came to a close Sunday night with Minus the Bear's set beginning with an introduction by John Blakesley, who spontaneously jumped into the audience and crowd-surfed all the way to the sound booth and back. He was then gently and respectfully delivered back to the stage which set the scene for the rest of their set as a steady stream of fans jumped up on stage and crowd-surfed out among the thousands of people that flooded Cannon Street. So Elkfest 2014 began with a bang and went out with a boom… 10 years in the bag with the biggest Sunday headliner yet, and nowhere to go but up. I'd tell you to make sure you purchase your tickets for 2015 before they sell out, but amazingly and AWESOMELY that's not necessary because it's entirely FREE and open to all ages. With only a $2 cover to get in to The Elk's or Italia Trattoria's patio, and the booked bands becoming more and more well-known, Spokane will need to start closing more than just one long block in the historical Browne's Addition to accommodate the flood of people coming from all over the Pacific Northwest for this fantastic festival.
FEED ME A LINE with Noah Tabakin aka SSSSNAKE
LOCATION: Gleason Fest 2013 – Spokane, WA
FOOD: Carrots, Apples, and a Grape
BACKGROUND MUSIC: Blue Scholars
(Megan's contributions are italicized)  
There once was a man
upright and scentless…
He continued to find himself
lost, rust on his spokes
and half eaten soles
forever hungry
with a bucket of coals
yet feeling lucky…
for he found a bottle of cologne
Drakar Noir
The nostalgia hit
grabbed the kit, fixed his shit and went so far.