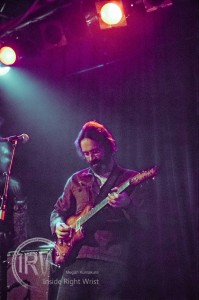 It was the Saturday following Thanksgiving, after the frantic holiday preparations, massive feasts, food coma, and black Friday craziness had passed. It was also time to hit the music venues for a night of kickin' back and actually enjoying time with family and friends.  This particular night, the Chris Robinson Brotherhood was gracing the stage at Neumos.  Chris Robinson, the frontman for The Black Crowes (currently on an indefinite hiatus), has chosen to venture into a soulfully psychadelic project that has proven to be quite an ingenious move.
This past year, the CR Brotherhood recorded two albums (at the same time) and released them within three months of each other: "Big Moon Ritual" released in June and "The Magic Door" released in September.  This band has more than enough original material to pull from; however, they are known for their large amount of cover songs.  Their adoring fans (the word is not used lightly here) of all ages appreciate this as well as their constant impromptu jam sessions, ever-changing set list, lack of an opening band, no between song dialogue and so much incense smoke filling the air it makes you feel like you're in the middle of a burning ashram.
Their raw, grassroots sets are a nod to the 60s and 70s bluesy rock with a hint of country.  Robinson refers to the band as a farm-to-table psychedelic band. It's obvious that this project isn't about making money.  It's not a commercial endeavor.  It's purely creative, and it's clear that they want to paint a picture for the audience; they want to bring about an exploration of the limits to one's own imagination. It's a trip, an experience, even completely sober as I was. The fact that they don't talk between songs allows the listener to smoothly transition from one mental scene to another.  It is brilliantly concocted.  Not to mention, Robinson's gravelly and nostalgic voice has been a favorite of mine since I first discovered The Black Crowes. It was back in my high school days when my older brother would play their CD in his pick up truck cruising down the streets with the windows down and hot air hugging our skin.
Here's one of the true crowd-pleasers, "Rosalee"…
The Neumos appearance being their 199th show as a band, you wouldn't guess that they reached this milestone in just over a year; that is, if you condense the months they were actually touring.  They discussed this with me after the show in the greenroom and recalled that even though their performances began in March of 2011, they had a break early on that year and took a few months off over the holidays.
At one point nearing the end of the show, a brawl started up in the sea of people, and Robinson's reaction was the first real sign to me that he knew we were there.  The tour manager and security guard were so quick to respond that before Chris could even stop playing the guitar and point to the drunken instigator (aka jackass), they were already escorting him out of the venue while the crowd cheered. I didn't even realize it until then, but the majority of the time I felt like a fly on the wall, watching the guys sitting in their living room, lights down low, taking some sort of psychedelic drug and having a continuous three hour jam session with no one talking.  It felt intimate with the way they created an open space for us to join them on their musical and spiritual adventure without verbally inviting us to come along.  Their music is not for everyone, but for those who get it…they really get it.  They close their eyes and experience the music on a cosmic level.