I have this habit of  just hanging out with people when I know I should probably be interviewing them.  Awesome for me… not so much for you, our readers.  I never record a conversation, the musicians rarely know that I am a writer and I never want to share the full details of our conversations since, for the most part, they have no clue that the conversation has the potential to end up published. Out of respect for them, I've chosen to do my interviews for Meltdown in a different way.  Enjoy!

Artist(s):Frank Vitolo of Snug Harbor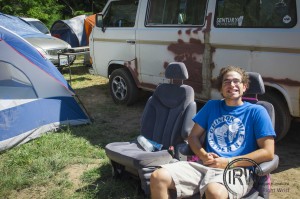 Location: Everywhere but the river
Food: Snap Peas and Sunflower Seeds…and about 4 packets of Fruit Snacks
Meteor Sighting Location:  On the grass in front of the empty main stage
Most Memorable dialogue:
Me: "I grew up playing piano; but I'm a reader of music.  I've never really been able to play by ear.  I've always wanted to jam with people, and I feel like it'd be relatively easy for me to pick up; I've just never made it a priority."
Frank: "It's actually pretty easy.  I learned classical piano first.  You just have to set aside what you've learned and kind of start over.  It's much easier to learn that way, if that makes sense."
Me: "So it's kind of like switching from a PC to a Mac?  You just have to dumb yourself down a little bit and then it's easier and more user friendly?"
Frank: "Yeah."
Fun Fact:We are going to collaborate on a song together called, 'Snap Peas and Sunflower Seeds.'
Meltdown Award: Most Inspired, Most Enthusiastic
Artist(s): Scott Stanton and manager Stephen Franke of Current Swell
Location: Backstage and then down at the River
Candid Photo Ops Missed: 4
Award: Favorite New Band To Roll Out To, Prettiest Girlfriends
Artist(s): Dead Winter Carpenters
Location:Everywhere
Food:  Salad, Berries, Burgers and Beers
Favorite Quote: "Beer is the new coffee.  Coffee is the new beer."
Most Memorable Dialogue:
Me:  "Hey Sean, Ryan gave me a beer ticket, but I only wanted a refresher.  Do you want the rest of it?"
Sean: With a twinkle in his eye, "Really?  Sure."
Me: "Okay.  Now you owe Ryan a beer ticket."
Sean: "Umm…yeah, no."
Award:Best Beard (David), Best Hugs, Best Homemade Rules – i.e. Ryan's rule to never wear shorts as the drummer regardless of how hot it is…and always end up topless…I mean, shirtless.
Artist(s): Jeff Leonard of Vicci Martinez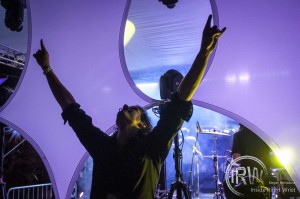 Location: Everywhere but the river
Food: Fruit Snacks and Beer
How We Met: The half naked Batman in his skivvies and a cape walked between us.  Our eyes followed him and then we looked back at each other and shook our heads with a smile.
Highlight:  Photo number three thousand four hundred and seventy six behind "The Silent Comedy" tearin' it up on stage.
Award: Best Range of Personality, Most Run-ins
Artist(s): Karl Denson of Karl Denson's Tiny Universe
Location:Backstage on the dinner deck
Background Performance: 2am Five Alarm Funk
Food: Corn on the Cob and Vegan Chili
His Most Respected Musicians: "The musicians that stick around.  Miles Davis…Prince…I've been following Jack White a lot too.  I really like the way he does things."
First Words To Each Other:
Me: "Winded?"
Karl: "No, I'm feeling good.  Tonight was actually a short set; another hour and I might be winded."
Doppleganger: Carlton from the Fresh Prince of Bell-Air
Award: Absolute Coolest
Artist(s): Ghosty Boy of Current Swell
Location: Loading area backstage and stairs up to the side stage during Karl Denson's Tiny Universe
Favorite Quote: "Did you see that bass player?!  Unreal!" Arms flailing in a slightly inebriated state, "I'm so inspired right now!  She's incredible!"
Award: Most Animated Off Stage.
Artist(s): Medium Troy
Location: On top of the media bus waiting for the surprise skydivers to land next to us.
Background Performance: The True Spokes and the skydivers whom landed just to the left of us.
In Lieu of Food: A turquoise toy piano
Award: Most Laid Back
Artist(s): The Silent Comedy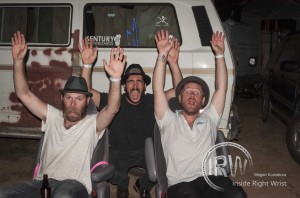 Location:Everywhere
Food:  Salted and Roasted Shelled Pistachios
Meteor Sighting Locations: Awkwardly propped up on some rocks by the river, near the trailer with kinked necks, under the laser lights of the techno tent in car seats that had been pulled out of a van.
Best Quote: Jeremiah Zimmerman referencing 'That 1 Guy.'
"I can't really tell how I feel about this.  It's as though Tom Waits and Weird Al had a kid and … it's that."
Most Memorable Dialogue:
Chad (drummer): "Justin, why don't you ever come back and play with me?  Josh (guitar, vocals) is so good about that."
Justin (banjo, guitar, vocals): "I'm busy."
Chad : "Come on.  I expect to see more of you at the next show."
Justin: "Chad………….I have an obligation to the audience."
Awards: Most Photogenic, Favorite New Musical Discovery, Most Approachable, Most Insightful Conversations, Best Mustache (Justin), Most Awards
Artist(s): Paul Flores of The True Spokes' 5 piece brass ensemble
Location: Initially, in front of the Meltdown Stage, and sporadically all over the main music area
Fun Fact: Paul and I know each other from the music scene in Spokane
How we discovered we both were there:
I was in the photo pit of The Meltdown Stage photographing … someone … and I hear a man yell, "Megan!" I turned around to find Paul on the other side of the gate.
Award: Raddest Way To Be Found By a Friend,  Best Unexpected Greeting
Artist(s): One of the guys from Polyrhythmics
Location: Loading area
Brief Dialogue:
Me:Have you made it down to the river yet?
Unnamed: "No.  We are going to hang out here, play our set, and then head down." (said with great enthusiasm)
Me: "You should go down before your set and get rejuvenated."
Unnamed:- "It's like having sex before the big game.  You just don't.  You gotta get all amped and hot and sweaty, then take the plunge."
Award: Most energy in a conversation
Artist(s): Daniel Rodriguez of Elephant Revival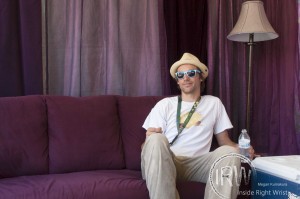 Food: Salad and Orange Slices
First Words to Each Other:
Me: "How ya feelin'?"
Daniel – "Feelin' good."
Me: "I'd love to say nice set, but I got called down to the river for a photo shoot and all I got was your sound check…Nice sound check."
Best Quote: When I told Daniel about the previous dialogue I had with the Polyrhythmics, Daniel responded…"Why not do both?"
Fun Fact: When Daniel meets people, he likes to check to see it he's one person away from Bob Dylan or not.
Award: Coolest Shades
Artist(s): Dango Rose of Elephant Revival

Food: Greens still stuck in my teeth
Location: Backstage sitting onto of a table changing his shoes
Most Memorable Dialogue:
Me: "I've been looking forward to seeing you guys all weekend, and right after your sound check, I got called to do a photo shoot by the river…I missed your whole set."
Dango: "Oh man, well we need to get you some music then," he said as he went to the van and got me a CD.
Award: Sweetest, Most Generous
Artist(s): Kevin Murphy of The Moondoggies
Food: Rice, Veggies & Chicken Curry
Most Memorable Part of Our Conversation:
"Sometimes I wonder if I really want to be in a relationship, and then I watch Caleb and his wife, and I just think, 'aawww…I'd love that.  There really is still hope (for marriages these days).'  I really base all of my ideas of relationships on their marriage."
Awards: Most Likeable
Artist(s): Lukas Nelson of Lukas Nelson & Promise of the Real
Location: Backstage on the dinner deck.
Background Performance: Ha Ha Tonka on the Northern Lights Stage
Food: Rice and Chicken Curry
Most Memorable Quote:
Me: "I love traveling, but I always need to have a home base to come back to…to recharge, ya know?  Do you feel that way?"
Lukas: "Well, the road is my home.  I grew up on the road, so that's where I'm comfortable."
Award: Most Shocking Age, Most Into His Performance
Artist(s): Galen Disston of Pickwick
Location: Walking to his car
Best Quote (This was actually when he was on stage):
"You don't think we are imposters do you?  Because we definitely aren't hippies.  We love the Grateful Dead though.  We've got that going for us.  We also love reptilions – and your soap! You guys definitely know how to make some good-smelling soap."
Memorable Moment:  Briefly meeting his beautiful wife
Award: Best Face, Most Genuine
Artist(s): Matt Emmett of Pickwick
Location: Backstage of the main Meltdown Stage, watching the Northern Lights Stage
Background Performance: The Moondoggies
Space Cadet Moment: Ya know, Matt and I had a great conversation. All I can remember is the feeling I had during, but absolutely none of the details.  I remember walking away thinking, "What a good dude.  I really like him."  I had a great amount of respect for him and his perspective on whatever we were talking about. I regret that I can't pass that perspective on to you; I really need to start having a video crew follow me around.
Award: Favorite Person to Stand Next To