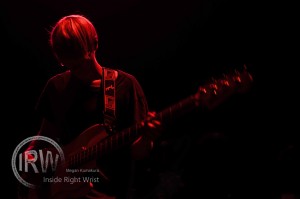 Wednesday evening ended up with an invigorating, last minute assignment to cover Alt-J (∆) and Grouplove at the Moore Theater. British band, Alt-J, created a very soothing environment with beautifully swelling melodies, lovely harmonies and a pulsing baseline that got the crowd gently throbbing their bodies forward and backward. Each song soaked in by the crowd as evidenced by the whole room erupting in applause after each one.  Their unique indie-step music was a little more relaxed than I would have anticipated as an opener for Grouplove, with the bass player sitting down on the floor cross-legged for one song; it was actually a nice progression.  If the opener was too upbeat, it would have been a less climactic evening.
∆ (pronounced Alt-J, how you'd type it on a Mac keyboard) gets you to listen for the the more subtle nuances present in so many of their songs. Their name, conjuring memories of the Prince symbol, came to them during a transitional period in their lives since delta "in mathematical equations it's used to show change" said the guitarist/bassist Gwil. Released earlier this year, their debut album, "An Awesome Wave," also embraces the theme of transition in a beautifully creative way. From the title, to the cover art, down to the uncommon blend of sounds, beats, rhythms and harmonies.
As the main act took the stage, I was thrown back into the past. I saw Grouplove at Sasquatch this year for the first time on the giant main stage during the day.  It was a great performance; however, I was eager to experience them in a more intimate setting with stage lights and a crowd that mainly came to see them.  I sat a few rows back and watched the aisles fill up with more than a handful of 20 something kids.  I heard multiple comments about how the seats should've been removed for this show so they could all dance around with reckless abandon.  As the house lights turned off and a stage full of lamps and balls softly illuminated the stage, everyone began screaming as the Beatles "Come Together" played loud enough to distinguish that it was part of the show and not more "hold" music.  The band, whose name was originally "Group," made it apparent that fellowship and togetherness is important to them.  As the crowd began singing the familiar song and clapping in unison, I was imagining the members of Grouplove standing stage right smiling at how awesome it sounded.  "Come Together" finished, all of the lamps and bulbs started flickering and out they ran, with their eclectic style and infectious energy and opened their set with "Itchin' on a Photograph."  It was one of the best opening sequences I've seen in a long while, and according to the 50 something, steady concert-goer, Mike Price, sitting next to me, it was the second best show he's seen all year and well worth coming down from Vancouver, BC to experience.
It's fun watching these five kids, because aside from their crazy head banging, twirling, and thrashing antics, they have a good balance between interacting with each other, interacting with the crowd, and just getting completely lost in the music.  Their sound filled the whole theater and the lights played a dramatic role, namely during their performance of "Slow."  Just before the song, the drummer, Ryan Rabin, got up and walked to the mic.  "This is usually where I say something funny and get all silly, but my grandma just died a couple of days ago, and so…not today.  I just…if you guys don't mind…want to dedicate this next song to her."  After the show, Ryan mentioned to me that he never does that, and didn't want to bring the place down, but I assured him that it actually brought this emotion and power to the song that was just…amazing.  The song's lyrics are vague enough that with our minds preset to loss, there was a beautiful nostalgia laced with dramatic lighting on a dark stage, deep bass drums, neon drumsticks, poignant vocals, and Hannah's emotional twirling, stomping and passionate full-body movements that made one really feel the anguish of losing a loved one.  It gave me the chills, and was a beautiful ending to their set.
This was, of course, followed up by an energetic encore of three songs, including two of their top hits, 'Tongue-Tied' and 'Colours' and a cover of Whitney Houston's "I Wanna Dance With Somebody."   "Tongue-Tied" was accompanied by the fanatical screams of die-hard fans and lots of Taylor Swift heart-shaped hands in the air.  "I Wanna Dance With Somebody" had everyone singing and dancing, and "Colours" was no different with the exception of miss Hannah Hooper slamming the tambourine on the ground throughout the song.  She shared with me later that she "teared her dress in every possible place" during those moments.  This is also why she only really shops at Goodwill.  "Most outfits don't last very long, so I'm not going to spend a fortune on them."
At the end, the band showed great appreciation for having Seattle be the first stop of their 3-month tour.  Follow the tour here and stay tuned for future performances in Seattle.  Grouplove is not to be missed.