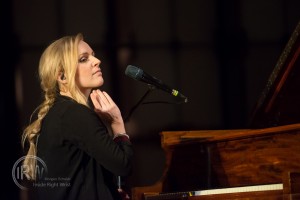 You would think that I simply went to the St Mark's Cathedral performances last Saturday for Bryan John Appleby. After all, I have written about him several times, gushed over his music and even went to his last performance at the same location a couple of years ago. This time, however, you'd be wrong. While I was looking forward to hearing his voice echo through that massive room, I was much more intrigued to see, hear and experience the music of Agnes Obel.
Agnes is a Danish pianist, singer, songwriter, producer, and anything else you can imagine a musician must be in order to become successful. She has been to the States before and even to Seattle at the Fremont Abbey (who also produced last weekend's affair with apparent ease and that welcoming feeling that always accompanies you when you enter the Abbey). She has gained popularity in the US since her first show and it was obvious by the nearly full pews at St Mark's. While the space was filled with bodies, the entire room was dead silent throughout her performance. She walked on stage with a long swath of very blonde hair in a loose braid but one stream hanging loose to seemingly hide her face from the world. She disappeared into her music the moment she sat down and only rarely tossed back her veil to see her audience and more importantly for her audience to see her.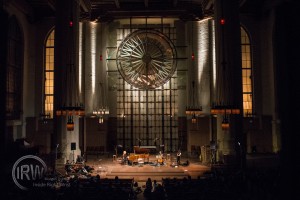 Some of her performance was simply piano pieces with the accompaniment of a cello player and violinist (both only sharing the stage with her on tour, unfortunately I didn't catch their names). The breadth of sound that these three women brought to that room was breathtaking. Simply with their harmonic vocals and three instruments I was mesmerized from beginning to end. I had listened to Agnes before, obviously, but nothing sounded quite like this.
I admit, I closed my eyes several times to take in everything that I was hearing, but the music was only half of the experience. The sheer enormity of the room made you feel small, but it also gave a feeling of awe. Looking around the room at the rapt faces, lying, sitting, standing and everything in between… it was like a slumber party in the most opulent location you could imagine. The lax atmosphere amongst the audience members in contrast with what you were hearing was quite odd, but seem to fall together seamlessly and with an easy grace. It's been a long while since I experienced this kind of peaceful beauty and I didn't expect to find so much of it on Saturday night. If you have the opportunity to see Agnes (or even listen to her albums Philharmonics and Aventine) or see a performance at St Mark's Cathedral, jump on it. It will have a lasting effect, which seems to be missing these days.