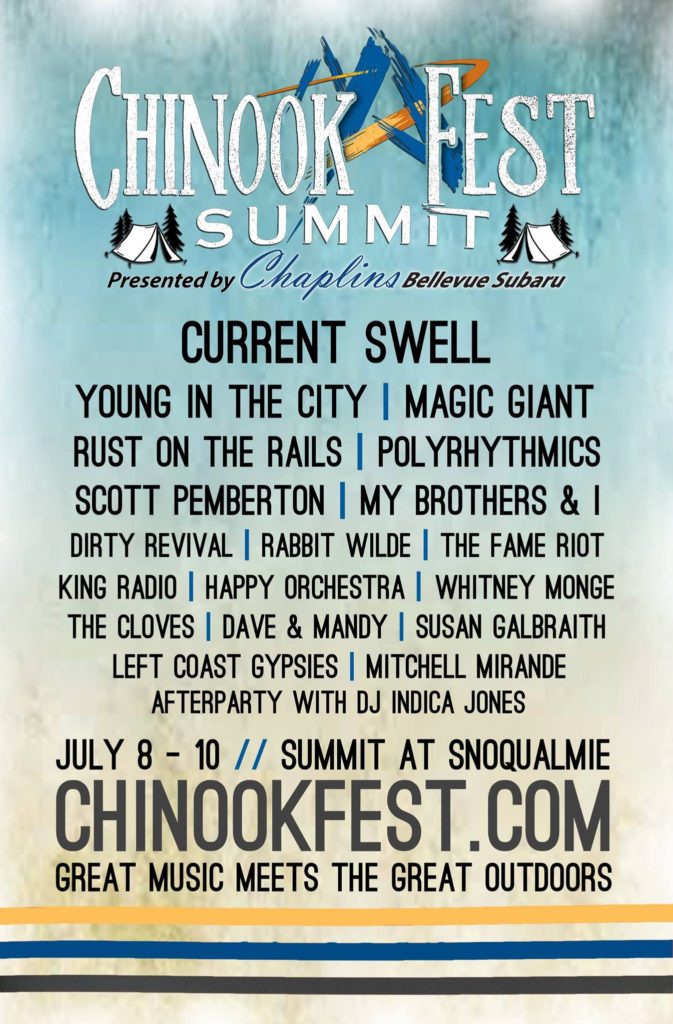 Need something to do this weekend that's close by, super fun, and feels like a retreat in some far-off musical outdoorsy land?  Look no further!
Chinook Fest is having their second "Summit" summer music festival this weekend at The Summit at Snoqualmie, Summit Central base area (say that ten times fast!).  The gates open this Friday at 4pm with the Left Coast Gypsies kicking off the festival and finishing up Sunday morning after Happy Orchestra lights a fire under everyone's feet and sends them home around 11am. There will be a Happy Hour Friday from 4pm- 6pm and an after party around the fire pits each night with DJ Indica.
Aside from the incredible music that I will highlight below, local artisans, local-labeled brews, wines, ciders, good eats and local to not-so-local festival fans will be taking over the Summit.  There will be plenty of camp sites available; however, they are first come, first served. You may want to set up camp at around 12pm Friday for the best spots.  If camping isn't really your thing, they've partnered up with Summit Inn to offer some discounted prices for the weekend.
This year Chinook Fest Summit has partnered with Compass Outdoor Adventures to offer an additional component to festival goers. Compass will provide bike rentals for both kids and adults, as well as shuttle service to Lake Keechelus for stand up paddle-boarding and bike rides through the tunnel.
Yes, I said kids.  This is an all ages festival.  They are not only welcome, but kids 12 and under are free.  Kids activities include a tie-dye tent, bouncy houses, face painting, and a decorate-your-own musical instrument station.
Quick Info:
WHERE: The Summit at Snoqualmie, Summit Central base area
WHEN: July 8-10, 2016; entertainment starts at 4pm Friday, July 8th
TICKETS: Weekend passes, day passes, camping options and VIP packages on sale now.
***INSIDER TIP*** – Limited amount of "Locals Only" tickets can be purchased for $10 off at The Summit Inn or Dru Bru.
AGES: All ages; kids under 12 FREE
Check here to find the festival rules and other information.
Stay in sync by following their Facebook page here.
Bands I'm most excited to see this time around:
I am always excited to see new bands that I have never heard of before a lineup announcement, but after seeing this year's Summit lineup, I am feeling like I've been under a rock all year as very few of them are familiar to me.  However, this is what Chinook Fest pride's themselves on…collecting some of the best local and regional up-and-coming artists and putting them in the middle of the beautiful Northwest landscapes to create an unforgettable experience for everyone that attends.  While the quality of the bands continue to secure a solid reputation for Chinook Fest, the festival builds the community of the musicians creating connections for them to build up on and gives them substantial exposure solidifying a stronger and more diverse fan-base.  It's a beautiful cycle.
Unfortunately, I'm only able to attend Saturday's festivities, and based on the Artist Info page and what I know of Noah Gunderson and his individual work, I'm most upset about missing:
I'm most looking forward to seeing:
This LA based band has been running the festival circuit and seem to have a solid family of followers.  I'm excited to see them bring their positive spirit and folk-revival tunes to our mountains.

Current Swell
A favorite of mine, Current Swell, is taking a break from working on their newest album to come down from Canada to take us on a fun indie-rock adventure. They have a chill, feel-good vibe and recently finished a West Coast tour supporting The Cave Singers.

The Fame Riot
Driving the Saturday night afterparty, I'm expecting The Fame Riot to be as colorful and boisterous as ever.  I have been wanting to see these wild cats live for a long time now and am thrilled at the chance to not only see them, but get their tameless, flailing bodies and unkempt hair in front of my lens.

Austin Jenckes
And who wouldn't want to join in on the inaugural Sunday Breakfast Jam featuring cider-mosas while Austin Jenckes serenades you with his smoothly raspy voice (I acknowledge that sounds weird, but it works beautifully) and heart-felt lyrics?  I, for one, am upset that I don't get to wake up to this…