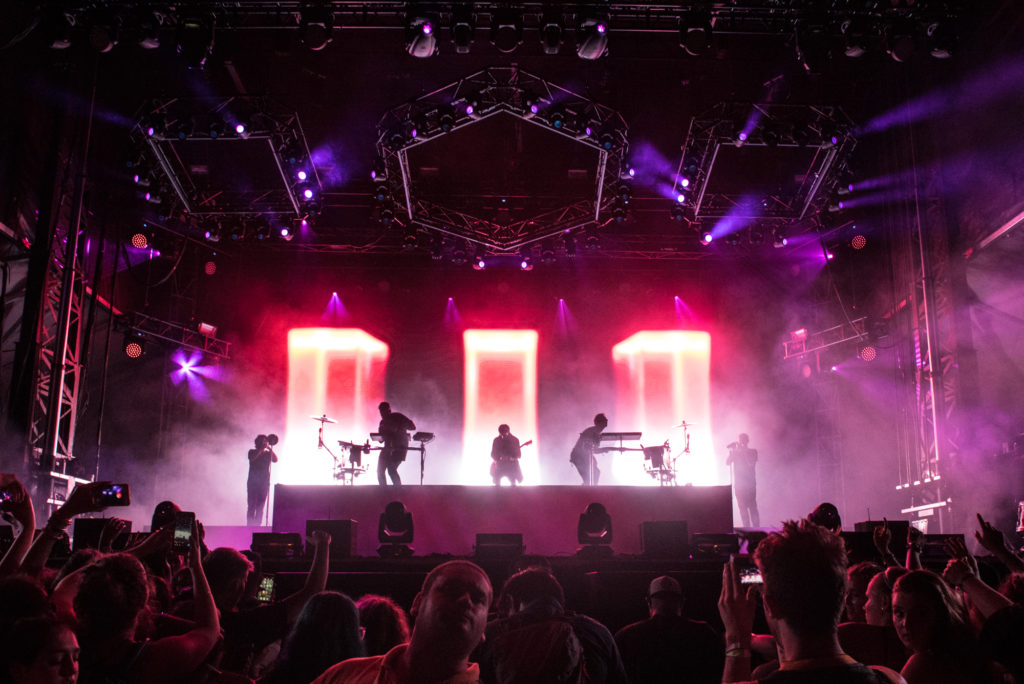 Day 3 was a delight, not only was Solange performing (I seriously couldn't wait for that set), but our hometown super stars, ODESZA were capping off the night. But I'll get to that soon enough, lets start from the beginning.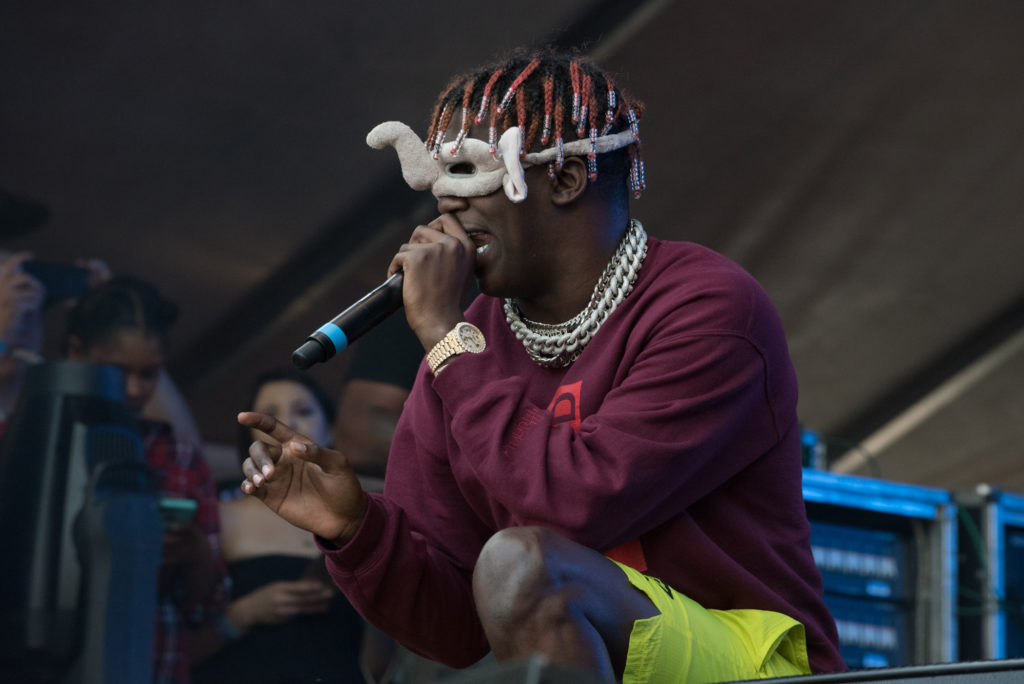 The internet is good for many things, one that I discovered recently is to go down a Lil' Yachty (LY) wormhole. I found him a few months back, watching interviews, music videos, and getting a feel for this 20 year-old rapper from Atlanta. LY came to my attention when he was criticized for his ignorance, rapping about a woman performing fellatio like a cello. In interviews, he confessed to the mistake and also felt the responsibility fell mostly on the producers who didn't properly edit for him.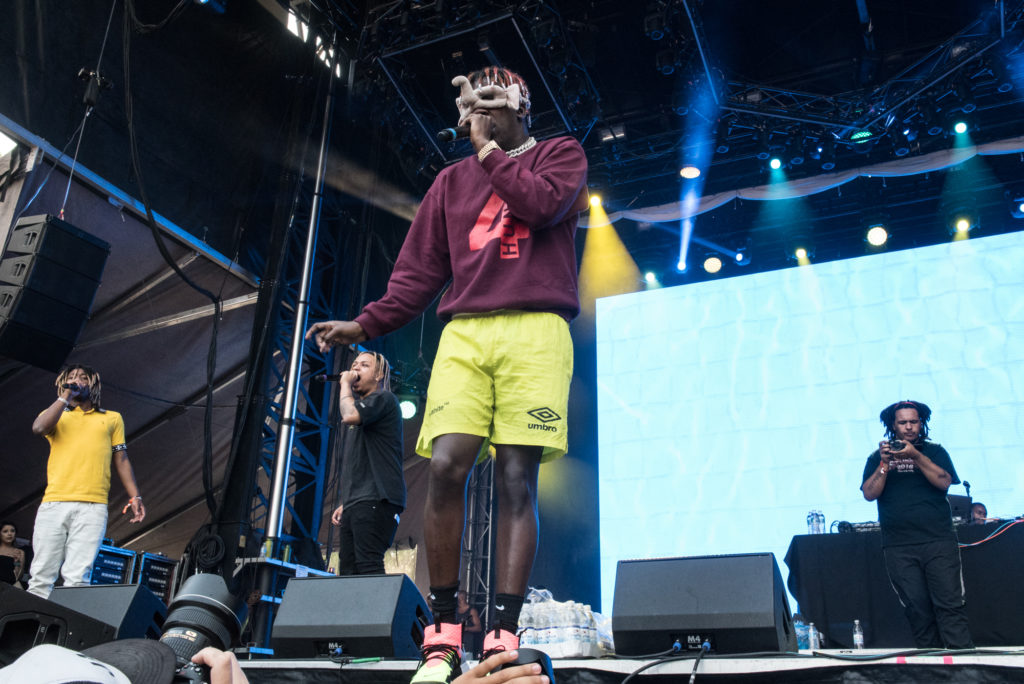 His rapping style is child-like, yet vulgar, which makes for an interesting mix. What does it mean to play with a pussy like peek-a-boo? Everything I can imagine is awkward and not hot. Maybe he means an actual cat? That makes more sense. LY performed at the Memorial Stadium main stage on Sunday in the hot afternoon sun. The crowd was mostly young white teenagers, all of whom knew the words to his songs. And he knew his audience—he speaks their language and knows what they like. He threw water bottles out to the crowd, took someone's felt elephant face mask performing with it on nearly the whole set. He also interrupted himself with thoughts about his environment, like the "old" people in the crowd, whom he admired for their organizational skills in moving quickly when he asked the crowd to make a big circle for a mosh pit. His songs were short, mostly under 2 minutes, and usually cut off by gunshot samples and a man saying "Lil' Boat" (his other rapper name). LY jumped into the crowd many times and had the audience in the palm of his hand; he's charismatic, odd, candid, and likable to be sure.
As I entered KEXP's blissfully air-conditioned building, Dave Depper, guitarist for Death Cab for Cutie, was finishing his set with a full band. The crowd was not as large as I expected, but the folks that made it were a captive audience. The band consisted of two ladies, one on keys and the other on keys and electric guitar, and two guys, one on bass and the other on drums. Dave played lead electric for the melody and harmony-driven songs with a strong, steady beat.
Next on the same stage, local indie rock group Smokey Brights stepped up, proving to me once again they are undoubtedly a good band and a lot of fun. They are fronted by husband and wife songwriting duo Ryan Devlin and Kim West. Floating through the room, West showed off her lovely singing voice while energetically playing the keys, backing up the rocking rhythm with a lighter feel. However, Devlin is the showman, who jumps around on stage swinging his guitar and whipping his hair around, which gets wetter as each sweaty minute ticks by. The crowd had a great time, bobbing their heads (pretty typical since Seattlites "don't dance") to the music.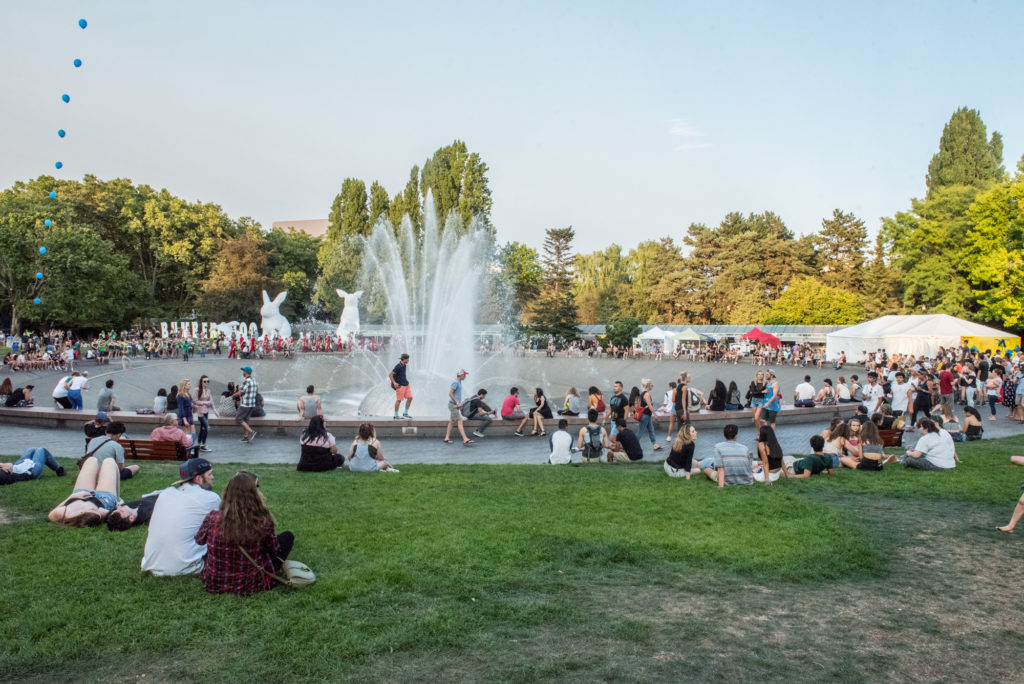 Everyone seemed to be enjoying this lazy Sunday, making their way through the less-than-crushing crowd. Hanging out by the fountain and enjoying the warmth of the sun was not out of the question and many concert-goers did just that.
Back on the main stage, Solange was about to begin her set. This was my most anticipated event of the weekend. I've been listening to Solange since her 2012 studio album True. At the time, I was particularly inspired by and looking for women in the music industry creating electronic music. I was immediately hooked through her music, her message, and her performance persona. The stage set was almost entirely white, including platforms and other props, except for a large red circle centered on the backdrop a la Japan's national flag. The crowd cheered like mad when she came out, flanked by her two stunning back-up singers. Everyone was dressed in gorgeous tailored red outfits. In fact, the entire band was dressed from head to to in red and stage lighting to match.
Every element of her performance was interesting and thoughtfully selected, sometimes playful, but not showy. She's kind of like an introverted pop star in the sense that she takes from pop sensibilities, but doesn't flaunt them. She's careful and measured in her music, choreography, set choices, and costume choices. Things felt relaxed, yet powerful and not overblown.Solange is a genius. Her music is different than that of her mega pop star sister Beyonce and overlaps in its audience, but doesn't compete. All of these things enhanced rather than detracted from her live performance. She spoke with the audience, connecting with them personally and of course invited some healthy booty dancing throughout the set. Solange was entertaining from beginning to end—her voice, dancing, costumes, set, and music were all expertly expressed. I'm excited to see how her career continues to grow and evolve.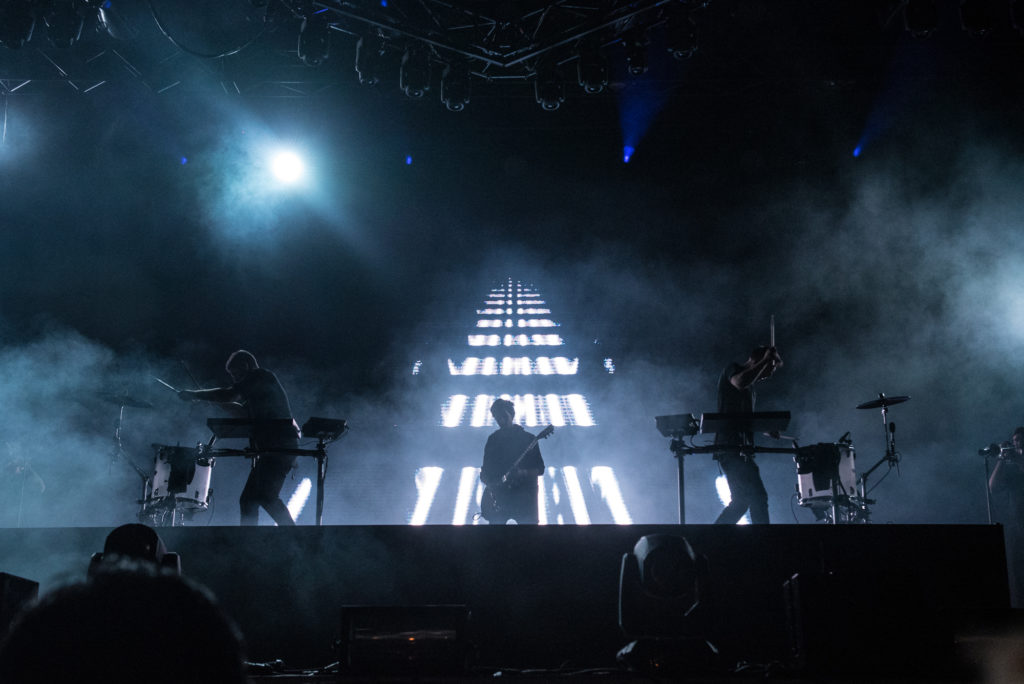 The last set of the night and the festival was Seattle's own ODESZA; a group consisting of Harrison Mills and Clayton Knight. The came together in 2012, then students at Bellingham's Western Washington University. They performed on a raised platform far above the fans and mostly behind laptops; and people are really into it. The crowd was the largest I had seen the entire weekend, but that could be due to their hometown (yet superstar) status.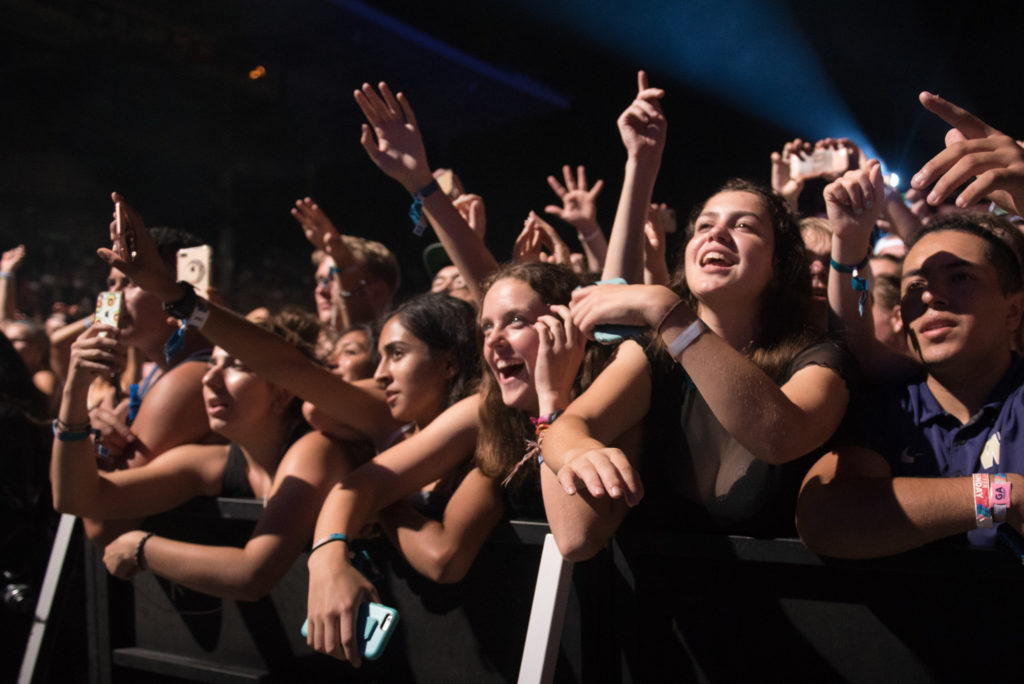 They broke up the monotony of their limited mobility with a guest female singer, Naomi Wild, followed by the "ODESZA drum line", which consisted of about a dozen dudes playing marching snare drums. This is a welcome enhancement to electronica performances which are normally not very interesting shows to watch. Don't get me wrong, the lights & visual effects show that accompany electronic music are often fantastic, but the music makers have their faces behind laptop screens so the audience can't really see what they're doing; that's a hard format in which to create intrigue. I was sitting up in the stands for this show (which I recommend doing at least once at a festival like this one), meaning that I could see the audience evolve in its enthusiasm as the songs built momentum and "dropped a beat". The crowd was thick and people moved together like murmuring birds. ODESZA's energetic and fun set helped concert-goers end their weekend on a high note.