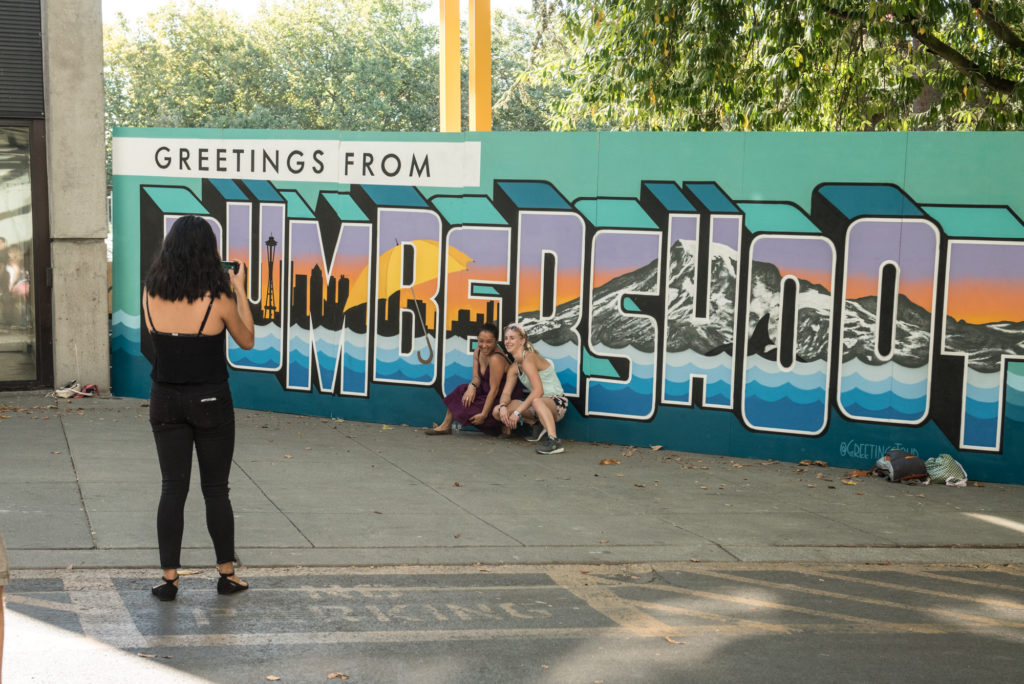 all photos by Morgen Schuler
It was a little sleepy at the Seattle Center on Friday night, though we were in the mix of large crowd of teenagers in summer uniforms (read booty shorts and backless cropped tanks) coming out of Memorial Stadium. In fact, as a 35-year old concert goer, I felt old and a little out of place, as my age demographic made up about 2%. It's hard to know who to expect at a concert weekend that at minimum costs almost $300 for a 3-day pass. It's not a bad deal a la "bang for your buck", but the Bumbershoot I remember was a bit more worldly, a little more affordable, so it makes me lament over what this festival weekend has become ($$$$). Throughout the weekend, I'm planning to observe demographics, including age and race, to see what trends stand-out. I'll report on that later. Now to the music!
Over at the Fisher Green stage, hip-hop artist and poet from L.A. by way of the Bay Area, (George) Watksy started out my fest weekend.  His tour band consisted of  a drummer, guitar player, bassist, and female back-up singer. On the last tour it was Creme Fraiche but after some digging, can't find a word about who they might be.  After soaking in his set, I felt like it sounded like Eminem meets Lincoln Park with some jazzy undertones. One song reminded me so much of Eminem that I could follow along rapping the lyrics to "My Name Is". I'm a great rapper, btw. He didn't hold my attention for too long, but the large crowd was really into the set.
Performing over at the Mural Amphitheater was singer-songwriter and guitarist ZZ Ward, to me most well known for that fedora she always wears. (What's she hiding up there anyway? I hope it's a pet ferret name Bertrand.) Was looking forward to hearing her music since I've been aware of her for a little while (really good advertising?), but held a bias against her (name and fedora) and hadn't given her music much of a listen. I gave it a shot but, didn't stick around for very long because the sound mix was dubious at best. After standing in three different places, including in front of the sound booth, trying to give it the benefit of the doubt, my ears couldn't take it and I left. The music sounded disjointed, as if everyone were playing the same song but in different rooms, and the effect on my ears was like the "shiiiing ching" sound that swords make when they hit each other (I know about sword sounds because… TV). I felt badly for Ms. Ward, but I just couldn't take it.
While I am more familiar with Flume's music, I decided to check out Die Antwoord at the Key Arena because I believed their craziness would make for a better show. Outside KeyArena they were set up for huge crowds, but it was a ghost town as I made my way into the venue. The crowd was modest, but they were excited and dressed for a wild dance party. Notable attire included a silver one-piece swimsuit with a utility belt, and a tall, glittered human donning a butterfly cape.
If this had been the only show that all of us had gone to on Friday, we got our money's worth. Die Antwoord (in English, The Answer) is a hip-hop group formed in Cape Town South Africa by Ninja and Yolandi Visser, whose image revolves around the South African counter-culture movement Zef. Look and listen and you can understand a little what Zef is about: he is tall and tatted with a flat-top, shaved sides, and two small braids running down the back of his neck sometimes with a shirt on; she wears a wild and long bleach-blonde mullet, bleached eyebrows and lashes, standing at about 5' tall.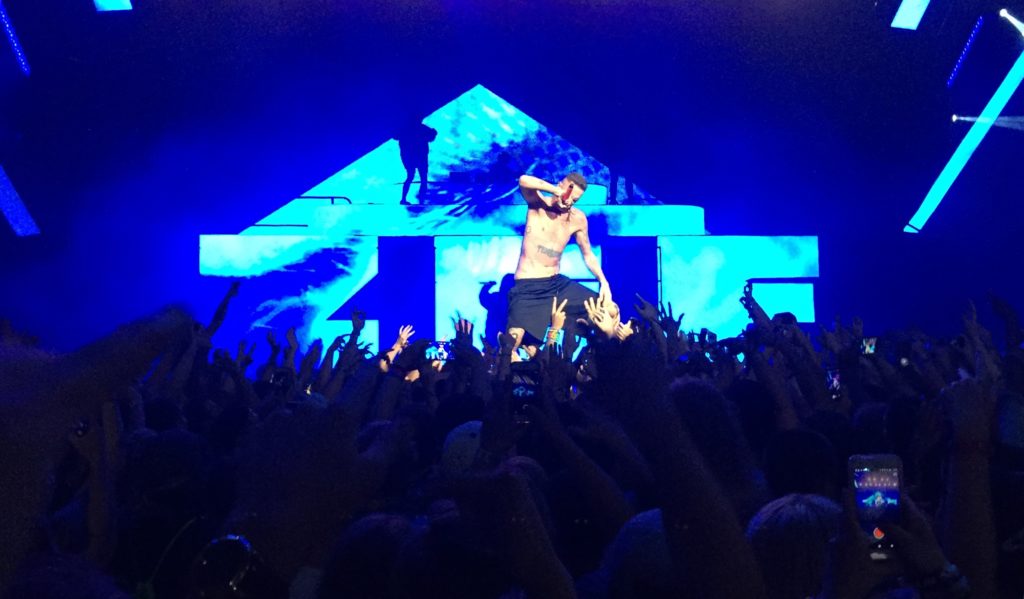 Die Antward // Photo by Tara Kearns
Neither of them rapped about anything you'd want your mother to hear, or anything I would care to listen to regularly, but this was one of the most wildly entertaining shows I have ever seen. Some highlights include music by DJ God and the freaky face mask he donned as he sat perched above the stage at a booth, numerous costume changes theming around booties and hoodies, crowd-surfing Ninja, lights, visual effects, and screens built into the multi-layered stage with weirdly erotic cartoons of balloon-like pastel and neon-colored creatures. On top of that add two female dancers, Ninja thrusting his groin out into the audience while at the same time white streamers were released into the crowd, Yolandi Visser's miniature-voiced whoops and hollers, Ninja scolding a girl in the front row for being on her phone and asking her to enjoy this moment, and the end of the show's crowd-surfing confetti explosion. They did all this with energy at level 10 the entire time. One thing I noticed is that, although their music and image is incredibly vulgar and a little dark, the crowd's energy and the atmosphere were upbeat and excited. I don't know what to make of that contrast, but as a person in the crowd it made the experience more enjoyable keeping everything fun and light rather than angry and dark.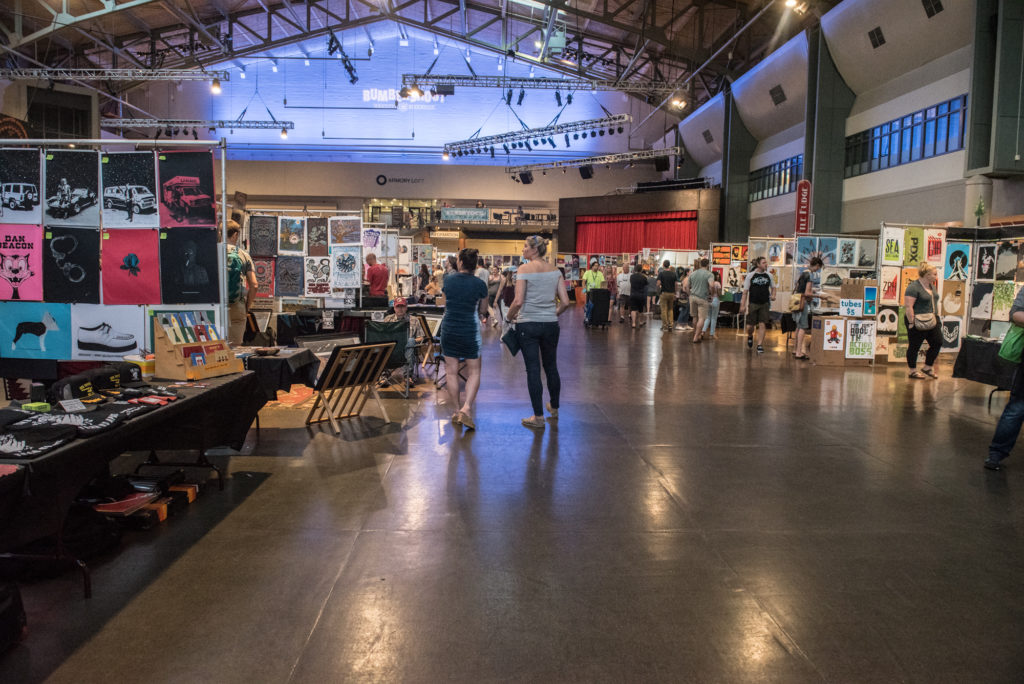 I also got a chance to check out some of the non-music features that Bumbershoot offers, including large-sized Bumbershoot signage great for photo ops, Flatstock in the Armory, the weird and cool video projection on to the fountain water (why has this not been done before last year and more often than just the fest?) and the three large white lit-up bunnies on the fountain lawn. Morgen captured a few other sets throughout the day, so check out those images below and maybe a quickie review from her about Flo Rida's set; plus more to come tomorrow, so stay tuned!