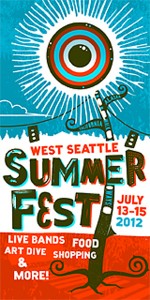 Seattle is blessed with plenty of street fairs, neighborhood block parties and "bumberthings", but as most people know Seattle is NOT blessed with a whole lot of sun during the year. Even so, the West Seattle SummerFest seems to make the sun shine for music fans and this year is going to rock!
With three days of art, vendors, sidewalk sales, fair food and entertainment, everyone will find something that will get them pumped.  Hosted by "The Junction", (California Ave N and from SW Edmunds ST to SW Genesee ST), WS SummerFest has two separate stages on Friday, Saturday and Sunday. Ranging from kid friendly offerings, punk brass bands, old rock acts and up-and-coming hell raisers, this year's music offering is one of the strongest FREE street fairs that I have ever seen.
The full music line up can be found here, but I will give you some of Honcho the Grouch's picks for your rocking ears.
The Dolly Rottens bring their tough, chic, three-piece rock to the California stage at 4:30pm on Friday. If you like bottle blonde girls that kick ass and rock your face off, don't miss their set.
If you live in Seattle but never heard of Casper Babypants… well, you might not have kids yet. If you have heard of The Presidents of the United States (PUSA), then you know Chris Ballew (the lead singer for both PUSA and Babypants) crafts great pop songs. Don't miss the chance to rock along with 4-year-olds at the Alaska stage, Friday at 6:30pm.
Star Anna started making waves in the "No Depression" set a few years back. But with her recent collaboration with Pearl Jam vet Mike McCready, she is ready to grab your ears and give them the loving they have been longing for. Get your audio love at the California stage, Friday at 8:15pm.
If you are looking to get your dance on, do not miss the Rat City Brass. Playing Saturday at noon on the Alaska stage, these dudes rock the brass like you always wished your high school band would. Dancing in the street with an elephant ear in hand? Yes please!
Do you miss rock and roll that doesn't care about "whisky rivers" or "sitting on the back porch"? ME TOO! Can I get a hell yeah for The Chasers? These dudes are shooting up (not Alice in Chains style) the radars of rock n'roll folks. Full of spit and fight, but all for the love of rock and fun, these dudes will give you the goods and leave you wanting more. Miss them now and pay way more when they open for someone at Key Arena. Saturday, 5pm California stage.
The big coup of the West Seattle SummerFest: getting Alcohol Funnycar out of retirement and back to their proper job of reminding everyone why "college radio" used to be the best music. Vets of the early 90's Seattle scene, Alcohol Funnycar will take you back to the good ole days of Seattle killing it (musically of course). They're up on  Saturday, 8:45pm on the California stage.
Sunday is my day of rest, so you are on your own. I'm Honcho the Grouch and I approve this festival.
West Seattle SummerFest
Friday July 13th – Sunday July 15th
http://wsjunction.org/summerfest/
FREE!!!!!