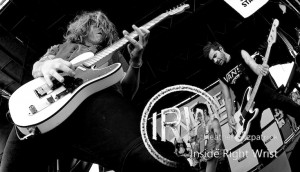 For the current members of We The Kings (founding members Travis Clark, Hunter Thomsen, Danny Duncan and newest members Coley O'Toole and Charles Trippy), Warped Tour has been an experience of playing to huge crowds at different times of day. It's a grueling schedule because their set times vary from city to city, but these guys are definitely making the most of it. Because it's not their own official tour, they've had a lot more free time to explore and connect with fans. They fill their days before and after their set with meet and greets, and actually have had time to see the sights across the country. They've seen national monuments, back road truck stops, major shopping malls and numerous water parks. But what will they do when Warped is over? I chatted with lead singer Travis Clark and asked him as well as a few more questions their fans will want to know.
Your new Album is titled "Sunshine State of Mind", and some of your merch denotes the phrase "You are my Sunshine". Did you have a specific someone in mind when you decided on that name or is it just an homage to Florida?
Well, the record, "Sunshine State of Mind" is for our home state of Florida. But the "You Are My Sunshine" shirts that I did were made because that's the song my mom used to sing to me before I went to bed every night. And I've always loved that for that reason.
Because you've been heavily touring this year, when can fans expect something new from you guys and/or some more of the interactive videos that you've done?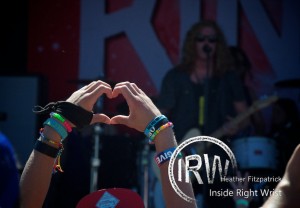 After Warped, we are going home for two weeks to clear our heads, then we go right on to LA to start writing and record our fourth record. We are currently working on the video for our new single "Party, Fun, Love & Radio", and that will be (hopefully) out a couple weeks after Warped Tour ends. What we did was, we filmed every single show of Warped Tour and we made a montage video of that song with everybody from the crowd each time we sang that song, and it's gonna be so cool.

Many of your fans tend to look at your band as a 24/7/365 band because of what Charles Trippy has done with his YouTube video series "Internet Killed television". This has exposed your band to so many things you guys do on a daily basis. Is this something he had to convince the band to take part of? Did you talk about it first?
I think we knew that when we invited Charles into the band, we knew what he was going to bring, as far as what he did daily with his YouTube videos. We knew exactly what he did, and we thought it would be a good idea (for the music side of things) for him to be a part of the band but also for the daily life video part for fans to see the regular part of touring and people would probably enjoy it and like to see what it was like when we weren't on stage.
Is that something you will continue to do when you go into the studio to record the new album?
Definitely. This will be the first album Charles will be officially a part of and we plan on doing a "making of the record" type thing. It's going to be fun.
Is Coley O'Toole going to be a part of this album as well?
He will. We're heavily influenced by his side burns. So he'll definitely be there. (Laughs)
Thanks Travis! We can't wait to see and hear what you guys do with the next album.
"We The Kings" Discography:
We The Kings 2007
Smile Kid 2010
Sunshine State Of Mind 2012