Some bands suffer from the outdoor-ness of festivals–Gold Leaves thrives. Grant Olsen's voice has a richness which translates well to the outdoor venue of the Sub Pop stage. His natural vocal reverberations echo over the field. Bill Patton's shredding guitar and Tomo Nakayama's brilliant keyboard compositions tremble in time to Grant's voice, overpowering the morning ennui of fans who have already given themselves completely to a festival less than half over. I can see the hangovers in the eyes of the couples lounging near me fighting with their need to see this set. "It's nice after all these years to finally be on Sub Pop… stage," Grant remarks ironically (the band is on the label's subsidiary, Hardly Art).
The projector is a little weird. It's distracting to have pixelated images overlapping one another as the set evolves. I can understand its usage later in the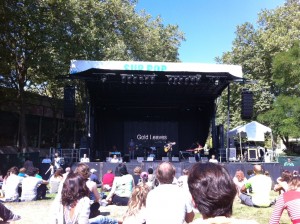 afternoon and evening, but with a crowd lounging languidly on the field, respectful distances apart for outstretched legs, it seems unnecessary. The awkward flashing of the band name after each song seemed at first an indication that they have not yet made it enough to need no introduction (until I realized this was done for every band playing the stage). But, for the fans who have already eaten their morning mushrooms or taken their wake-n-bake tokes, the added layer of visual stimulation (and reminder of where the eff they are), it may be the perfect new feature of this year's festival.
Six security guards stand stoically in the photo pit, ready to lash out at the completely chilled out crowd. They give no impression that they mean anything other than business, refusing even to sweat in their white StaffPro shirts and starched khakis. "HEY! YOU WITH THE SUNSCREEN! YOU MISSED A SPOT!" I want them to yell menacingly.
Two hippies dance off to the side—the usual gray-haired tie dye-wearing gentleman famous at Seattle Center festivals has opted for another stage and his more heartily-dressed counterpart doesn't seem completely into it–a burgundy long sleeve shirt and leather hat only half-selling his enjoyment of Gold Leaves's rhythms. His plaid bloomers are a counter-culture statement at odds with his tai chi dance moves and hippy stare.
Somehow the utter raucousness of each instrument, played with full strum and and slam and smash don't break us out of our blissed state. The set ends, 13 minutes early ("They gave us a really long set," Olsen had remarked earlier) and the reality of the rest of the day sets in.