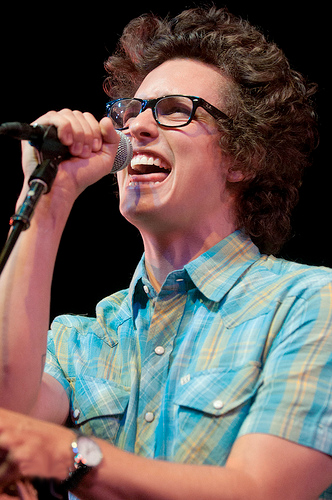 Can't be positive which of the fellas wrote this one, but I'm pretty sure it's Michael. I just love 'em, you learn so much (and yet so little at the same time).
This 'r That
1. Barsuk or Sub Pop: Sub Pop
2. SAM or Frye: Haven't been to either
3. Red Hook or Chateau St. Michelle: N/A drinking upsets my stomach
4. Paramount or the Moore: Moore ryan adams and j tweedy were better than RENT @ Paramount
5. Northgate or SODO: Northgate, where we practice (no longer true, they all live together now)
6. Light Rail or Metro Bus
7. KEXP or The End: DUH KEXP
8. Sonic Boom or Easy Street: SHIT, SB
9. I-5 or Aurora
10. Pike Place or neighborhood farmer's market
11. Vivace or Vita
12. Stranger or Seattle Weekly
13. Archie Mcphee or Top Ten Toys
14. Zanadu or Arcane (skipped this one)
15. Trophy or Cupcake Royale: TROPHY- moist
16. Greenlake or Lake Union: Neither- water is cold
17. UW or WSU: UW
18. Gasworks or Golden Gardens
19. Dick's or Red Mill- Vegetarian
20. Top Pot or Voodoo Donuts: Never been to voodoo
21. Vancouver or Portland
22. Space Needle or Smith Tower
23. Fremont Troll or SAM's Blacksmith
24. Cha Cha or Unicorn (skipped)
25. Broadway or Market
26. Huskies or Redhawks: SPORTS?
27. Jive Time or Bop Street
28. Beth's or Hurricane
29. Columbia City or Georgetown
30. Ichiro or Hernandez: SPORTS?
31. Columbia City Cinema or the Admiral Theater- CCT ALL THE WAY ( even musicians get these two mixed up sometimes 🙂 )
32. Crocodile or Neumos
33. Belltown or Pioneer's Square
34. Hot Mamas or Piecora's
35. Woodland Park Zoo or Seattle Aquarium
36. Volunteer Park or Lincoln Park: V PARK is where i proposed to my wife, for the second time because the first time it didnt work.
37. Northgate Target or Westwood Target
38. George and Dragon or Brouwer's (skipped)
39. Ballard or West Seattle
40. ___PENIS____ or __VAGINA_____- neither
Thanks for including us!