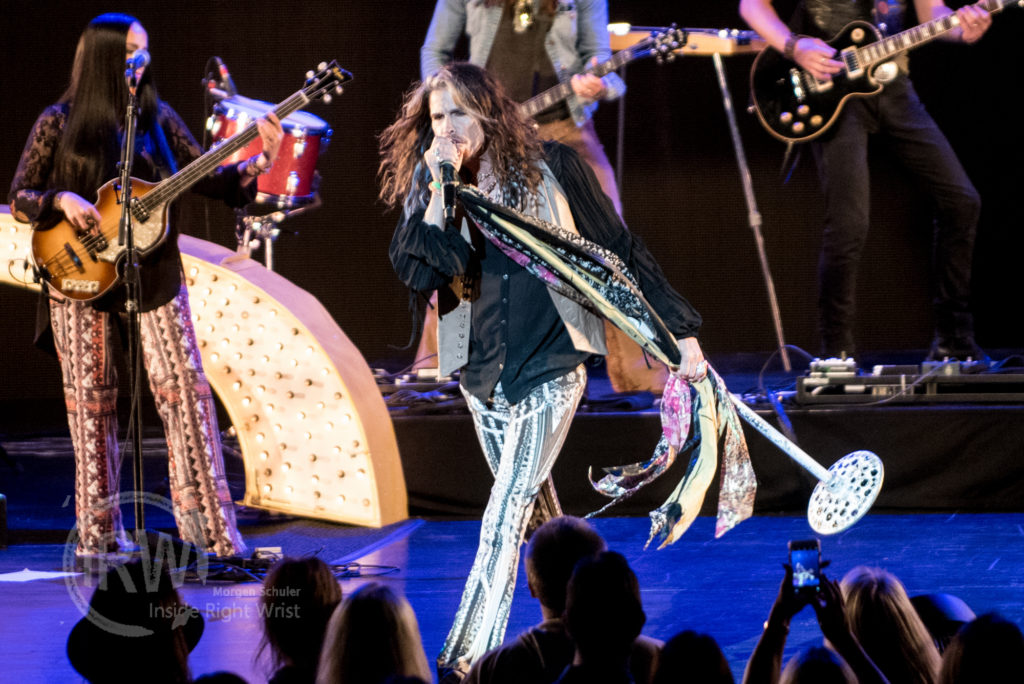 I purposefully kept away from any reviews of the first show (in LA earlier this week) of Steven Tyler's Out On A Limb tour before heading out to McCaw Hall yesterday to see him perform. Having only been a passive Aerosmith fan in their heyday (though who could resist "Walk This Way" or singing along to the depressing, yet unifying, ballad "Janie's Got a Gun") I still couldn't help snagging the opportunity for a little bit of nostalgia.
There were two things that jumped out at me from the beginning of the show that permeated the entire set, the first: Steven is still working the sex symbol angle, lifting up his shirt on more than one occasion, gesturing toward his groin several times, and using a Beyonce-style hair fan to cool down and show off that man-mane he still dons, and the second: his machismo attitude hasn't changed since the 90's. Within the first 10 minutes I hear "Don't worry they're all married" referring to the women that comprised half of his backing band, and a short while later "Why did you put the spotlight on her, she's married!" referring to how hot the guitarist/harmonica/tamborine player was and what a waste to show her because she's unavailable. While I get this is all along the lines of the bad-boy attitude he's portrayed from the beginning both on and off stage, it definitely put me off. Those musicians, women or not, are talented as hell.
Despite my frustration, the show was a good one (though, not just because of Tyler). The music was solid: the band wasn't trying to be Aerosmith, they were just having fun and playing those licks like they were born to do it, Tyler's voice is still stellar, even in those upper vocal ranges that he is so famous for, he also moved around the stage with the ease of any rock 'n roller half his age, and constantly engaged the audience… not something I'd expect from a 68 year old (yea, 68, I can't believe it either). Should I pass off his misogyny as "well, that's just the remnants of his generation"? I don't like that excuse, my dad is older than him and knows better, but my dad also isn't a rock star of nearly five decades whose been through rehab multiple times… so I digress.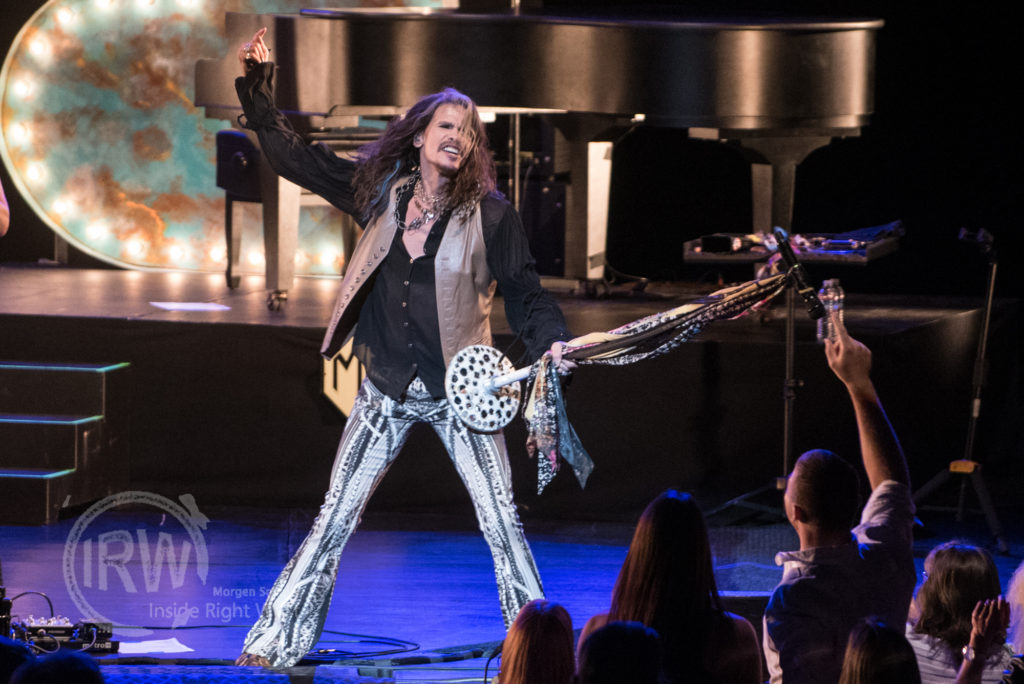 All that being said, he knows his audience and what they want. He spent half his set covering some great musicians that were obviously a huge influence on his own music like Janis Joplin, The Beatles, and Fleetwood Mac. None of that really amped up the fans though, not until he busted out "Dream On", then they went nuts. To be honest, up to that point I was wondering if this was just a room full of bored 40-somethings that didn't have anything better to do on a Friday, but throw on the classic Aerosmith jams and they were ready to party! Following that up with "Janie Got a Gun" and the arms went flying with screams of adoration not far behind.
The gist of this tour seemed to be Tyler slowing down the craziness of his past and having a bit of a chat with his fans amidst a set of slower-paced well-known songs. He'd stop and talk about his music career, how Aerosmith found its way into being, and what music has meant to him. So I'm a little perplexed why he decided to call his tour Out On a Limb, when in fact it felt like he was playing things (both musically and narratively) pretty close to the vest. Nothing really risqué revealed itself throughout the night, especially in comparison to the antics of Steven's past. Maybe he feels he's being more open and honest about his life; that's definitely a tough thing to do in front of a live audience. Or perhaps it was bait to draw in fans to see what craziness he's up to now?
Either way, the price tag for this show is pretty steep, especially if you want to see him up close and personal; though, side note, you'll most likely get a finger point, a smile or even a call out from the man himself if you're that close… he really had a fun time interacting with the audience. So if you're a long-time fan, this could be exactly what you've been pining for… a little face time with Tyler and a chance to hear to your favorites live. To get a little taste of what's to come (or what you missed if you happen to be in LA or Seattle) check out the gallery. He's still got some moves, and those friggin' stretch pants are still just as tight.