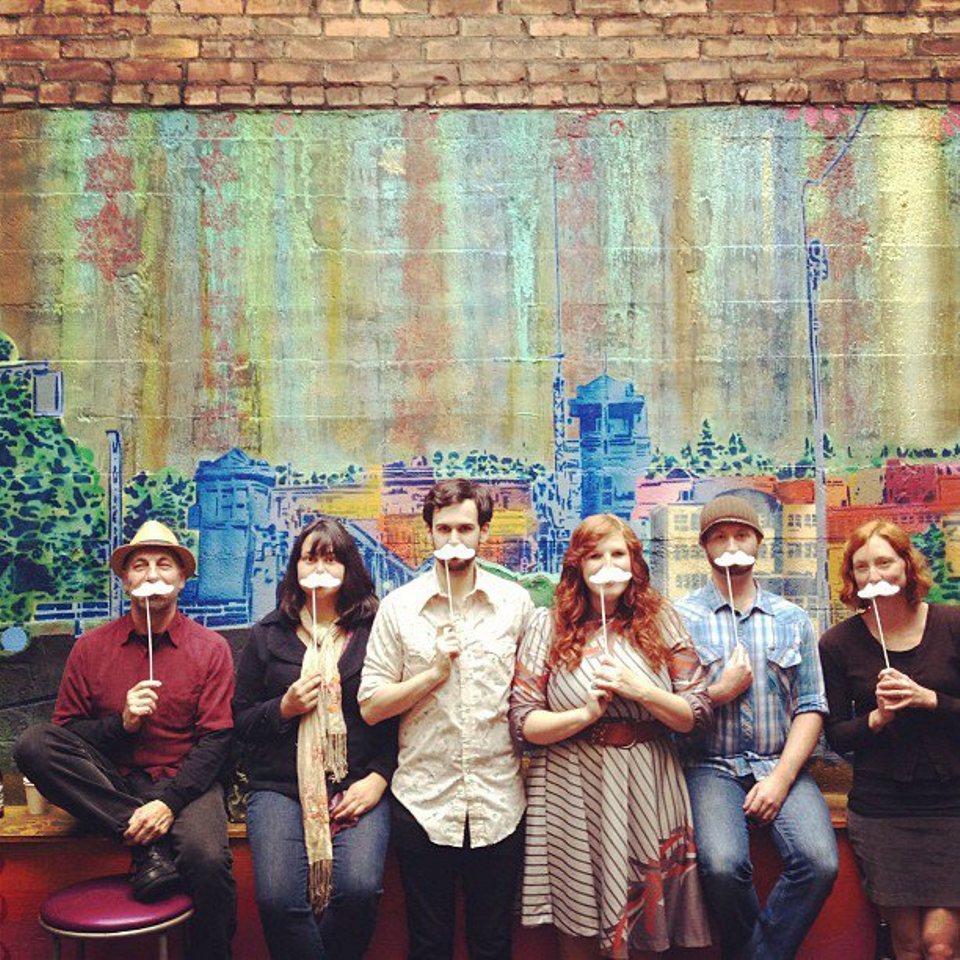 White fluff decorates the air as the soon-to-be passengers of the musical food tour "Musical Plates" fiddle with the faux fur mustaches they've been given. We stand in clumps in the graffiti'd courtyard of Fremont's Pel'Meni Dumpling Tzar, slightly dazed by the sun peeking above the buildings and excited but apprehensive of what's to come. We are thinking these thoughts and feeling these feelings, and then Matt Hart and Aubrey Zoli of The Local Strangers interrupt both as they begin to strum and harmonize before us.
Bryce Lathrop, Founder of White Moustache Urban Adventure Company, is excited we're here. He tells us so, and I can sense from his voice that he truly is—that this is as much fun for him as it is for the widely diverse group of folks listening to him talk about White Mustache. On normal days, Bryce drives people around on private food tours tailored to the desires of his clients. "We are the only eating tour in Seattle," he says, meaning that other tours focused on food involve a lot of talking about the food and small nibbles of the food and walking to the food, but not so much actually eating the food. I am glad that I'm here because I like to eat and I like weird new things and I can tell that this is going to tickle both fancies.
The premise of the day's event is that people enjoy eating food and listening to music and most of the people who do those things also may hate driving/not know where to go/like to drink while doing those things. Thus, the bus. It is a large, comfortable chartered bus—the kind with five seats across the back for extra trouble-making purposes. That is where we sit. I say we because I am sitting with the band, who happen to be very good friends of mine. That is a bonus, but not the point, of the day's events for me.
Bryce runs these Musical Plates adventures only every couple of months and only with bands who are both engaging musically and personally. After all, attendees pay a significant amount to attend the tour and although food portions are large (a sandwich, a taco), we have to talk to these people (the artists) and spend time with them in the confined spaces of bus rears and restaurant enclaves.
The tour makes its first official stop at Dot's Delicatessen. I was already a lover of the mom 'n pop-owned Fremont deli, but the house-made bratwurst in a perfectly soft/crusty bun topped with kraut goes over nicely with the crowd and pairs well with The Local Strangers' first song, "Give Up the Ghost." Vegetarian-types eat a lovely asparagus and goat cheese salad and make murmurs of delight at their meatless goods. Aubrey is, in fact, a sometimes vegetarian/sometimes vegan, and she declares the salad positively delicious. Promises to return are heard from all guests (except maybe one guy, who didn't look like he enjoyed fun or food and probably meant to get on the Metro), and we are back on the bus.
Also on the bus, in the back? Whiskey. Locally-made whiskey, as a matter of fact. We (messily) slosh Fremont Mischief Whiskey and John Jacob Rye into tiny cups and then sip/slam and refill. It has bite and smoothness and layers of flavor to it—features missing from many other locally made whiskeys. As back-of-the-bus-dwellers, we feel inclined to pass the bottles back and forth between ourselves a little before sending them front-of-bus-ward, and no one complains. As is clearly becoming apparent on this tour, there's plenty of everything to go around.
People who know me know that I get stabby when driving across town in traffic, even when there is a promise of delicious food on the other side of the commute. As I am not famous and thus cannot hope to have a driver normally, this is the best possible way I could get to Capitol Hill, which is where we are headed. Our first stop iss Marination Station, the brick and mortar version of the Big Blue Truck, Marination Mobile. I have never eaten their Korean-Hawaiian fusion goodness without having first stood in a very long line, so this is exciting for me. They serve us a spicy pork taco and it is excellent, although not really spicy, per se. The veggie version is topped with tofu and is delicious. There, I said it: I like food without meat in it sometimes. We are gifted beers and unique sodas and are sent outside into the surprisingly sunny day. We eat and drink atop a roof overlooking the Pike/Pine corridor and hula hoop with the Marination manager, Emily, who is both adorable and adept at hooping three at a time. The Local Strangers sing on the corner of the roof and the group coos as Matt and Aubrey (adorably) whistle "Partner in Crime" and Aubrey's belting voice reverberates across the concrete structure and we film and snap pictures on our iPhones. For me, this is the first moment wherein I feel like White Moustache truly could not do any better at what they're doing than this. Although there are factors like sun and congeniality which Bryce cannot control, the fact that we have been dropped off in our own outdoor urban Eden is no accident.
When he chooses locations, Bryce says "I have three rules for stops whether they are part of our eating tour on wheels or Musical Plates: 1. The folks who own the restaurant have a story so weird, you can taste it in the food we eat. 2. The food we eat is unique to Seattle and found nowhere else, and 3. You could easily convince the most obnoxious human in your life that what you ate was the best possible rendition of that food—without a fight. If a restaurant meets one of the rules, we stop. If they meet all three, it is a home run stop."
So far, it's falling into the latter category. I am optimistic for the rest of the tour. Which is good, because the last time I ate at our next stop, I hated it. But off we go, to The Tin Table. They have a new chef since I was there last and he's very young and confident and his food is fairly good—salmon and some sauce and whatever. It's very Northwest haute small plate but that's honestly kind of beside the point, because what really stands out about the restaurant is that we are tucked into a corner behind a wall of vintage glasses and given cones of perfect Belgian frites with truffle oil, which we all sloppily knock onto the floor.
And it is a middle-aged man's birthday in our group and he has ten friends with him and they are all laughing and cheering as Aubrey and Matt fill the space with their voices and then beyond, with crowds from the restaurant looking over and smiling and asking curiously what is going on. These people will attend future tours, I am sure of it. The fact that the fish is overcooked doesn't matter because everybody is whiskey-happy and enjoying the performance and the frites and the merrymaking and we are all settling into this weird alternative universe. And it can't get much better than this, until it does.
The bus has disappeared. We find this out when we step out of our glass castle and into the sunlight. Because there's been some miscommunication and delay, Bryce does what only the most thoughtful business owner can do: He buys us all ice cream at Molly Moon's while we wait. It is the best thing because, while we're waiting, Matt and Aubrey decide to do an impromptu performance, singing their song "Waiting," which is obviously fitting. Passersby stop and listen and drivers crane their necks out of car windows and just as the song finishes, the bus appears. We are no longer surprised that magical things like this happen, just delighted when they do.
It is with this delighted feeling that we head back to Pel'Meni for the last stop: dumplings and a private courtyard full-band set from The Local Strangers. The dumplings we're served are a little cold (likely caused by our delay) but they are so, so good, with tender wrappers and flavorful fillings. And I can imagine eating in this small, brightly-walled courtyard in the afternoon or the wee hours and enjoying the potato and beef dumplings with their weird and excellent sour cream, vinegar and chili pepper toppings and being contented equally at hours both respectable and drunken. The couple who runs the restaurant has a tiny ginger child who smiles delightedly as The Local Strangers close out this wonderful day, and she is not alone in her pure, girlish giggles.
—————————————————————————————————————————————————–
The next Musical Plates tour is coming up soon, on September 16th. It features Kris Orlowski who is both an engaging singer and an excellent human—one of the best, in fact, in both categories. You can buy tickets here (if you get them before August 26th, you get a fat discount) and sit in the back with me. I'll be the one with the whiskey.