Vilkommen one and all to my second voyage to the GORGE-OUS mecca of crazy festival wear, SASQUATCH!. Everyone tries to outdo each other at this festival. Whether it's "wacky" clothing, holding strange illuminated animals on sticks or just looking cooler than you ever will, they are all silently begging for your attention. All I care about, is this year's stunning musical line up so let's get to it!
Lion Babe
The first set of Sasqu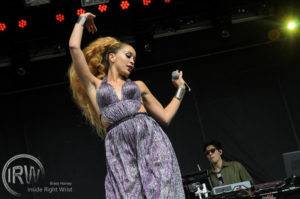 atch was sassy AF! Lion Babe showed up in a sparkling I Dream of Jeanie dress, mixing chill electronic R&B with layers of vocals and deep beats. She danced all over the stage, magically spinning on her toes, and still managing to sing without her gloriously up-done ponytail flying into her face. The early risers at Sasquatch were absolutely grooving and it was definitely a favorite set for many that day.
Grace Love
Owning the first spot on the main stage is tough but since Grace Love & The True Loves "Got That Fire" they had no trouble at all pulling the crowd down into the bowl. Their seductive soul cover of Blackstreet's "No Diggity" immediately got everyone's hands in the air. This Seattle band is definitely ready for more venues of this size.
Kona House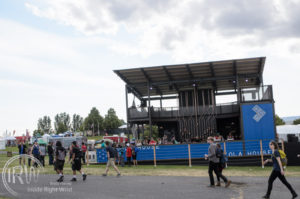 This year the dance club from Trainspotting mated with a steampunk coffee shop and dropped itself in the middle of the Sasquatch grounds. They mercilessly poured cocktails and pounding beats all day, every day. I swear I saw Spud dancing on the second tier in a kimono. Not gonna lie, it was kinda weird.
Telekinesis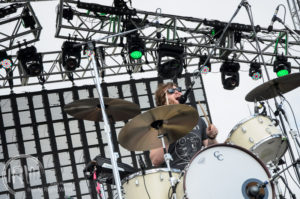 It's probably been said before but I'm gonna say it again. Michael Lerner of Telekinesis is the Phil Collins of indie rock. Playing drums is hard you guys, and playing drums and singing at the same time is nearly impossible. Have you tried it? Your brain just blows the eff up. So if you're one of these fools who thinks Phil Collins is lame, try it yourself jerk-wad. Telekinesis sounds equally effortless, blending driving dance beats with catchy vocals in sing alongs like "Wires" and "Please Ask for Help."
Unknown Mortal Orchestra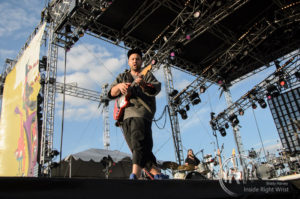 I had no idea kids these days were into the funky soul of Stevie Wonder. I don't even know if they know that's what they're into. Unknown Mortal Orchestra's vocal melodies were spot on Stevie and even the Nord player was subtly replicating his keyboard lines perfectly.  I see what you did there you guys, and I'm liking it. This set was also where I learned that "America Light" comes in both 32 oz and airplane tray table sized travel cans at Sasquatch. America: convenient for all your drinking needs!
Vince Staples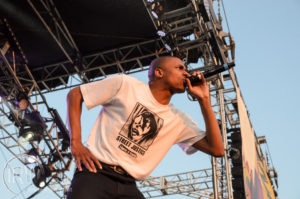 Ok so here's a secret, I think I love taking pictures of rappers more than anybody else. Especially when they know how to work a stage and Vince Staples certainly did. He was everywhere all at once, like The Flash! I hadn't heard his music before but he had an amazing flow and if you're on the fence about checking him out just do it already.
Wolf Alice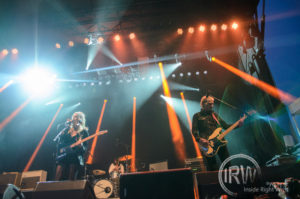 Wolf Alice sonically verges on early U2-sized arena rock anthems, but lack the overblown egos… so far, anyway. At times singer Ellie Roswell's gentle voice suddenly veered into a Wayne's World Cassandra-esk bellowing screech. Wolf Alice was very popular with the younger demographic, and I could see why. They specialized in songs of yearning with a tough as rocks kick to the balls. I could definitely see them playing massive shows in the future.
Yeasayer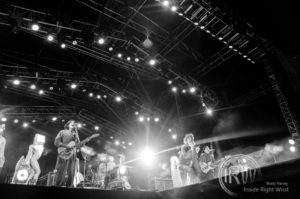 My award for best illuminated cardboard cutouts goes to Yeasayer this year. Maybe they were trying to re-create the Smashing Pumpkins video for "Tonight?" I couldn't really tell. "Silly Me" got their fans jumping and their college radio pop went over well with the masses. It's not really my thing but I got no beef.
Then it was time for snacks in bed. Look out for more bite sized blurbs on Day 2!