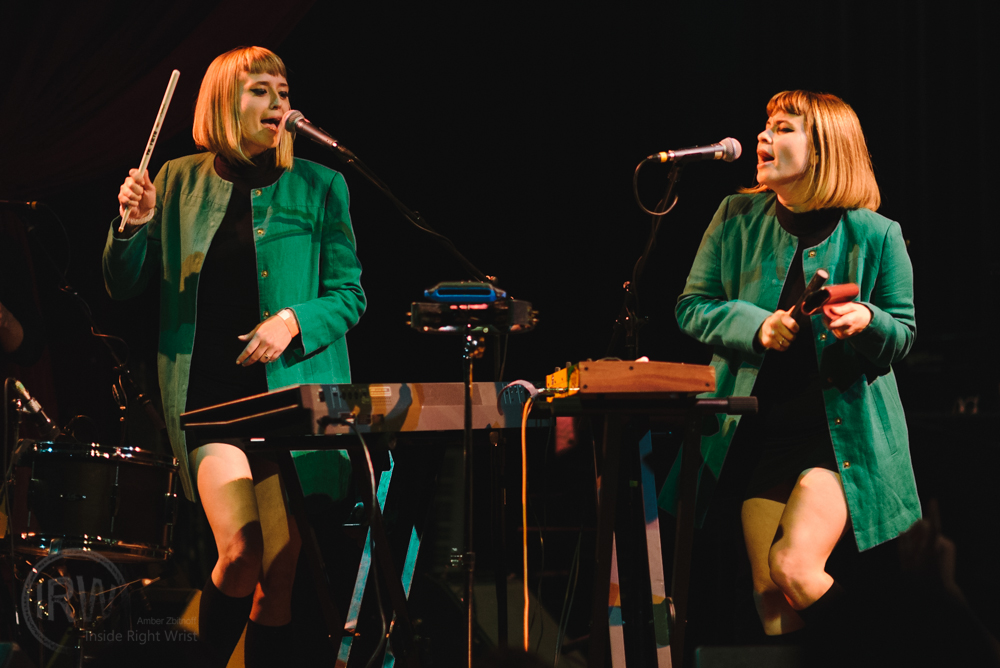 I had butterflies waiting for Lucius to take the stage Friday at Columbia City Theater. This is a band I've found myself playing on repeat for hours on end. Their EP fell into my hands at the end of summer, and ever since NPR put up the stream of their debut LP (out on Tuesday, October 15), my life's been all Lucius, all the time. The crowd at CCT had obviously been preparing themselves similarly, as Lucius had everyone's full, devoted attention from the moment they took the stage.
The band, fronted by Jess Wolfe and Holly Laessig in matching green jackets and black dresses, was exactly what you would expect after listening to their records: Spot on '60s inspired pop-soul that never feels forced. Some might think, looking at the perfectly coordinated outfits and matching haircuts, that Lucius was more about a look than a sound. But that couldn't be further from the case. The band's performance felt honed and perfected, and their live show amplified their pristine harmonies and dual drummer-led sound.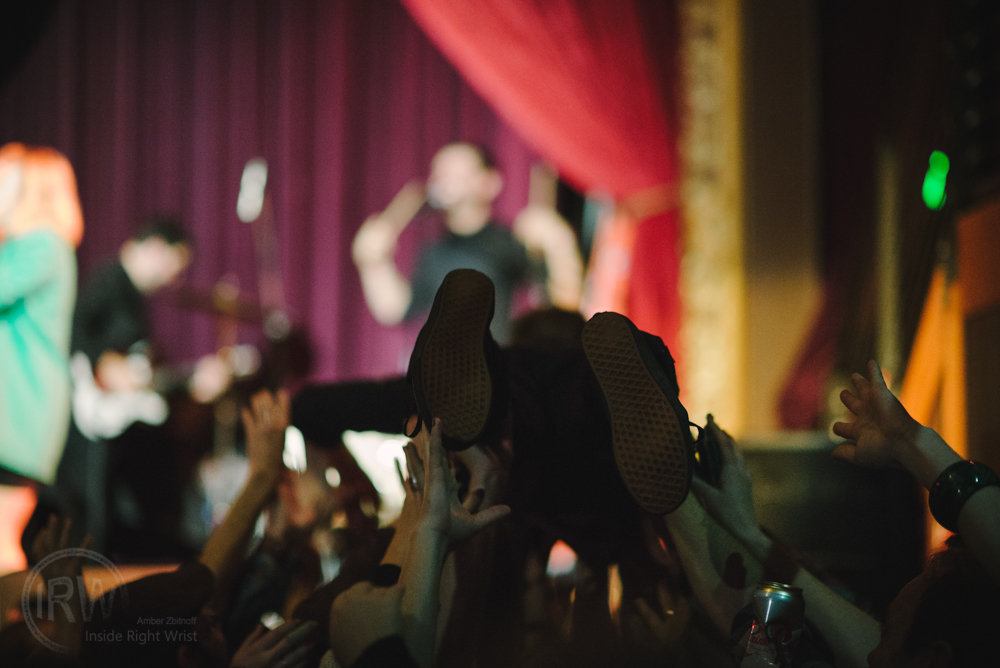 What made this show feel so special was that everyone in the crowd was truly there for the music and the performance. During slower, quieter moments, there was no distraction from conversations happening at the bar, because the room was so hushed. We were all entrapped by Lucius, and after hearing songs like "Genevieve," "Don't Just Sit There," and of course their upcoming album's title track, "Wildewoman," the feeling was that much stronger.
Wolfe and Laessig are incredible performers – their harmonies on songs like "Monsters" and "Go Home" were utterly captivating, and as front-women they encourage energy from crowds with each smirk thrown out.  The three men who act as rhythm and percussion aren't to be overlooked though – polished and dressed in all black, Dan Molad, Peter Lalish, Andrew Burri held my attention almost as much as the ladies behind the microphones. Especially when crowdsurfing is involved, as our pictures show. Good work, fella.
Lucius deserves all the praise I could possibly give. Their catchy melodies are probably my favorite thing thus far in 2013, and I cannot wait until they come back to Seattle to play larger rooms. If you're looking for a new band-crush as 2013 winds down, pick up Wildewoman this Tuesday and thank IRW later. You'll be happy you did.
Did you love the show? Tell us why below! Didn't get to catch it? Check out this gorgeous gallery from the lovely Amber Zbitnoff!