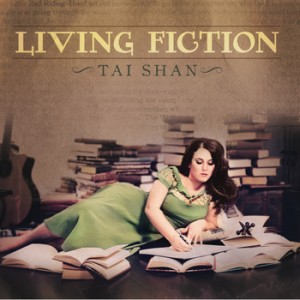 "I saw the house burning and it was such a wake-up call," Tai Shan recounts as we sit peacefully in Wallingford's Fuel Coffee. Tai was just 15 years old when she returned to her childhood home to find it burning to the ground, all because of a normal stick of incense and a rogue ember. Luckily no one was harmed in the fire, but her family's possessions were lost. This took place during an already tumultuous time in Tai's young life. "I was having a lot of problems with my family," she states. "It was after I'd been kicked out a couple times, when I came home and my house was on fire."
In many ways, Tai Shan is like a phoenix risen from the ashes. This devastating experience left her with only the clothes on her back, but instead of being defined by the tragedy, she turned it into a new beginning. After transferring to a high school with a music program, she got herself a spot in the choir… with some persistence. "They wouldn't let me into the program so I literally knocked on people's doors and got referrals," she recounts with a glint of that lingering determination in her eyes. Joining the choir introduced Tai to a new world of opportunity. At 15 she lost everything, but at 17 she was in a choir, singing for the Pope and in the Sistine Chapel. "It was one of the best experiences of my life… still," she reminisces. "Singing in that room was so powerful."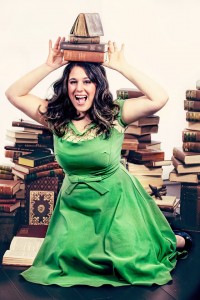 After earning her associates degree in California, Tai made the move to Seattle to attend Cornish College of the Arts where she majored in Music Composition and studied music inside and out; from 18th Century writing to jazz. By graduation, she had taken every music class they offered. Now, she spends her time sharing the power of music with a new generation of music lovers by teaching at fremont-based instrument shop Dusty Strings as well as the EMP (Experience Music Project) in the Seattle Center. She also performed with the Seattle Rock Orchestra back in 2011 for their Queen tribute show.
This fiery folk singer's latest feat is the new album Living Fiction, a collection of songs inspired by books. The songs were originally written for shows put on by the Bushwick Book Club, an organization of songwriters who read a book, then write a song inspired by it. Tai has been involved with the Bushwick Book Club for about 3 years and has done over 25 shows with them. The release show was a night filled with book-inspired songs performed by special guests and other Bushwick Book Club alumni. Check out the video for her magnificent single  "Cool to be Weird" below! It's inspired by Dr. Seuss' "The Sneetches and Other Stories". So yeah. It's pretty magnificent.
I chatted with Tai about Living Fiction, songwriting, and lots of other things. The following is my attempt to fit it all in…
Tai Shan on…
… how she began songwriting.
"I started writing songs when I was 16 or so. Around 19 I started doing gigs protesting against the war in Iraq; I was playing at the democratic national convention and for different protests. I wrote a song called "Don't Take My Baby" and that was one of the first moments as a songwriter where I was like "Oh this is so powerful" . I had one woman come and up and say"I worked in a VA hospital after the war. I know what the war means to people, especially to these soldiers that were somebody's baby." She was just crying and gave me a hug. It's wild because my brother ended up serving in the same war as a medic a few years later. He came back about two years ago."
… performing musical improv.
"I do a lot of musical improv shows. We'll get people to write down whatever their going through- maybe they need a song for somebody they love, maybe they'll have a mantra they've been chanting. They'll put it in a jar and we'll pull it out and then we'll improv a song. It's super fun, we've had some amazing ones. Last year we had two people put one in that said "We're your cousins that you never met!" and then I found out they were literally my cousins that I'd never met. We also had a couple in Portland last year that were like "You're not gonna believe this! Our names are Tai and Sean and we just got married today and you are playing in the place where we met on our first date." So we improv-ed a song and they loved it. I do a lot of that kind of stuff . I tour to connect with people and create an experience for them."
… her first tour.
"The first tour I did was called "Thousand Miles to Yellowstone". We actually did a kickstarter for it. We worked with the National Wildlife Federation to raise awareness [about their] program that buys acres around the surrounding park to increase the migration territory for the animals. We raised about 300 dollars for them."
… teaching.
"[At Dusty Strings], my forte is working with women and young girls. I help them write songs and learn the songs they like. Every six months they have a showcase. During the summer I'm also the teacher at the EMP's creativity camps. The kids spend some time at the Seattle Children's Theater or the Pacific Science Center and then they come over to me and they write songs. We do a lot of writing parodies and they get to get in a group and create a band. I do make sure it's tailored for the kids. There have been many times when I scrap my lesson plan because they want to go in another direction and I say "That sounds cool, too! Let's do that!". It's very hands-on and songwriting focused. [It's about] getting kids to express themselves."
… her CD release show at the Tractor.
"It was great. We had a great crowd. We had a couple people said it was the best show they'd seen at the Tractor, which is freakin' high praise for that place. But yeah, a lot of people said they cried- that they felt really connected to everybody, and that's really just so touching. I was really just in awe. The audience was wonderful."
… on singing Queen songs with the Seattle Rock Orchestra.
"It was… daunting… but it was really cool. Being the person I am, I chose the hardest songs of the whole night. "The March of the Black Queen" [Queen] never performed it live. They had never been able to pull it off. There's a lot of really odd meters. Anyway, it was super fun working with the rock orchestra who are not just incredibly talented but they're super nice and so supportive. They work they're butts off, man! It's nuts! For one of the songs that I sang with them, I didn't hear it until soundcheck in its full form. That's so trippy to me that you never hear the song in it's full fruition until an hour before the show. And they do that every single time! They'll be writing it up until the show. They're definitely that caliber of professionalism where they can just fly by the seat of their pants."
Tai's story is just getting started; this amazing and determined woman has a spirit that just won't quit, and I'm looking forward to seeing what she does next.Y

July 22 @ The Can Can- Seattle, WA
with Vince Mira and Jaz Lund
8pm :: $10 – BUY TIX
August 15 @ Soul Food Books
with Heartroot
7pm :: Free admission
Connect with Tai! 
Facebook: Tai Shan Music 
Twitter: @TaiShanMusic
Website: www.taishanmusic.com
Bandcamp: taishanmusic.bandcamp.com