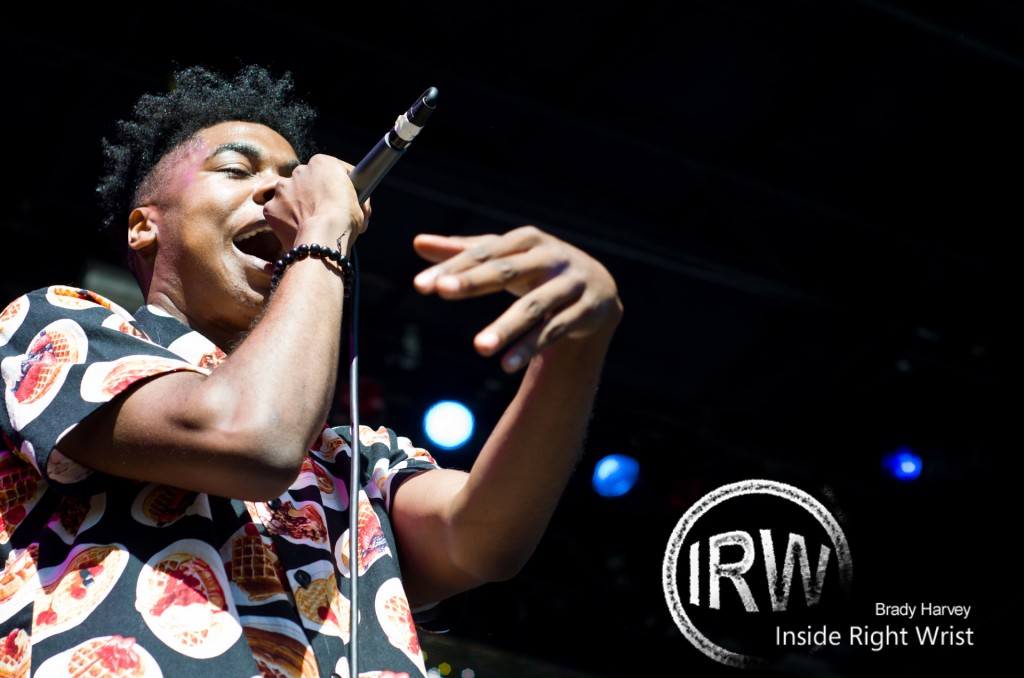 As a Seattle native, I've grown up going to Bumbershoot a whole lot. I'm the asshole who interrobangs "160 dollars?! I remember when it was ten bucks. And THAT was a DONATION!" But here I am, getting my 'Shoot on and realizing that this festival is probably worth the money. And every time I stumble upon a new band to love, run into a friend from middle school and get a surprised catch up, or just realize I'm smiling because of all the time left for me to do those things, I fall more in love.
On Day One, I could only stay for a few hours, but I made them count. Though when I arrived the second day, I realized how much I missed (Our guest writer, Jon, will cover that). Enough of the hedging. Here were my five favorite parts of the first day of Bumbershoot 2013:
1) Dave B. This guy is the shit. He won the Sound Off competition this year and for good reason. Dressed in a food-print shirt (like, all the foods, all over the shirt. Photos to follow.), a ridiculous hair cut, and as much charisma as he could fit on the Fountain Lawn stage, Dave B and his band rocked the crowd. His hip hop lyrics were smart, quick, and subtle, and the backing band made even the sweatiest, least-coordinated among us wave our finger in the air somewhat in time with the music. Go listen to him. Now. Or go see him soon, which would be even better.

2) Old friends. I turned 28 this year, and next weekend will mark my 10 Year High School Reunion (capitalized for emphasis on WTF). I wasn't planning to go because, since I went to school in Seattle, I figured I already still talk to everyone I want to know. And then I ran into my friend Alicia, who was the best friend I had in high school. She lives in California and seeing her reminded me how much fun we used to have, doing random shit like inventing scavenger hunts as an excuse to get away with things we shouldn't be doing. So, we did more of that. And it was just as good.
3) Thao and The Get Down Stay Down at the KEXP TuneIn secret stage. I've heard Thao for years, but mostly on the radio and — for some reason — I've never seen them live. What a silly mistake. I loved waking up to her set, watching her switch expertly between instruments. Add to that the fact that she started off the set by asking the audience to laugh uproariously as if she had said something hilarious, because it was being piped onto KEXP. You have to love that. I did.
4) The fashion. I would KILL to walk into the closets of most of the girls in this festival, as creepy as that sounds. But I felt like a total old person, because I kept thinking "YOUR PARENTS LET YOU OUT OF THE HOUSE IN THAT?!" and I meant it. I'd post pictures, but I'm pretty sure I'd get arrested. But ladies. A quick talk: That shiny material + sweaty dancing + extreme heat + marathonning it = a truly unpleasant souvenir… Just make better choices. You've got time.
5) It's only Day One. There are two more days. More soon.
xo Julia