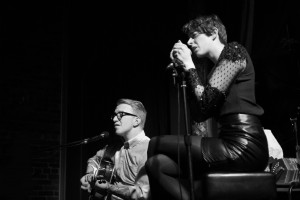 There's something about Campfire OK that makes me feel like I am sharing a secret when I talk about them. The Mychal Cohen-helmed band has been around Seattle for awhile now, but they are still a mystery to so many people. They play sparing shows, always with beautiful extras like a themed set or a special guest, and the fans who attend are faithfuls who know the lyrics.
But like anything I love, there is never enough to keep me satisfied. Their first album has long since been borrowed by a friend of a friend of the person who first borrowed it from me and I am anxiously awaiting the follow-up. In the meantime, they've allowed their creativity to be affected by the great artists around them.
One of those is Christian Sorensen Hansen, a film-maker now based in Los Angeles with Pacific Northwest-influenced sensibilities who directed this, their latest video. Of course the coupling of the artists is beautiful — the simplicity of the studio shots and graceful shadows perfectly mimic the slow build of Campfire's chime-laden melodies and soft strums.
Although Melodie Knight has left Campfire OK and moved off to pursue foreign language dreams on far away soil, she has left an indelible impression on the Seattle music scene. Her strange and haunting harmonies bolster the beveled edges of Mychal's indie-classic voice on "Our Hearts Beat Light" and the subtle evolution of the video would nearly lull your eyes closed were the visual and aural elements not so beautiful together.