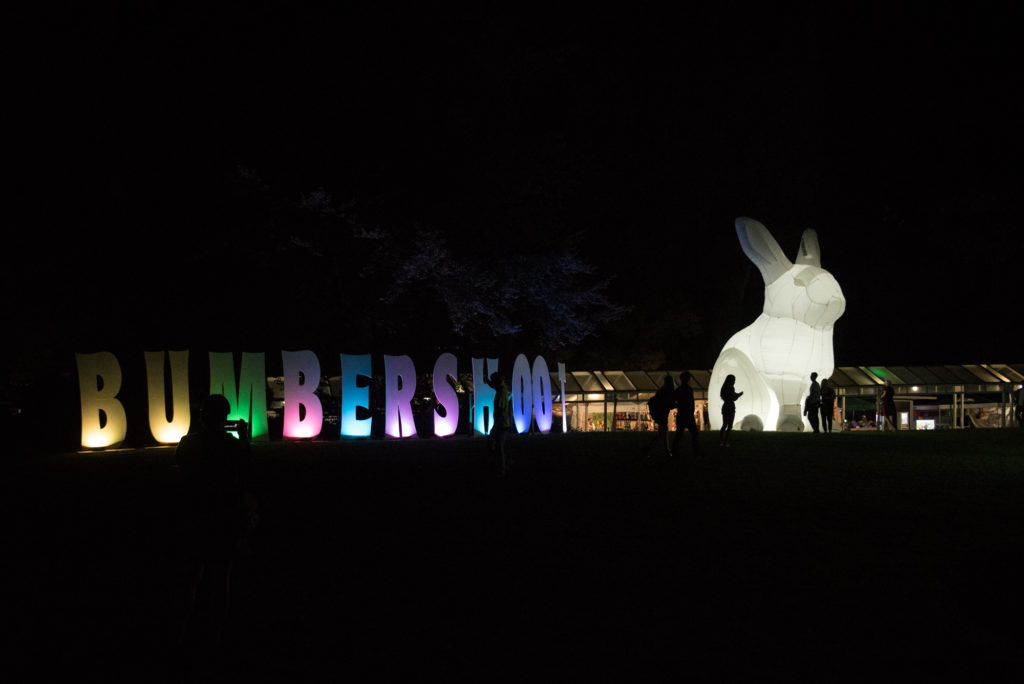 Bumbershoot lights up the night for fans // All photos by Morgen Schuler
Day Two of Bumbershoot was jam-packed with music and people. From Lorde to Weezer and everything in between, there was something there for everyone. I might have legitimately heard every genre of music on Saturday; I was reminded of one reason I love Bumbershoot: you can see a lot of music and if you're not satisfied with one set you can move along to another stage anytime you please.
I caught the last few songs of Shelby Earl's set in the KEXP gathering space. There was a good crowd of 20-somethings and older, which tended to be the demographic that this venue attracted. Earl was backed by a full band—clearly seasoned professionals who have played together and know how to read and interact with each other's instruments seamlessly. Her music has a singer-songwriter bent steeped in meaning and her sound pulls influence from folk, country, and rock roots. She is a beloved artist in the Seattle indie music scene and her set did not disappoint.
Moving over to the Mural Stage, where fans could sit in the grass under a bit of shade from the beating-hot sun, face the heat near the stage, or try to cool off in the beer garden, Seattle's Saint Claire was playing. The singer and violinist had a male drummer and percussionist on stage with him adding a human element to his performance. Overall he has some potential; his music was somewhere in the James Blake wannabe realm and he is still getting his footing as a stage performer. He's got a dreamy presence and his stage presentation and banter, while novice and a little awkward, is going in the right direction. Unfortunately the drummer's bro-y attire was distracting having showed up in a white t-shirt, orange floral board shorts, and a backwards baseball cap. At least Saint Claire was immersed in his music as they played, jumping around to the beat, and that energy definitely enthused the crowd.
At the Fisher Green stage, rapper Kevin Abstract (Clifford Ian Simpson) from L.A. by way of Corpus Christi, TX, was in the middle of his set. During the set, there were about 6 or 7 hype guys and a DJ jumping around excitedly on stage, so you had to pay close attention to find out just who this "Kevin Abstract" was. (Maybe it's not just a clever name.)  I noticed the men on stage were from diverse ethnic backgrounds, which is more often the case in Hip Hop than other genres, but still somewhat rare. The set was lively, fun, and a good midday outdoor party.
The KeyArena crowd was hyped up and dancing like crazy to Lophiile, 26-year-old, LA-based producer born Tyler Acord. It is such a strange sensation to move from the bright sun outside into the dark KeyArena, but it was a great set; anytime the crowd gets hyped at a show I can get into it, even if just from the excitement. Every time he dropped a beat, they went wild. He kept the music pumping and he was clearly enjoying himself jumping around on the raised DJ platform. Even I couldn't stay in my seat in the stands and had to get up to dance. The light show was awesome—red was the theme and it was paced with the music in a way that it enhanced the set. Light shows are a delicate art and whoever designed this one is very skilled.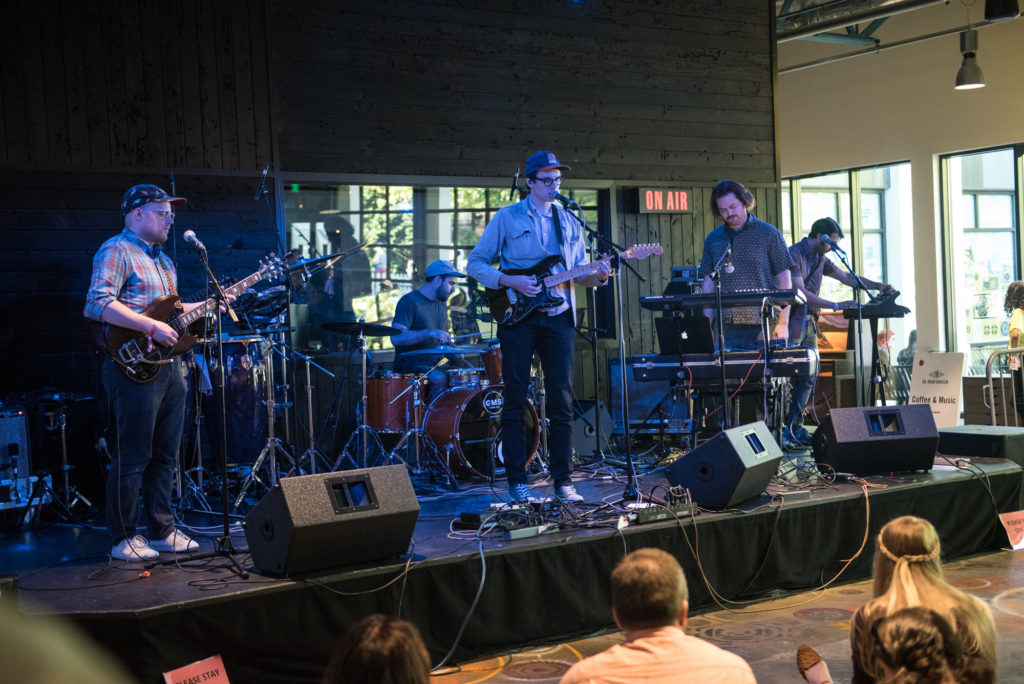 Cataldo
Seattle's Cataldo at the KEXP gathering space was the best set of the day. Cataldo is Eric Anderson with a band to round out his sound, self-described as "brainy feelings music." Interesting light-indie rock sounds a bit too nebbish-like, but is a close description. Their music was tight and the songs from their new album released in April smelled of Peter Gabriel. Each musician was solid; from the percussionist intently focused on the precision of his shaker, to the tasty and thoughtful solos by the lead guitarist and vocalist. I enjoy music in different ways, and this was a really fun show to watch as a music nerd.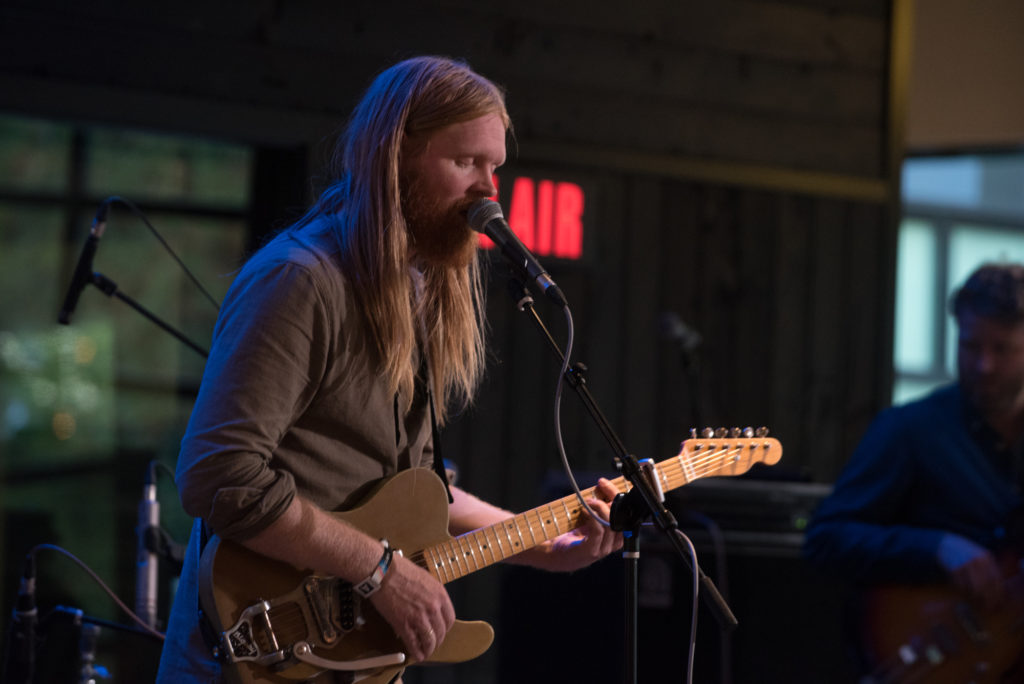 Junius Meyvant
Following Cataldo's set on the same stage was Iceland's Junius Meyvant.  His music was easy to listen to, but a bit underwhelming after Cataldo's set. However, Junius's awkward and funny crowd interaction made it more than a worthwhile experience. They loved him and it was easy to understand the appeal.
Back at the Fisher Green stage, Joseph, a folk-rock band founded by three sisters from Portland, was in full-swing. They have achieved some significant national attention, including performing on Conan, Ellen, The Tonight Show with Jimmy Fallon among others. Last time I saw them, it was at our very own Fremont Abbey. They still sound great, their harmonies perfectly tuned, and their band rocking out. The sisters were excited to be filming their show live as a part of the Melodic Caring Project, streaming live concerts to kids in hospitals, and personally dedicated a song to the children watching their concert.
Weezer
Weezer's set at the Memorial Stadium main stage was not to be missed and did not disappoint. These guys have been playing together for years and they are rock entertainers who can act mellow and still put on a great show. They played all of my favorites, Buddy Holly, Beverly Hills, and Sweater among others. I didn't love Weezer during my mid-'90s middle school angst years, but I really enjoyed the nostalgia and watching teenagers sing along to some of these songs that were written before they were even born.
The final show of the night at Memorial Stadium was Lorde. She's having a moment with a new album and significant press coverage, so it seemed important to see what all the fuss was about. She seemed to have a great time performing, dancing and jumping around on stage in a seemingly choreographed way, and took a lot of time in between to wax philosophical with the crowd. There was also a troupe of modern dancers performing vignettes of emotional scenes possibly related to the songs, but it was hard to tell. Lorde doesn't seem to know who she is yet. Is she a deep and angsty young woman with objective perspective on her existence? Or is she a party-girl who just wants to play?  Maybe it doesn't matter. I found this confused-self to be obnoxious, as I just wanted her to completely own whatever it is she's trying to be. The audience full of teenage girls, whom she happens to love, love her right back and buy her albums… so that works for her.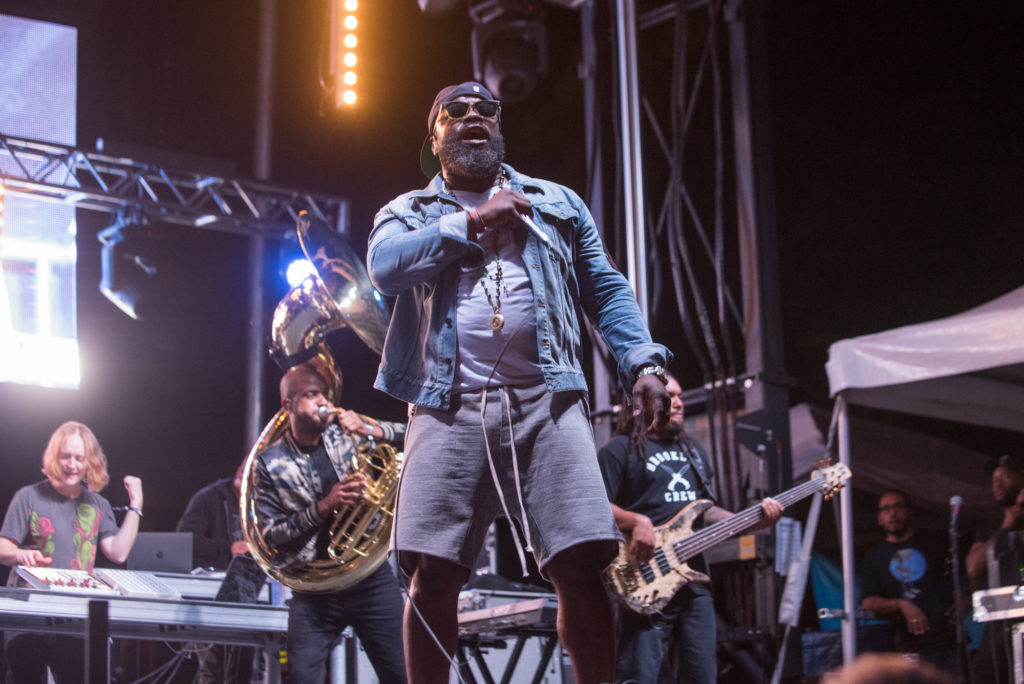 The Roots
It was thrilling to see The Roots live at the Fisher Green stage. They are hip-hop artists who have lived through its sometimes turbulent history and are still better than everyone else. They are incredible musicians who move in sync together, both literally and musically, which is quite the feat considering at one point I counted more than 10 people moving on and off the stage. During the set, the sound of pyrotechnics going off in the distance could be heard, presumably from Lorde's finale, and that really made that set feel magical. The music was seamless and perfect; you could tell the crowd knew that they were in the presence of legends… dare I say geniuses.