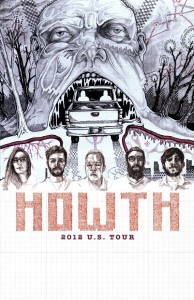 I caught up with Brooklyn band Howth as I sat in line for the ferry to Doe Bay. The five piece band was driving the stretch between Los Angeles and Oakland, a couple weeks into their month-long cross-country tour. Aviva Stampfer, keyboarder/glockenspieler/vocalist for the band, filled me in on the challenges of booking their own tour, the best shows they've played, and some awesome bands you may not have heard of.
So, tell me about this tour—how it came together, where you're going, and where you've been?
This is our first tour. We were thinking at first that it would be short and we'd stick around the Tri-state area or the East Coast at least, but then we decided just to go big; we might as well just do as much as we can. We're playing 24-25 shows in 30 days. We will end the tour in Brooklyn at Cameo Gallery with Port St. Willow on August 25th. It's been a great time so far and it's nice to have a home-based show on the horizon.
What went in to the planning? I always wonder how bands hear about venues and why they choose certain bands to play with and all those details you don't really get to know if you're not in a touring band.
Well, we booked it all ourselves and that was really cool but also tough. It really made us appreciate the music industry. We started planning in April which is a really good idea when you're planning for this long of a tour. We picked the venues by looking at other bands' tours and where they went and reached out to a bunch of bands and kind of spread a web to all our contacts. We met people through friends and relatives and friends of friends who helped us out with band recommendations and all that.
Any advice for bands planning a tour of a similar length and breadth?
It's a lot of shows in a really short time and so even though we have four drivers to share responsibilities, it's a lot of ground to cover and there have been a lot of really long driving days. So, if it's possible, building in a few extra days for hanging out and not playing would be really helpful. We all have gotten along really well and we get each other enough to know when someone needs to just sit with their headphones on in the back of the van (we drive a big blue van that Carl bought when he sold his car).
There are five of you. Who's not driving?
Blake doesn't drive. He neglected his license renewal and was trying to get it worked out before tour but it turned out that he was a month too late. And now he has to start the process over [laughs] so he's 25 and has a permit.
I've heard some horror stories about bands on tour getting their stuff stolen and everything under the sun going wrong. Any major issues for you guys?
No, we've had to replace some tires but nothing really bad. All of our shows that we booked have happened and that's the best—we've heard of bands pretty frequently having a show canceled at the last minute. And when you're on the road, that's the worst feeling. All we want to do is play.
What was your favorite show to play?
They've all been pretty cool but there were a couple memorable ones. We played a show in Chapel Hill at a place called The Nightlight with a band called Baobab that was really fantastic. It was just such a great live experience. We also played a show in Tempe, Arizona at a bar and there were people just coming and going all night. But the ones who were there loved it and we had a great conversation afterward with a guy who was a huge Smiths fan and connected with us on some level. That's the best—just getting to have conversations with people afterward.
You guys are coming to Seattle later this week. Do you have Northwest connections?
Yeah, we're playing on Sunday, August 12th at The Sunset with Cumulus and Hooves & Beak. It's actually the girl from Hooves & Beak's birthday, so that will be fun. And my sister lives in Seattle and we have some cousins and friends up here too. I'm actually from Portland; I moved out to the East Coast five or six years ago so it'll be nice to see my family and friends and hang out there for a couple days. I played in a band in high school but we've never played as a band in the Northwest.
Where's the rest of the band from and who are they?
Neil Acharya plays wicked bass and sax and sings back-up vocals. He has choral training and leads warm-ups in the van which is fun for us and maybe not for other people [ha]. He just got a review that said something about "slices of E Street sax" which was awesome. He's from New Jersey and so are Blake and Miles. They all went to high school together. Blake [Luley] plays guitar and Miles [Waltuck] plays drums. Blake and Carl [Creighton] have been playing together for years. Carl plays guitar and sings lead vocals. He's from Minnesota.
How do you guys come together in terms of writing and recording songs?
The first LP was just Carl and Blake. They've been playing together since 2008 and we've all kind of been added on since then. We've been playing as the five of us only since September of last year, but it feels like we've been playing together for much longer. Carl writes the songs and then Blake fiddles with it and then everyone adds their parts in their own ways. When we were working on Newkirk (which is our 5-piece debut), we thought we were going to make another EP but we had so many songs, so we decided to just make a full album. That album was really interesting. We were all kind of around the country when we were doing it so we had some strings recorded in one place and Carl sent bits from Minnesota. We recorded some of it in Brooklyn and some of it came from New Jersey. Blake recorded the strings in Nablus, in the West Bank, while he was teaching local kids music. I recorded some harmonies in Portland with my old band mates and sent those over. Mostly we recorded a lot of it in Miles' basement, so we had a ton of time, which was a luxury. We always do the majority of our recording and mastering ourselves… Paul Gold at Salt Mastering is the only person that touched it… that sounds odd… when you say it that way [laughs]. It's just a cool way for us to have control over our music and the whole process from beginning to end. I was in Portland at the time, but everyone else went to the mastering studio to make sure it came out exactly the way we wanted it to.
Was your new EP, Secret Goldmine, recorded in that mishmash sort of way?
We were actually really lucky because we applied for this thing with Converse Rubber Tracks and got free recording time. It was a really great opportunity. That's where the title track was recorded. The last track on Secret Goldmine is a live version of "Out in Eagan" that was originally on Newkirk, but we feel like the live version has something special that we didn't get to capture on the album, so we added it on there. That EP is available for free on our bandcamp.
How is it that you guys have this much time to record and tour? What do you guys do for a living?
Well [laughs] it is fun to be on the road and think "this is our job and it's wonderful," but we do have to think about what we do when we get back. I just graduated from college so I have a candy-shop job but I do have to think about getting a "real job" when I get back. Blake is still in school and he works at Strong Management, which is an awesome company that has given us some really great advice. Neil just graduated from school. Carl used to work with like frozen eggs… you know, like in a fertility clinic… I think he works at the medical center at NYU. Miles is getting his PhD in psychology and works at Trader Joe's. It would be wonderful if we could just tour all the time. We love the lifestyle… just Clif bars all the time.
What bands are you guys listening to or playing with that you love and people might not know?
Dinosaur Feathers is a great band and they've been super helpful because they tour a lot. We love Christopher Paul Stelling, who is our labelmate [on Mecca Lecca]. He plays really powerful stuff and he just went on a two month tour. Brooklyn is such a thriving scene… there are so many awesome bands.
Okay, so my last question is totally professional journalism at its best: How often do people comment on your name or make a lisp joke?
It's the name of a town in Ireland that Carl fell in love with, but it's actually pronounced more like "growth" and less like "mouth."
Well, there goes all the humor out of my title…
How about "Howth is where the heart is"
I like it.
Howth w/ Cumulus and Hooves & Beak
Sunday, August 12th
Doors 8:30pm :: Show 9pm
21+, $6
Info here