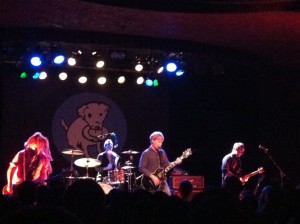 It was a night I'll never forget.
And I'm not just saying that because I think Nada Surf is the greatest thing since baby carrots. Or because Barsuk is arguably the coolest record label since, well, ever. It was the sum of all parts—the perfectly crafted line-up, the mix of nostalgic and timeless tunes, the family-like reunion—that added up to an indie rock lover's dream last Thursday at the Showbox, where night one of Barsuk's 15th anniversary celebration kicked off.
The Prom set the tone for the evening with a lively reunion set, followed by Mates of State bringing its endearing and polished tunes. The distinct energy of the two acts was the perfect lead-in to the night's "big surprise"—a special acoustic performance from Death Cab for Cutie. The crowd erupted in glee from the moment they appeared on stage, all the way through their set of eight Barsuk-era songs, which consisted of instantly-recognizable cuts like "Title and Registration" and "Sound of Settling," to the lesser known gems of "Steadier Footing" and "405." You would think a surprise set from Barsuk's biggest band would cast a bit of a shadow for any acts to follow. Think again.
The night only got better with the presence of Nada Surf. It's hard to believe the group has been on the scene for twenty years now; there wasn't a hint of jaded ego or shotty musicianship to be had. In fact, it was as if these guys were experiencing their first sold out show ever. Playing their debut Barsuk record, "Let Go" in its entirety further confirmed that Nada Surf  knows what makes a good record, and what's more, they know how to put on a damn good rock show. I found it impossible not to move to the urgent jams of "Happy Kid" and "Fruit Fly," or enter a state of blissful, nostalgic serenity in the moments of "Blonde on Blonde" and "La Pour Ca." As the group closed out the night with more recent cuts, capped off by "See These Bones," and a special appearance by Ben Gibbard on tambourine and backing vocals, it became clear that this is a band which—much like lead singer Matthew Caws (wait, what?)—gets better with age.
Speaking of getting better with age, let it be known that Barsuk is showing no signs of slowing down, especially after a whirlwind weekend full of buzzed-about shows. Make no mistake that this is a label as loved as it is successful, and that was proven by the distinct warmth and familial adoration floating around the Showbox Market on Thursday's fifteenth anniversary celebration kickoff show. The label's knack for picking clearly timeless talent (i.e. Nada Surf, the Long Winters, Death Cab for Cutie) has brought us some of the most beloved indie rock records of all time, and will continue to do so. Thank you Barsuk for 15 incredible years and a weekend full of unforgettable shows. Here's to many more.