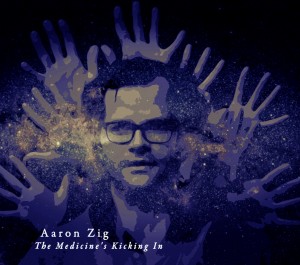 It's an exciting moment when you press the play button on a new record and are met with a jolt of energy and liveliness, turning a simple collection of songs into a new favorite companion. This is what you might feel when you meet Aaron Zig's new album The Medicine's Kicking In. It's part throwback with influences such as Bob Dylan and Neil Young, but it's also on the cutting edge with a wide range of instrumentation and seamless production. This is the Wisconsin native's first full-length record as a solo artist and is set to be released at Conor Byrne Pub on December 13th. The self-professed late bloomer (he didn't begin playing guitar until his mid-20s) is now ready to jump in full-force and reach as many people with his music as possible. I was able to sit down with Mr. Zig and discuss his influences, his former projects and the significance and message of this record.
Zig's real musical journey began when he studied abroad in Africa for a year. Though his main studies were in Anthropology, he used the opportunity to become better acquainted with African music. "I studied a bunch of rhythmic stuff; drumming and xylophone" he recalls. "That was my first time diving deep into music. Since then, it's always been infused in my music a bit." Upon his return, he picked up the guitar and focused more on the stringed instrument, though he retained some African flair with the picking style he adopted. A few years and several musical projects later, Zig began finding the direction that music has now taken him.
"It was pretty much a benefit project," Zig states as we discuss his musical endeavor Give it to me Rusty, a project that took the stories of Seattle's homeless population and made them into songs. "It started when me and my friend Noah Dassel started playing outside in Pioneer Square and met a lot of the people hanging out down there. It evolved into this project where we listened to their stories, recorded them and turned them into songs. They're all their words. It happened very naturally."
With this project, the duo played many benefit events and were able to form new connections. "It felt like 'Oh, this is the purpose of music.' We were able to connect with people we never would have the opportunity to, and take their stories and bring it to light in a different way. The biggest thing I learned was people don't look you in the eye when you're an outsider. They avoid you, thinking you're gonna ask for money. You get less eye contact and you feel dehumanized.  I didn't know quite the power of [having someone listen to your story]."
Since  then, Aaron has been hard at work on The Medicine's Kicking In. Recorded at Studio Litho and co-produced by Ed Brooks, the album boasts a whole heap of talent including  former IRW interviewee (and current violinist/composer for Macklemore) Andrew Joslyn. The album has been a long time coming for the songwriter, and the years leading up to it's creation definitely shaped its message. "In a lot of ways this record references the American Dream and its influence on your meaning and definition of success. Its [about] coming to terms with my dreams and what my music will become or not become and getting comfortable with wherever it goes." It's a common theme everyone faces at some time or another; attempting to find balance and contentment in a consumer culture that promotes dissatisfaction. His current foray into music with this album is a large part of Zig's attempt to better find that place of balance. He states  "It wasn't an intentional thing going into making the album, but as I was putting the songs together I realized that they have that theme to them and it's reflective of where I'm at in my life."
You can be one of the first to grab a copy of this new album at the Conor Byrne Pub December 13th!
"The Medicine's Kicking In" CD Release
w/ Vince Mtz. & The Great Blue Yonder
& Leanne Wilkins & The Weathered Souls
The Conor Byrne Pub
Friday, December 13th @ 9:30pm
21+, $8 at the door