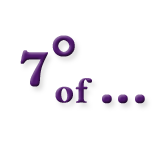 I have a ton of music coming at me every day, just like everyone else on this big ol' globe. When I find good stuff on my own, that's when it really sticks, and one of my favorite ways to find the most random music is by playing what I call "7 degrees of…"
Here's the deal, start with a band you sort of know or whom you've been meaning to listen and write down their name. Next, take a word from their name and do a search (I like using bandcamp.com) for a new band containing that word. Found one? Good, now take a word from the second band's name and do another search for a third group. Keep on until you've got 6 new bands (plus the one you started with) and you've got a total mixed bag of unknown music that you can't wait to dig into. Sometimes it turns out to be absolute crap, but you never know… the 6th degree may be next in your heavy rotation.
Better yet, you can just steal our list! Here's hoping this is the first of many, 'cause it's fun as hell.
We're starting off with Bear Hands, a talented and highly underrated band from Brooklyn. I've seen them once live at Neumos opening for We Were Promised Jetpacks. To be completely honest, I was way more excited to see Bear Hands despite the rad-itude of WWPJ.

Next up is Hands. I'll admit it, I found these guys on Stereogum which is what inspired the idea for this post in the first place. Fun right? Anyway, I really like them so they're number two on my degrees list.

From there, I didn't have much to go with, so I landed on And And And, a local-ish band hailing from Portland, Oregon. Admittedly, I've seen them preform live a few times but didn't feel particularly compelled to search out their album outside of the venue. The vocals are an interesting kind of awkward that's growing on me.

(Not Safe For Work) As I searched for "And" to get the next band… I found The White Panda. Looks like it's a DJ that mixes well-known songs/melodies. Not sure how I feel about this one.

Next up, I found a "French guy-American girl duo" called Panda Transport. It seems like they're based out of Europe (since their album cost is in Euros) and they put out a trans-pop sound. I'm not too fond of the first song on this album, but if you skip to the second it gets better and it's something you could put on in the background while you do something else, and be pretty content.
Next, I was lead to another duo: Board of Transportation. The pair is separated by a vast body of water and it's hard to imagine them creating music together with such distance separating them, but it seems like the space did them some good. It says they're "two friends making music together from opposite sides of the world". One's on the Gold Coast of Australia and the other is in Nashville, Tennessee. I liked the sound of that combo even before I pushed play. It sort of fits within that synth and shoe-gazey rock but the baritone vocals caught my attention and pulled me in while still letting me float along at the same time. I think I'll keep these guys on my radar for a little while.
The first installment of 7 degrees ends with a hardcore bang. Punk group, Climbin' Aboard, from Welland, Ontario brings a completely different sound to this list of easier-listening music. Like many Americans, I don't know Ontario geography very well so I looked it up and there it is… right outside Niagara. Interesting stuff, I had no idea there was a punk scene in southern Canada (though I wouldn't say I'm up on punk scenes at all).
Anyhoo, getting back to the point, I don't think you'd call me a fan of modern punk. Put a Clash album on and I'm right there singing so loud my voice goes out, but the fast-paced screaming that makes up this band's sound just isn't my thing. That doesn't mean it won't speak to you, so give it a listen if it sounds like it's up your alley. It's actually not so bad now that I've left it running for a few minutes, I just like to know what's being sung and I can't understand a word of their lyrics. Does that mean I've officially reached "old fogey" status? I sure hope not.