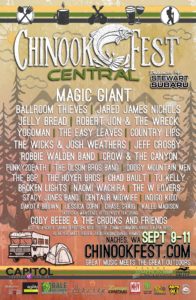 Before diving into this year's 5th Annual Chinook Fest, let's go back to last year's Fest when Lukas Nelson and Promise of the Real took over the headlining spot, wowed the crowd, captivated the photo pit to the point of setting the cameras down, embraced the supporting Chinook Fest bands with an impromptu midnight campfire sing-along session (I know there's YouTube footage of this), and left the Chinook Fest family buzzing with a full heart all month. I bet if you ask anyone that attended last year about their favorite memory, it will somehow involve him or his bandmates.
It's no wonder Neil Young has taken a liking to Lukas (Willie Nelson's son) and the companions he has chosen to form Promise of the Real.  They spent last year recording The Monsanto Years with Neil and toured around the US and Europe promoting, quite contentiously, a GMO-free, ecologically aware and environmentally proactive world.  Just another example of Chinook Fest creators knowing how to pick a headliner!
I suspect this year to be no different.  Having originally booked Anderson East as the Saturday night headliner, then having him back out out due to an extended European tour, co-creators Cody Beebe and Michelle Bounds put a lot of thought into finding an equally stellar main stage act and knew bringing back LA-based band Magic Giant to hypnotize the masses was the right choice.
The band was so revitalizing at Chinook Fest Summit this July, they just had to share them with the rest of the "family".  I am super stoked to see how the festival-goers will react to Magic Giant, excited to see them perform in the headlining position, and happy to know that they loved their time at Summit enough to pause recording so they could fly up and experience Central.
Musicians not to overlook are the returning champions, Robert Jon & the Wreck, who spent a handful of days this summer playing sold out shows across the US and Europe; Jared James Nichols who will be fresh off a tour with Zakk Wylde; Ballroom Thieves, hailing from Boston and touring all over the country from now until mid December; and I can't go without pointing out that Cody Beebe & the Crooks will be back and performing with their "Friends" Saturday night.  This includes many of the Chinook Fest family musicians such as Austin Jenckes, Nick Foster (see Feed Me A Line poem below), Sarah Gerritsen and more.
Also, don't forget:  If you are tent camping, make sure you come prepared for the campsite contest.  "[Since] this year is our 5th, we want you to display your favorite memories and anything that makes Chinook Fest Central special and meaningful to you. If this is your first year, show us what you'd love to see in the next five years! The winner gets FOUR tickets to next year's festival AND a little festival swag that will be very handy at your campsite."
Each year has reached capacity crowds and people inevitably miss out on the weekend.  This year, however, they were able to negotiate a slightly higher capacity so they could accommodate even more music lovers than before.  With all sun and zero percent chance of rain for our last music festival of the season, it sounds like the perfect way to close out the summer.  Let's do this!
Tickets here: Central Tickets
Lineup and Band Websites here: Central Lineup
Up-to-date Info here: Facebook Page
**IMPORTANT**  Chinook Fest Central Details: Central Info
FEED ME A LINE with Nick Foster